Even though it is immensely useful, cast iron is some of the most expensive cookware on the market.
Even though it is highly durable, evenly distributes heat, has exceptional heat retention, easy to clean, and is super easy to maintain, not everyone can afford to splash out several hundred dollars on a set that includes a cast-iron Dutch oven.
So you will naturally start to think of alternatives you can use to cook your favorite dishes to save you the expensive investment! One of the best substitutes for a Dutch oven is of course oven-safe casserole dishes. These are very similar to Dutch ovens in terms of size and versatility.
Other cookware that can be used as a Dutch oven substitute is of course stock pots or other types of ceramic baking dishes. Glass dishes such as Pyrex dishes are also an excellent option, but you will need to ensure that it is oven safe for the temperatures that you intend to use it with.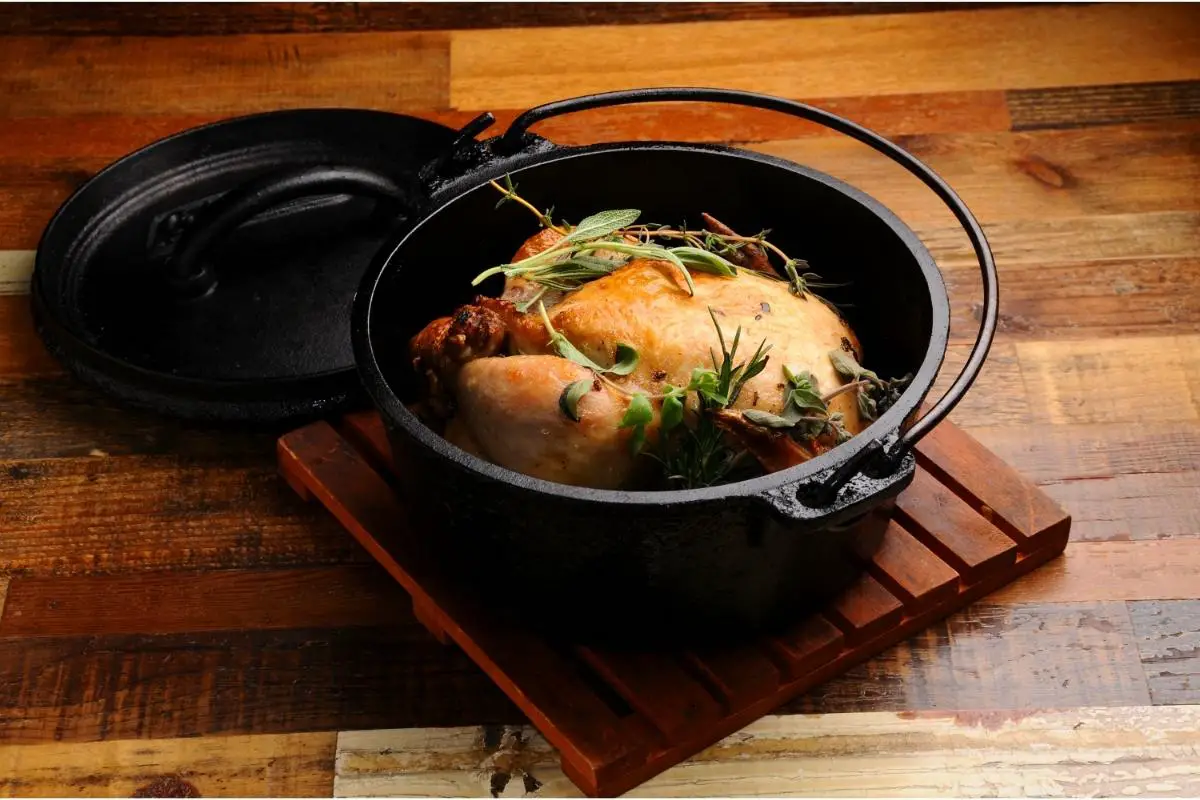 In fact, there is a whole variety of dishes and cookware that you can use in place of the classic cast iron cookware. Ideally, you will need to choose a piece of cookware that features a lid with a tight fit, and that can be used both on the stovetop and in the oven itself. This allows you to mimic the process that's required of a Dutch oven.
So let's take a look at everything we need to learn about Dutch ovens! We need to understand how a Dutch oven works so that we can better learn how to substitute other cookware for them. We're also going to cover which other cookware items are the best to use instead of Dutch ovens if you have one of these to hand.
So How Does A Dutch Oven Work?
Before we can even think about which type of cookware makes great Dutch oven alternatives, we will need to understand how this cast iron cookware works. This allows us to better understand which piece of cookware will be the best substitute for a Dutch oven, depending on the recipe that you are trying to follow.
What really makes the Dutch oven fantastic is the fact that it is so versatile. You can use your cast iron cookware for virtually any cooking application. Thanks to the fact they are constructed using durable cast iron, they are able to better retain the heat that they are exposed to.
This heat is also evenly distributed across the whole of the cast iron, so you won't have to worry about hot spots. Food will be cooked evenly and beautifully.
There are many cooking methods that you can use this cast iron cookware for. These include roasting, sautéing, boiling, searing, braising, frying, baking, slow cooking, stewing, and many more.
What makes the Dutch oven so useful compared to other types of cookware is the fact it comes with a lid. This tight-fitting lid helps to lock in moisture, keeping your food lovely and moist, while also maintaining the heat needed for certain cooking applications.
Thanks to this included lid, you can also use your cast iron cookware to self baste the food you are cooking without having to remove it from the oven. Ideal if you are cooking certain cuts of meat!
Of course, a Dutch oven can also be used both in a conventional oven and on a stovetop. The only thing to bear in mind is that enamel-covered cookware shouldn't be used directly over an open flame such as on a camping fire because it can only be used for certain temperatures.
Open flames are naturally able to reach higher temperatures which could damage the enamel coating.
What Can I Use Instead Of A Dutch Oven?
So now that we know more about what a Dutch oven is and how it works, we can better figure out substitutions for it. We would suggest using a casserole dish as a direct replacement for a Dutch oven, as this is much the same thing. In fact, Dutch ovens are often called casserole dishes around the world.
When it comes to choosing the best alternative for a Dutch oven, it will be important to think about what you need this for. If you need to slow cook food, then a slow cooker will be the ideal replacement.
If you want to make any tasty stews or casseroles, then of course a casserole dish is the cookware that you should opt for. If you want to make soup, then a stockpot is just the thing you need.
Whatever you need an alternative to a Dutch oven for, we've got you covered. Below are 12 substitutes for a Dutch oven that you can use instead.
When it comes to cooking things over a longer period of time, then a slow cooker or electric pressure cooker as it is sometimes known is of course the way to go. This will give you pretty much the same functionality as a Dutch oven, allowing you to cook your favorite dishes using several functions.
The only thing to bear in mind when choosing a slow cooker is that these cook your food over a lower heat. So it may take slightly longer to cook your favorite stews or similar dishes.
However, the major benefit to selecting a slow cooker out of all the Dutch oven alternatives is that you can leave it unattended while it does its thing.
This will mean preparing your ingredients first thing, then leaving it to cook the food while you're at work or doing other things around the house. It will be ideal for one-pot meals that require minimum fuss.
If you select the pressure cooker function, then you can cook your food even faster than you would have in the cast iron cookware you are trying to find an alternative to. Just make sure that you have worked out what the cooking time difference will be with this piece of alternative cookware.
Sale
Of course, the best substitution for a Dutch oven is going to be a casserole dish. These are typically made using ceramic instead of cast iron, which also makes them a more affordable purchase if you're reluctant to splash a hundred dollars on a piece of cookware.
Ceramic casserole dishes tend to come with a lid for you to use, which can of course mimic the functionality of a Dutch oven. It is also deep enough to use for a variety of dishes, just like the cookware that you are trying to substitute. You can use your casserole dish for a range of cooking applications.
However, you will need to bear in mind that because it is made using ceramic, you shouldn't use your ceramic casserole dish on the stovetop or over a direct heat source such as an open flame.
Sale
FUN ELEMENTS Lace Emboss Casserole Dish with Lid, 2 Quart Oven to Table Ceramic Round Serving Dish with Handles for Dinner and Party(Grayish Blue)
AN ELEGANT PIECE of ART: The design of this casserole dish with lid is inspired by 19th century lace patterns, with the classic colors of red, blue and white, making it more like a work of art. I think it should be an integral part of your kitchen
MAKE YOUR LIFE BETTER: This casserole dish is perfect for a dinner for 2-3 people. Have a fun evening chatting with your closest people about the fun things going on around you. You can also use it to bring dishes to social parties. The elegant look will not only be the center of attention at the dinner table, but will also make the food more delicious and tasty
NATURAL CLARE GLAZE: Traditional glazes are always slightly dull. It took us 3 years of experimenting with many formulas to find a Clare glaze that was 30% brighter than traditional glazes. Not only that, Claire's glaze is a lead-free, non-toxic, all-natural glaze, so you can use it with confidence
STURDY and DURABLE: We know that ceramic products are always easy to break. Our casserole dish was refined and fired with you in mind. Only we have increased the amount of clay used by 20% to provide you with a sturdier casserole dish. 3/8" thick walls allow food to stay hot longer as well as even heat distribution
WE ARE FUN ELEMENTS: We provide a free refund or replacement for any defective products, anytime.We hope this soup pot will make your life better, not cause you trouble. Please contact us! If you have any questions
Perhaps one of the more unusual inclusions on our list of Dutch oven alternatives, the tagine is a piece of Moroccan cookware that was designed with one dish in mind – the tagine. This is of course a slow-cooked stew that typically features meat as the main ingredient.
Tagine cookware features an elongated lid in a cone shape. This works much like the lid on a Dutch oven, allowing the moisture to rise and collect inside the lid, then drip back down into the dish that you are cooking. This will be perfect for self-basting certain dishes that center on meat as the main ingredient.
Classic tagines are typically made using clay and don't tend to feature an enamel coating inside. They can't be used in direct contact with a heat source, so using them on the stovetop will be out of the question. Your tagine is better used inside your conventional oven.
Sale
Kook Moroccan Tagine, Enameled Cast Iron Cooking Pot, Tajine with Ceramic Cone-Shaped Closed Lid, 3.3 QT (Stone Blue)
One Pot Wonder: The tagin is legendary for cooking the most tender, aromatic and flavorful stews
Moist & Tender: This dish is shaped with a conical closed lid, which allows steam to circulate with very little water; The steam continuously bastes the ingredients keeping them soft and buttery
One Pot Wonder: The tagine is legendary for cooking the most tender, aromatic and flavorful stews
Cook & Serve: This vibrant cooking pot doubles as a serving dish, and the cast iron keeps food warm for longer; The lid fits snugly and features and features an easy-grip knob so you can easily peek at what's simmering inside
If you're looking for a suitable replacement for a Dutch oven that can be used with a direct source of heat such as your stovetop, then a round metal pot will be your best bet. Thanks to the metal material used in construction, it will be able to distribute the heat evenly across the whole of the pan.
The roundness of the metal pot paired with its steep sides makes it ideal for creating soups, stews, or other dishes which require a large capacity.
Make sure to check the care instructions of your particular round metal pot so that you can avoid exposing it to conditions that could damage it, for example, placing it in the oven when it features silicone handles that could melt.
AVACRAFT 18/10 Stainless Steel Everyday Pan with Five-Ply Base, Stir Fry Chef's Saute Pan with Glass Lid, Multipurpose Stewpot Skillet, Casserole in Pots (11 Inch)
HIGH QUALITY PAN: 11 Inch, 4.5 liters. Special matte finish inside to prevent scratches, mirror finish outside for shiny stylish look. Made with 18/10 stainless steel, highly resistant to rust, stain, corrosion or crack.
EVEN HEAT DISTRIBUTION: Multi-ply capsule bottom with pure aluminum encapsulation to avoid heat spots & distribute heat evenly, saves energy! The best stainless steel wok with lid.
MULTIPURPOSE PAN: Versatile pan, use it as stir fry pan, stainless steel wok, stainless steel frying pan, sauté pan, stewpot, steak pan, crepe pan, skillet. Works on multiple cooktop types including induction, stove top, gas, electric etc. Induction wok. Healthier option over nonstick pan for every house.
STRONG GLASS LID: Shatterproof dome glass cover with silicone lid handle for safety! Silicone coated handles for firm grip, stay cool when pot is hot. Try your souped up recipes in this wok pan with lid.
GUARANTEED SATISFACTION: AVACRAFT is the most trusted emerging woman owned small business! At AVACRAFT, we've always got your back!
Something like this round ceramic pot will be another fantastic substitution for a Dutch oven. This is suitable for use in a conventional oven, so you can treat it much the same as the cookware that you are trying to substitute.
The only thing to bear in mind is that it might not be able to handle direct heat sources such as an open flame. It will be best to keep this one for use in your conventional oven.
Cook N Home 4.2-Quart Nonstick Ceramic Sauce Pot High Casserole Pan with Lid, Blue
Ceramic coating is smooth for easy food release and cleaning; PTFE and PFOA free
Made of fine grade aluminum for even heat distribution and preventing hot spots
Comfortable Bakelite handle stays cool; tempered glass lid with steam vent
Works on gas, electric, glass, halogen, ceramic, etc. Stovetops
Not induction compatible and not oven safe; dishwasher safe
Another incredible substitute for a Dutch oven is of course a metal stockpot. These are naturally deep, so will give you the large capacity that you need for cooking a range of dishes. If you want to use your stock pot on the stovetop, it's recommended to do this over low heat so that your food doesn't stick to the base.
The great thing about a metal stockpot is that it can also be used inside a conventional oven as well as on the stovetop. It's still best to stick with the lower temperatures, such as between 250 and 275 degrees Fahrenheit. You will also need to make sure that the lid or handles are suitable for use in a conventional oven.
Sale
Cook N Home Stockpot Large pot Sauce Pot Induction Pot With Lid Professional Stainless Steel 20 Quart, with Stay-Cool Handles, silver
PROFESSIONAL STAINLESS STEEL STOCKPOT: Made of food-grade 18/10 stainless steel polished, well made and very easy to clean, high temperature resistance, corrosion resistance, long service life, not easy to deform. Perfect size great for simmering stocks & soups or making sauces. canning, jarring, and so much more.
DURABLE and EVEN HEATING: With impact bonding aluminum disc in bottom , The aluminum core ensures that heat is evenly distributed /quick and no hot spots.magnetic stainless bottom design for induction use.
EASY VIEWING: Stockpot with tempered glass lid, steam vent that releases excess steam and allows you to see your food without opening the lid. Easily monitor your cooking process.
COMFORTABLE and STRONG: The silicone-wrapped handle stays cool to the touch and provides a comfortable grip, while the riveted handle ensures strength and durability.
VERSATILE and COMPATIBLE: 20 quart stockpot is induction compatible and works on gas, electric, glass, ceramic, and more. Dishwasher safety. Oven safe to 400℉, Lid up to 350℉.
Now when it comes to making soup dishes, a soup cooking pot will be the ideal choice. You may be wondering how this cookware differs from a stockpot, and the answer is that a soup pot tends to have a  smaller capacity.
They are pretty interchangeable with one another if you need to substitute them for each other as well as a Dutch oven.
Similar to the stockpot, you will need to ensure that the handles and lid are suitable for use in a conventional oven if you wish to use them this way.
The great thing about opting for a soup cooking pot is that there are multiple sizes available. You can also choose between lots of different materials to find the one that best suits your needs.
Cuisinart 12-Quart Stockpot, Hard Anodized Contour Stainless Steel w/Cover, 6466-26
EXCEPTIONAL DESIGN: Enjoy professional performance with Hard Anodized Exterior, Unsurpassed Heat Distribution–Reinforced with a Non-Stick cooking surface for Professional Results
PREMIUM COOKING: drip-free pouring, sloped sides of skillet maximizes cooking surface. Oven safe up to 500-Degrees F
EXCEPTIONAL HANDLING: cool grip handles are solid stainless steel riveted handles that stay cool on the stove top and provide a safe a solid grip
CLEAN UP: easy clean up with hot soapy water and a non abrasive scrub pad
LIFETIME WARRANTY: Refer to user manual for troubleshooting steps and questions surrounding warranty policies – this product is BPA free
If you need to replace a Dutch oven for braising, then you can't go wrong with a classic cast iron braiser. This has been designed with braising in mind, so it only makes sense to use this as an alternative to a more expensive Dutch oven.
Braisers can be used to create similar dishes to that you would make in a Dutch oven. The main difference of course is that the sides are shallower, so a cast iron braiser doesn't have the same type of capacity that a Dutch oven does.
Sale
Want a piece of cookware that can be used for frying or sautéing? Then a cast iron skillet will be the perfect choice for you and the recipes that you have in mind. A cast-iron skillet is similar to a Dutch oven, only with lower sides. A cast-iron skillet also comes with a handle, which makes it easier to use on the stovetop.
It is worth bearing in mind that because of the lower sides, a cast iron skillet can only be used to replace certain functions that you can use a Dutch oven for. It's also worth noting that it doesn't come with a lid, so you can't use your cast iron skillet for self-basting your dishes.
Sale
Lodge 10.25 Inch Cast Iron Pre-Seasoned Skillet – Signature Teardrop Handle - Use in the Oven, on the Stove, on the Grill, or Over a Campfire, Black
YOUR NEW GO-TO PAN: Lodge cast iron cookware is the perfect kitchen tool for beginners, home cooks and chefs. Cast iron can handle any kitchen cooktop, oven, grill and open flame. Crafted in America with iron and oil, its naturally seasoned cooking surface creates an easy-release and improves with use.
SEASONED COOKWARE: Seasoning is simply oil baked into the iron, giving it a natural, easy-release finish and helps prevent your pan from rusting. Lodge pre-seasons all cast iron cookware with 100% natural vegetable oil; no synthetic coatings or chemicals. The more you use Lodge the better the seasoning will get!
RUST? DON'T PANIC! IT'S NOT BROKEN: When your pan arrives you may notice a spot that looks like rust. It's simply oil that has not fully carbonized. With regular use and care the spot will disappear. If you do notice rust simply scour the affected area with steel wool, rinse, dry and rub with vegetable oil.
COOKING VERSATILITY: Our skillets have unparalleled heat retention that gives you edge-to-edge even cooking every time you use your skillet. Cast iron cookware is slow to heat up but retains heat longer which makes cast iron ideal for pan-frying and roasting. These delicious moments are cast to last.
FAMILY-OWNED. Lodge is more than just a business; it's a family. The Lodge family founded the company in 1896, and they still own it today. From environmental responsibility to community development, their heads and hearts are rooted in America. Lodge products are made in the USA with non-toxic, PFOA & PTFE free material.
Similar to the cast iron skillet that we have mentioned in more detail above, a stainless steel frying pan with a lid will be ideal for either frying or sautéing.
What gives the frying pan an edge over the skillet is the fact that it comes with a lid. This means you can use it for a whole load of different recipes that wouldn't be suitable for an ordinary skillet.
However, this type of cookware isn't suitable for use in a conventional oven. So you won't be able to use it for baking certain dishes. It's best to just use your new frying pan with a lid on the stovetop.
Another close imitation of Dutch ovens is of course a roaster dish that comes with a lid. This will give you the steep sides you need for creating stews, soups, or other dishes that have large quantities. This is the ideal pan for roasting certain cuts of meat, too.
The only thing to bear in mind is that the vast majority of roasting dishes have been constructed using a metal alloy, which means that it will heat up quicker than the cast iron of a Dutch oven. So you may need to adjust the cooking time as needed.
14.6 Inch Enamel Roaster Pan, Professional Oval Turkey Roasting Pan with Domed Lid, Covered, Non-sticky, Free of Chemicals, Rôtissoire for Turkey, cheese, steak (black)… (Black)
ENAMEL ENAMEL: The enamel enamel fire roast chicken pan is derived from the design concept of European and American fashion cookware. The world's selected electrostatic enamel enamel technology is the best choice for daily roasting turkey, duck and other cooking in household/commercial ovens. Leading the fashionable cooking life with the pursuit of "taste the beauty and create it"
NO MORE DRY TURKEY: Enjoy your delicious turkey in a most and juicy state, the non-stick roaster evenly distributes the heat inside the pan with the help of porcelain surface and the self-basting bumps inside the lid surface that directs the moisture down back to the turkey.
FAST AND EFFICIENT COOKING: Enjoy your delicious turkey in no time, the enamel roaster is made of carbon-steel material with porcelain finish. The porcelain surface evenly absorbs and distributes the heat inside the oval roaster pan with lid for faster cooking as compared to steel or glass material.
SOLID OVAL CONSTRUCTION: The covered roaster is uniquely designed to fit poultry or roasts. The solid carbon steel construction lets you cook chicken, turkey, pork, veggies, & roasts.
CHEMICAL FREE & DISHWASHER SAFE: The chicken and veggie roaster pan is made free of any chemicals, PTFEs or PFOAs to keep your food safe; the deep roaster is also dishwasher safe.
Now we know that we've already covered ceramic casserole dishes, but there are also glass casserole dishes on the market. So we thought it would be worth mentioning them, like this Pyrex casserole dish!
This is one of the more reliable brands when it comes to cooking, as Pyrex can be exposed to great heat in your conventional oven.
The depth of the glass casserole dish makes it super easy to mimic the Dutch oven that you are trying to replace. You will have a larger capacity to work with to create certain dishes, and it will also be much lighter to remove from the oven than cast iron cookware.
When it comes to using glass cookware, it is best to avoid direct contact with a source of heat such as the stovetop. Your glass cookware is best heated up at a slower, consistent rate to avoid thermal shock.
Pyrex Easy Grab 2-Qt Glass Casserole Dish with Lid, Tempered Glass Baking Dish with Large Handles, Dishwashwer, Microwave, Freezer and Pre-Heated Oven Safe
HOUSEHOLD ESSENTIAL: The Pyrex Easy Grab casserole dish offers high-quality durability and reliability. Tempered glass and large handles help bring stability and safety when handling hot food or any spillable meal.
INTUITIVE DESIGN: The Pyrex bakeware set has wide handles that help secure a firm grip to avoid slips and spills. This is the ideal tool for baking and serving all manner of dishes and entertaining. Product dimensions are 9-in x 7.25-in x 2.75-in.
EVERYDAY USE: High-quality non-pourous glass gives you a peace of mind when storing your food, resisting stains, flavors and odors. Durable tempered glass is also dishwasher, freezer, microwave and preheated oven safe.
LIMITED WARRANTY: This item has a limited 2-year warranty.
A TRUSTED BRAND: Loved for generations, experienced cooks and beginners alike have reached for Pyrex brand glassware products, because they're affordable, durable, and great for all their cooking, serving and storing needs.
What Is The Best Dutch Oven?
If you have decided to take the plunge and opt for a high-quality Dutch oven rather than use one of the fantastic alternatives that we've covered in more detail above, we've got your back. Out of all the Dutch ovens on the market, we would recommend opting for the Lodge Enameled Dutch Oven.
This particular Dutch oven gives you a good blend of functionality and affordability. You will get a large capacity 6 quarts Dutch oven that can be used for a wide range of recipes. The Dutch oven is also enamelled, which will make it super easy to clean after you've finished cooking.
What we really liked about this Dutch oven when we tested it was that it is available in several sizes. You can choose between a smaller Dutch oven or a larger one depending on your needs. The Lodge Dutch oven sizes range from 1.5 quarts, 3 quarts, 4.5 quarts, 6 quarts, 7 quarts, or a whopping 7.5 quarts.
For a family of 4, the 4.5 quarts of Dutch oven will be more than enough. To entertain guests or for larger families, the 6 quarts Dutch oven will be ideal. This range of Lodge Dutch oven sizes gives you more than enough to play with in terms of capacity.
The Lodge Enameled Dutch Oven is also available in a range of colors so you can find the best one for your preferences.
The Budget-Friendly Option
Don't have hundreds of dollars to splurge on a high-quality Dutch oven? Then this Amazon Basics Enameled Cast Iron Covered Dutch Oven should be your Dutch oven of choice.
This particular Dutch oven combines functionality and affordability, being available at a much more budget-friendly price than some well-known brands on the market.
This particular Dutch oven is available in different sizes, ranging from 4.3 quarts, 6 quarts, and up to 7.3 quarts. The 4.3 quarts size is more than enough for a family of 4 and will give you the capacity that you need to create enough food to go around.
The Amazon Basics Enameled Dutch Oven is oven safe up to 400 degrees and even comes with an enamelled lid so that you can use it for a whole range of dishes. The enamelled coating makes the Amazon Basics Dutch oven super easy to clean, too.
The If Money Were No Object Option
It doesn't get better than Le Creuset. There's a reason that Le Creuset is the king when it comes to cast iron cookware. This is a brand that you can trust, and you can rest assured that your Le Creuset Enameled Cast Iron Signature Round Dutch Oven is going to last you for many years to come.
It does come with a hefty price tag compared to the other Dutch ovens that we have recommended, but it will be well worth it in the long run. This Dutch oven is so incredibly versatile that it will more than pay for itself over time with how many dishes you can make.
The Le Creuset Dutch oven is available in a range of colors and sizes for you to choose from. This particular 5.5 quarts Dutch oven will be more than enough for a family of 4 to enjoy. The cast iron is able to give you superior heat distribution for evenly cooked food every time, and it is enamelled for easier cleaning.
Things To Bear In Mind
When it comes to deciding on your new Dutch oven, you will of course need to think about capacity. You will need to opt for a Dutch oven that will give you more than enough capacity to feed everyone in your home. There's no point in opting for a smaller Dutch oven that's around 1.5 quarts if you need to feed a family of 4.
We would recommend opting for a Dutch oven that's around 4 quarts to 5 quarts in capacity for feeding a family of 4. Dutch ovens are of course available in a range of sizes, so it should be super simple to find the size that best matches your needs.
You will also need to think about whether you opt for enamelled cast iron or plain cast iron. Enameled cast iron would be preferable, as this will be much easier to clean, and will come with natural non-stick properties. However, it will be slightly pricier than cast iron which hasn't been covered in enamel.
If you were to opt for uncovered cast iron, you will need to season this every now and again to ensure that it maintains its non-stick properties.
Of course, you should think about what dishes you will be making with your new cast iron Dutch oven. This is a versatile piece of cookware that can be used for making bread, making casseroles, roasting joints of meat, and many more.
However, if you already have cookware around your home for these purposes, then you may be better suited to using these.
If you want a versatile piece of cookware that is going to cut down on the amount of washing up you need to do at the end of the week, then a Dutch oven will be a worthy investment.
In Summary
So there you have it! You now know all there is to know about Dutch ovens. You know how a Dutch oven works, how to use one, and whether it's actually worth buying a Dutch oven of your own to use.
If you really don't want to buy a Dutch oven, or can't afford the higher price tag of the cast iron cookware, then you also have a range of suitable alternatives for you to use.
It will be worth considering that depending on the dish that you are trying to make, some types of cookware that we have mentioned above will be better suited.
You will also need to think about whether the chosen cookware is suitable for use above certain temperatures, as some types of materials can't exceed 350 degrees Fahrenheit. It will be essential to check what the care instructions are for your chosen cookware before you use it for a certain dish.
No matter whether you decide to take the plunge and buy a Dutch oven, or decide to stick with one of the fantastic alternatives that we have mentioned above, you have all the information you now need to cook your favorite dishes!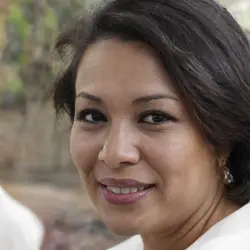 Latest posts by Kunal Sharma
(see all)