Many people use their blenders for smoothies, soups, sauces, juices, and more, but if you have a blender that is capable, you can also blend spices. When you grind your spices, they are fresh and flavorful, and they instantly improve any meal you cook. People often grind cinnamon, coriander seed, cumin, and allspice. As long as your blender is up to the job, you can grind whatever spices you want to add to your meals.
What to Consider When You Are Looking for a Blender for Grinding Spices
If you know that you want a blender for grinding spices, you can plan ahead. You should start by setting your budget, as blenders can range quite a bit in price. Some of the top of the line blenders cost as much as a few hundred dollars, while you can get others that cost as little as $30. 
You need to determine the volume of spices you want to blend so that you know what container size you want. If you plan to blend a few tablespoons, you will want a smaller container. However, if you plan to grind larger batches, make sure your container can handle it. 
Either way, you will want the blender to have a container that is smaller than standard size. You can find them with a smaller cup or a container attachment for spices. This will help you grind your spices evenly and make sure that they are all ground.
You should also make sure that your blender has a grinding feature. Some blenders are only made for wet blending, and they won't work well. If the fine print says that they don't recommend blending dry items, avoid the blender because grinding spices might overheat the motor. Your best options will state that there is a grinding function. 
Make sure that you decide whether you want your blender to be designated for spices only or multiple functions. If you plan to use it for multiple functions, make sure you have a separate container for spices so that leftover spices don't get into your other items.
5 Best Blenders for Grinding Spices
**BecauseFoodisLife is supported by readers. If you click one of my links, I may earn commissions. I am also participant in the Amazon affiliate program and I will also make a commission from qualifying purchases.Thank you***
Vitamix E310 Explorian Blender
Sale
Vitamix E310 Explorian Blender, Professional-Grade, 48 Oz. Container, Black
Variable Speed Control: Ten variable speeds allow you to refine every texture with culinary precision, from the smoothest purées to the heartiest soups
Pulse Feature: Layer coarse chops over smooth purées for heartier recipes, such as chunky salsas or thick vegetable soups.
The 48-ounce container is ideal for blending medium batches for small family meals. Cutting blades measuring 3-inch diameter to ensure a consistent blend every time. Electrical Ratings-120 V
Hardened Stainless-Steel Blades: Our aircraft-grade stainless steel blades are designed to handle the toughest ingredients, so from the first blend to the last, you get the same quality results. Cord length: 4.5 feet
Self-Cleaning: With a drop of dish soap and warm water, your Vitamix machine can clean itself in 30 to 60 seconds. What's in the Box: motor base, 48 oz. container, mini-tamper, cookbook
The Vitamix Blender is professional grade, and it comes in black with a 48-ounce container. It has variable speed control with ten different speeds, so you can refine any texture with culinary precision. You can make smoothie purees, hearty soups, and grind spices. It has a pulse feature where you can layer coarse chops over smooth purees for a heartier recipe. This allows you to make chunky salsa or thick vegetable soups. 
It comes with a 48-ounce container, which is perfect for blending medium batches for your family. The cutting blades measure a three-inch diameter, so it blends consistently. It has hardened stainless steel blades that are made of aircraft grade stainless steel. They are designed to be durable and last when you blend the toughest ingredients. You will always get high-quality results. 
In addition, this blender is self-cleaning, and all it takes is a drop of dish soap and warm water. It takes 30 to 60 seconds to clean itself. You can also get smaller containers for this blender, which will be great when you are blending spices.
Pros:
High-quality aircraft grade steel blades
10 variable speeds
48-ounce container and smaller options
Pulse feature so you can layer chunky over puree
Easy to clean
Cons:
Hamilton Beach Professional Quiet Shield Blender
Sale
Hamilton Beach Professional Quiet Shield Blender, 1500W, 32oz BPA Free Jar, 4 Programs & Variable Speed Dial for Puree, Ice Crush, Shakes and Smoothies, Silver (58870), 1500W
Crushes Ice and Frozen Ingredients Fast Powerful 1500 Watt/ 20 Peak Hp and Hardened, Stainless Steel Blades Works Through Hard Ingredients in Seconds
Removable Quiet Shield Dampens Noise During the Blending Process; Infinite Speed Control Ranges From Super Slow 3,000 RPM to Fast 18,000 RPM
4 Program Settings Smoothie, Ice Crush, Puree, and Clean Offer One-Touch Convenience and Easy Cleanup Variable Speed Dial Provides Control
32 Oz Shatterproof Jar BPA-Free Jar Included Tamper Fits Through Lid to Help Bled Dense Ingredients
Dishwasher-Safe Parts the Blender Jar, Lid and Tamper Are All Dishwasher Safe as Well
Another great option for blending spices is the hamilton Beach Professional Blender. It crushes ice and frozen ingredients fast with its powerful 1500-watt motor. It has hardened, stainless steel that can slice through tough ingredients quickly. It also has a removable quiet shield that reduces noise while it is running. It has infinite speed control ranging from super slow to fast. 
It comes with four program settings, including smoothie, ice crush, puree, and clean. You get one-touch convenience and the variable-speed dial gives you control. It comes with a 32-ounce shatterproof jar that is BPA free, and the included tamper fits through the lid to help blend dense ingredients. In addition, it has dishwasher safe parts, including the blender jar, lid, and tamper. You can also add water and dish soap to the blender and use the clean setting for a quick clean.
Pros:
Powerful blender
Self-cleaning option
Quality stainless steel blades for tough blending
BPA-free, shatterproof jar
Tamper included
Cons:
You need a smaller container for spice grinding
NutriBullet ZNBF30500Z Blender Combo
Sale
NutriBullet ZNBF30500Z Blender Combo 1200 Watt, 1200W, Dark Gray
NutriBullet blender combo will take your nutrition extraction to the next level with the versatility of both a multi-serving pitcher and a single serve cup.
Three precision speeds, A pulse function and the extract program offer full control at the Press of a button. 1200 watts of power let you make an endless array of smoothies, soups, sauces, nut butters and beyond.
Includes: (1) 1200W motor base, (1) 64 oz blender with lid and vented lid cap, (1) Tamper, (1) 32 oz cup, (1) 24 oz cup, (2) to-go lids, (1) easy-twist Extractor blade, and recipe book
The easy-twist Extractor blade is made of powerful stainless steel and designed with cyclonic action. Our super-durable BPA-free pitcher and cups are made of high-performance plastic.
Hassle-free cleaning - simply place pitcher and cups in the dishwasher and rinse The easy twist Extractor blades with soap and water.
The NutriBullet blender is a combo blender that gives you the versatility to blend different items and different portion sizes. It has three precision speeds, and a pulse function that gives you complete control by pressing a button. It has 1200 watts of power, which allows you to make smoothies, sauces, soups, nut butters, and grind spices. 
The blender comes with the motor base, a 64-ounce pitcher with a lid and a vented lid cap. It also has a tamper, a 32-ounce cup, a 24-ounce cup, two to-go lids, an easy-twist Extractor blade, and a recipe book. The Extractor blade is easy to twist, and it is made of stainless steel. It has cyclonic action, and the pitcher and cups are durable and BPA-free. 
It is easy to clean. You can wash the extractor blades with soap and water, and the pitcher and cups go in the dishwasher. People who buy this blender are very happy with this product.
Pros:
Versatile with different containers
Three precision speeds for ultimate control
1200 watts of power
Comes with a tamper
Extractor blades are durable and easy to clean
Cons:
Blendtec Classic 575 Blender
Blendtec Classic 575 Blender, 90 oz WildSide+ Jar, and Spoonula Spatula - Kitchen Blender Bundle - Black
Easy to Use: The Classic 575 kitchen blender has 4 cycles for perfect soups, smoothies, and shakes
5-Speed Control: Customize the consistency of your blender's smoothies with incremental speed cycles
Clear Markings: Use this blender for shakes and smoothies to measure ingredients while blending
Easy to Clean: Scrape all of your soups or smoothies with the heat-resistant Spoonula spatula
Blend Safely: Our blunt kitchen blender blade pulverizes ingredients and keeps injuries at bay
The Blendtec Classic Blender is easy to use. It has four cycles to make smoothies, shakes, and soups. It has five-speed control, so you can customize the consistency of your blends. The container has clear markings, so it is easy to measure what you are blending. It is also easy to clean, and it is safe to use. 
This blender has a powerful motor and an innovative design. It also has touchpads, patented jars, and easy-to-use technology. The jar is designed to pull everything towards the blade, so you can drop your ingredients in and start blending. It is an excellent blender for any of your needs.
Pros:
Powerful motor and innovative design
Easy to use
Five speeds at the touch of a button
Four cycles
Clear markings on container for accurate measurements
Cons:
CGOLDENWALL Upgraded Electric Grain Grinder
CGOLDENWALL 1000g Electric Grain Grinder Mill Safety Upgraded 3000W High-speed Spice Herb Grinder Commercial Superfine Machine Dry Cereals Pulverizer CE 110V (1000g Swing Type)
【Upgraded Safety Protection Lid】Open-Cover-Stop type grain grinder will automatically stop working when its lid is opened, largely enhancing use security. There are two induction switches in the buckles on the both sides, which make the mill get started only when the lid is closed completely. So if the grinder cannot turn on the first time, please adjust the lid like steps in image 5.
【270°Swing Superfine Flour Mill】Normal grains only needs 30s to be ground into 70 to 300 mesh superfine flour, except hard material takes 2-3min to grind. Swing type design not only improves grinding effects but also makes pouring more convenient.
【High Power & High Speed】Capacity: 1000g, Power: 3000W, Speed: 30000r/min, Working Time: no more than 3min. *NOTE: Material ground one time must cover the long blade in the middle and NO MORE THAN 2/3 of the tank. 1/2 of the tank is the best. The whole process of high-speed grinding is carried out in the closed tank, which will generate heat. So It is normal for the machine to be slightly heat.
【Various Dried Materials Applicable】The grinder can deal with various dried materials, including ①grains (soy, corn, barley, rice, wheat, oats, rye, peas, mung beans, coffee beans), ②spices&seasonings (star anise, fennel, pepper, cinnamon, rosemary) ③herbs (ginseng, astragalus, medlar gelatin, gastrodia, Shijie, Ganoderma lucidum) *When using grinding machine for panax notoginseng, pearls and other tough items, please slice them to small pieces first.
【OVERLOAD PROTECTOR】When grain grinder is in an overloaded/overheat state, the overloaded protector will work automatically to stop the operation. It's easy to solve by replacing the carbon brushes on the both sides and then pressing the overload protector again, then the grinder could work well.
This grain grinder will automatically stop operation when the cover is opened, which makes it easier to use. It has a 270-degree swing type design, which improves grinding effects and makes it easy to pour powder. It is a high-power and high-speed machine with a capacity of 1,000 grams and 3,000 watts of power. It has a powder fineness of 70, and it is a superfine power mill.
If you grind extremely hard materials, it takes two to three minutes, but normal grains grind in just thirty seconds. You get 70 to 300 mesh superfine powder once you pulverize the material into powder. It has a closed grinding bin that holds your spices after you grind them. 
The grinder can handle many different dried materials, including grains, spices, herbs, raw materials, and more. It doesn't waste any material. You have to fully buckle the lid before you grind, and it has two induction switches. The materials need to be dry, and the machine has to rest after every five minutes of operation. It is easy to clean by wiping the inside with a dried cloth. You should not rinse with water.
Pros:
Grinder designed specifically for grinding spices
Safe to use
Easy to wipe clean
Grinds the hardest materials
Holds more materials than other grinders
Cons:
Can get hot quickly with extended use
What Makes a Blender a Good Choice for Grinding Spices?
You can choose a blender for grinding spices, or you can choose a dedicated grinder. The blender does a good job, but you need to look for the right features. 
The motor should be powerful enough to grind tough seeds without burning out, and the blades need to be strong and durable. They don't need to be sharp, but they should be stainless steel or another tough material. 
You want a blender with different speed settings. This allows you to achieve different textures for different spices, which is more versatile. If it has a pulsing feature, you have more control when you are creating coarse spices. 
The blender container is also a consideration. You want a blender that has a smaller container or one that has smaller containers available. This way you have more control over how fine the spices turn out. 
Finally, it should be easy to clean. Some blenders are self cleaning with a drop of soap and water, while others are dishwasher safe.
Final Words
When you are choosing a blender for grinding spices, make sure that the blender fits your needs. You can choose one for multiple purposes, or you can get a designated grinding machine.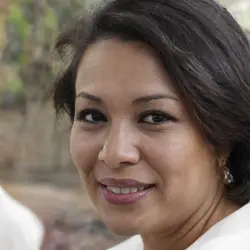 Latest posts by Kunal Sharma
(see all)