Chicken has versatile applications in the different cuisines of the world. Chicken can be boiled, fried, roasted, broiled, baked, and cured, depending on the meal intended and the preference of the person or people cooking it. In this blog we are going to compare baking versus frying chicken and give you definite answer which is the better method of cooking.
Methods of preparation
First let's look at couple of reasons why cooking methods are very important.
Cooking chicken just like any other food, softens the muscles, and facilitates eating as well as digestion and absorption of its nutrients. 
Cooking is also important for killing harmful bacteria (like Salmonella) that may have been carried on the body of the chicken.  These bacteria can make us sick if not killed by the appropriate cooking temperatures. 
Besides, cooking imparts flavor, texture, and taste that increase the acceptability of the food. As a result, some people tend to prefer one cooking method over the other.
On the other hand, cooking can lead to depletion of nutrients, and important bioactive compounds like antioxidants in foods, depending on the cooking method used as well as the duration of the cooking. Additionally, certain cooking methods favor more the formation of harmful compounds that increase one's risk to developing chronic diseases like cancers. 
Thus, it is very important to choose a cooking method that minimizing nutrient loss, while on the other hand, resulting in the least concentration from harmful compounds that can be formed. Baking and frying for example, are two of the most popular methods of cooking chicken. Now comes the big question: is baked chicken better than fried chicken?
Baking vs Frying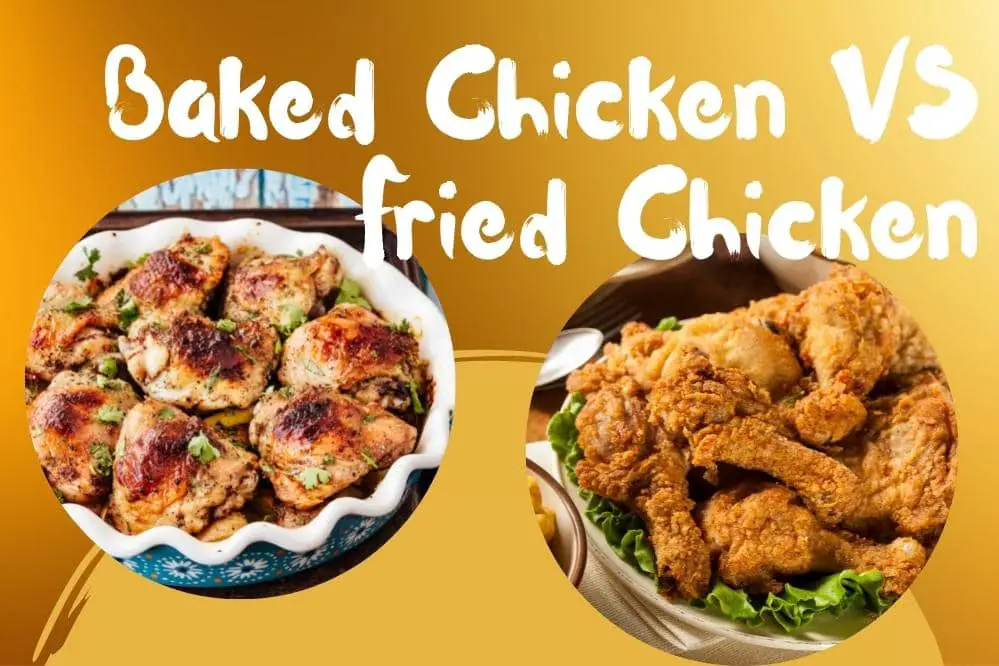 Baking is a method of cooking food at high temperatures in an oven using dry heat. Baking uses the moisture in the food to cook it, and usually involves no added oils or fats. When baking on a rack, fats will typically drip out of the food, further reducing the fat content.  Frying on the other hand is a method of cooking by placing food into hot oil or fat. Frying can either be deep frying (submerging the food totally inside oil), shallow frying (partial submerging of food in oil or fat) or stir fry (stirring the food inside a little oil or fat). 
When baking is compared to frying, baking your chicken is better than frying for a couple of reasons.
a) Baking adds no additional oil or fat to your chicken. When foods are fried, they absorb some of the oil or fat in which they are fried in, increasing their caloric densities. Fried chicken will therefore be more calorie dense than baked chicken, making it much more unhealthy than baked chicken. For people watching their calorie consumption such as those on a weight loss plan, going for baked chicken is better.
b) The additional oil taken in by fried chicken increases one's lipid or cholesterol blood levels, which can lead to the development of heart disease. It is usually advised that those with high blood cholesterol levels or hyperlipidemia, avoid or cut down on fried foods like fried chicken, to reduce their cholesterol intake
c) Deep frying subjects the oil or fat uses to fry to very high temperatures which can lead to the production of free radicals (unstable atoms) and consequently oxidation reactions, which are bad for the health. This is typically predominant when oil is repeatedly used to fry chicken as is the case with most homes, restaurants, and food trailers that serve fried chicken and other fried foods.
d) Frying of chicken can cause the formation of harmful substances. Pan frying for example has been associated with the formation of heterocyclic amines, compounds capable of causing cancer. This is because food reaches much higher temperatures being fried in oil or fat, than being baked. Farther, many vegetable oils and seed oils regularly used to fry chicken be it at home or in restaurants, are easily damaged at high temperatures, stimulating the formation of cancer forming compounds called oxygenated aldehydes.
e) Baking helps retain nutrients better. Since temperatures during frying are much higher than during baking, heat sensitive nutrients can be better retained in baked chicken than fried chicken. Also, with baked chicken, all your seasoning is retained on the chicken, compared to fried chicken, where a lot of the seasoning is washed in the frying oil. 
Baking and frying are two popular methods used to cook chicken, each imparting on the chicken great flavors and taste. However, baked chicken tends to be better than fried chicken from a health perspective. Frying increases calories, and cholesterol levels of the chicken, which can increase one's risk to developing heart disease, stroke, and obesity. Frying also leads to the formation of compounds like oxygenated aldehydes and heterocyclic amines, that are associated with the development of cancer in a along run. So, if you are overweight or obese, or have heart disease, it is advisable to drastically cut down or remove completely fried chicken from your diet. For healthy people, or those just watching their weight, consume fried chicken with moderation, so as to reduce your risk of developing any chronic health conditions. You can always opt for baked chicken, which is a less fatty, more nutrient filled and contain lesser carcinogenic compounds. 
Related Topic
Benefits of chicken
Chicken is a very important source of protein in the diet, with an estimated 23g of protein per 100g of chicken.  Proteins are the building blocks of life, as they are extremely crucial for the growth, and repair of body tissues like bones, cartilage, hair, and skin. Chicken also contains several minerals and vitamins that are beneficial to the body. For example, chicken is an excellent source of niacin/vitamin B3 (9.6mg/100g) providing for 51% of the recommended daily value. Vitamin B3 helps the body convert nutrients to energy, and is also vital for reducing blood pressure, boosting brain function, and improving the skin. Chicken also contains a good amount of selenium, phosphorus, vitamin B6 and vitamin B12.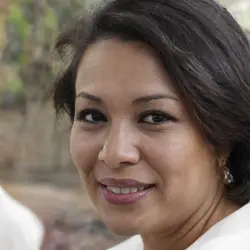 Latest posts by Kunal Sharma
(see all)