Beef, depending on where you're buying it, can be really hard meat to find at a reasonable price. Beef stew meat, however, is almost always cheaper to buy than its counterparts.
The only problem with beef stew meat is that it's surprisingly difficult to find good recipes for it. Even a delicious beef stew can get old sometimes, and variety is the spice of life, after all.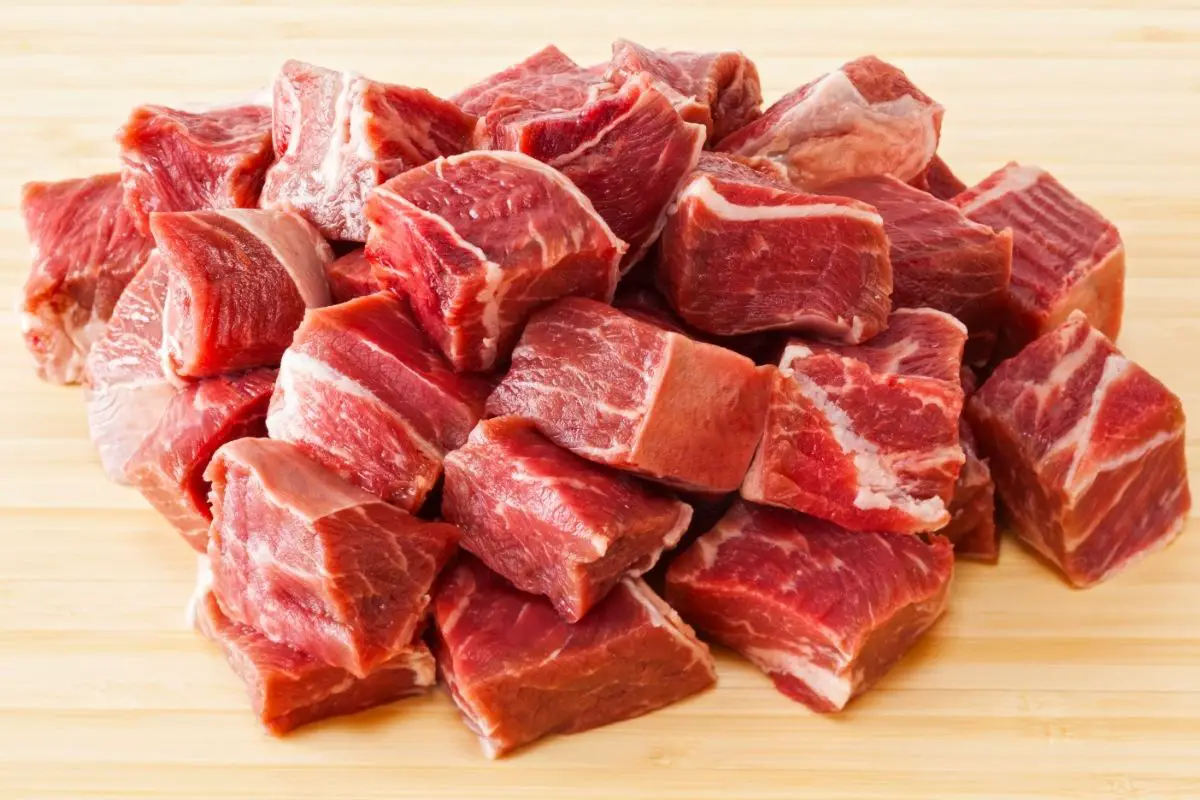 So spice up your life with these beef stew meat recipes we have collected for you!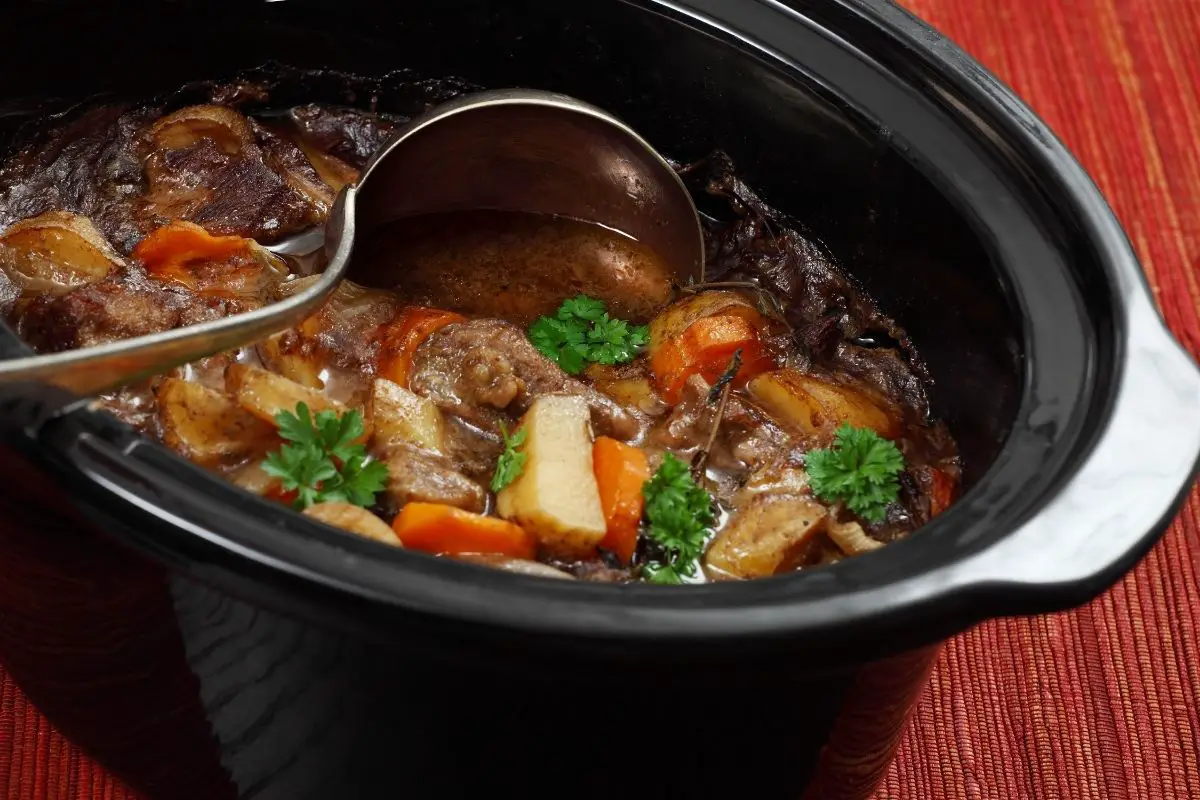 Beef Stew Meat is an ideal meat to be cooked over a long period, which is what has made it so popular in stews for decades.
This peppered steak recipe is one of these recipes, using a slow cooker to get that perfect melt-in-your-mouth texture that this type of beef is best known for.
Cooking beef stew meat in the slow cooker means you can make a delicious meal without any fuss.
You don't have to worry about turning on the oven or having to wait until your stovetop is hot enough to cook at high heat. All you need to do is add some ingredients and let the slow cooker work its magic.
Plus, you won't be spending hours in the kitchen either, as you'll only need to set up the slow cooker once.
That's not all, though – there are many things you can do with beef stew meat besides just making it into a tasty dish. If you're looking for a healthy way to eat beef stew meat, then look no further than this easy-peasy recipe.
This is another recipe that makes great use of a slow cooker. This time, it is for a classic beef stroganoff recipe.
Stroganoff has been a popular dish around the world for hundreds of years, and a slow cooker only makes enjoying this timeless meal easier to make!
The key to a good stroganoff is thickening the sauce. A roux gives the sauce body while also adding flavor.
The slow cooker does the rest by gently cooking the beef and vegetables together, resulting in tender meat and rich flavors.
If you want to serve your beef stroganoff at your next dinner party, you should always consider serving it with mashed potatoes. These will help soak up the gravy and give your guests something more substantial to munch on.
Of course, no list of beef stew meat recipes would be complete without at least a few beef stew recipes!
This first one on our list adds a ton of vegetables to your classic stew, making for a stew that will melt in your mouth, no matter what you're biting into.
You might even say that this instant pot beef stew recipe is a vegetarian version of a traditional beef stew.
There's plenty of ground beef in here, but it gets mixed with tons of veggies like carrots, celery, onions, and spinach.
It turns out that combining those veggies with beef creates a hearty, flavorful meal that tastes great served over rice or noodles.
And if you'd rather enjoy your beef stew meat raw, then try this other recipe instead. We've got lots of different ways to cook beef stew meat, including stir-fry, lasagna, and even pizza!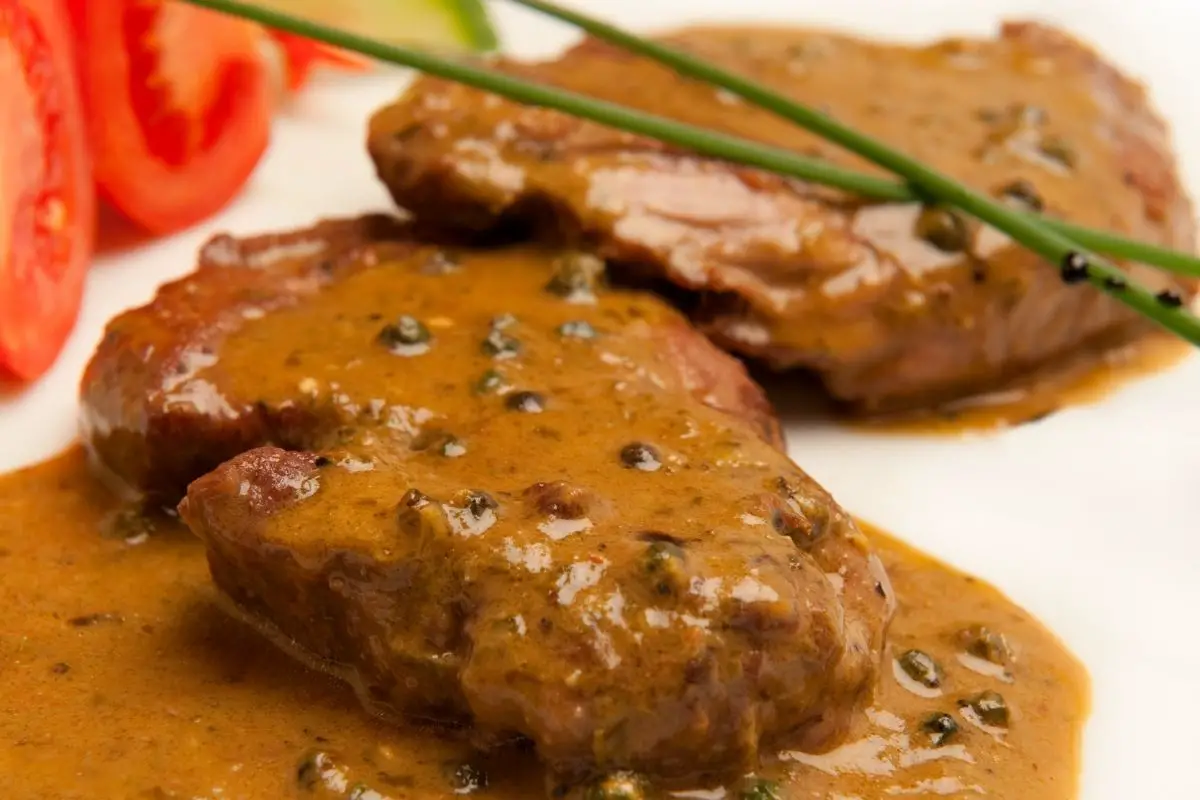 It's time to bring out that slow cooker again for another pepper steak recipe! This one makes great use of peppers to add a crunchy bite to this dish, alongside your classic beef and onion ingredients.
These peppers are roasted before being added to the slow cooker, giving them a smoky flavor that brings out the natural sweetness of the beef.
They complement the meat perfectly, making for a savory dish that will leave you wanting seconds!
But we wouldn't recommend eating pepper steak every day, if only because it isn't very low in calories.
Instead, find yourself a special occasion where you can enjoy this beef dish, and save your pepper steak recipes for when you truly deserve it.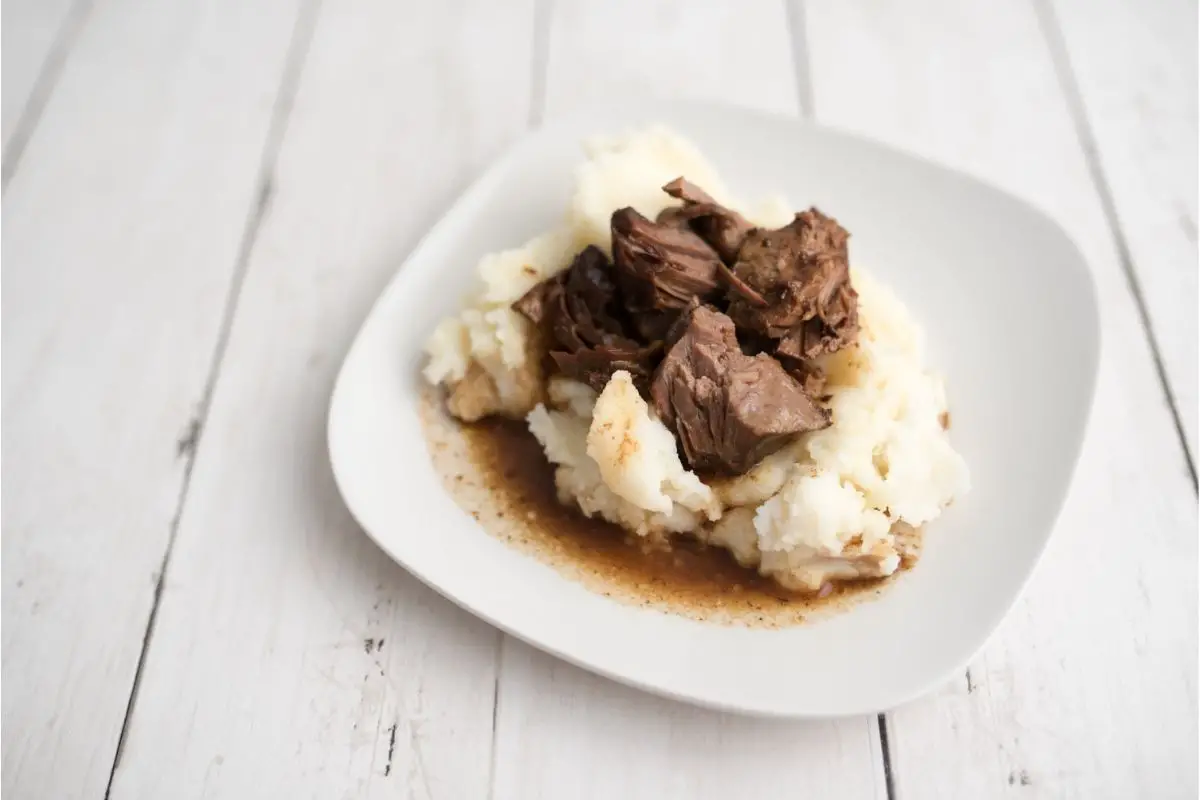 Beef stew meat, thanks to the tender cuts of meat that they come from, often also make for great ingredients for an amazing beef tip recipe. This one here is a prime example!
A beef tip is a slice of beef cut from the chuck section of the cow. Chuck cuts include sirloin, top round, bottom round, eye round, and flank steak.
All of these are delicious, especially when cooked slowly in a slow cooker.
The main reason why people love using a slow cooker for beef tips? Because it allows them to create a deliciously tender meal that won't dry out.
You'll need a large slow cooker to accommodate all the beef tips you'll have leftover after trying out this tasty recipe.
Who doesn't love a good beef and vegetable stew? This recipe takes a little patience to get right (well, quite a lot of patience, given the cooking time), but once you've got the hang of it, it'll be a go-to recipe for virtually any occasion!
This slow cooker vegetable beef stew features the perfect balance of flavors, with both sweet potatoes and corn providing some extra sweetness.
The result is a richly flavored dish that comes together easily, leaving you with enough time to spend on other things while it cooks away.
If you prefer a slightly more authentic tasting beef and vegetable stew, though, then try this recipe instead.
Just swap out the sweet potato for regular potatoes, and you'll end up with a much spicier dish than the original.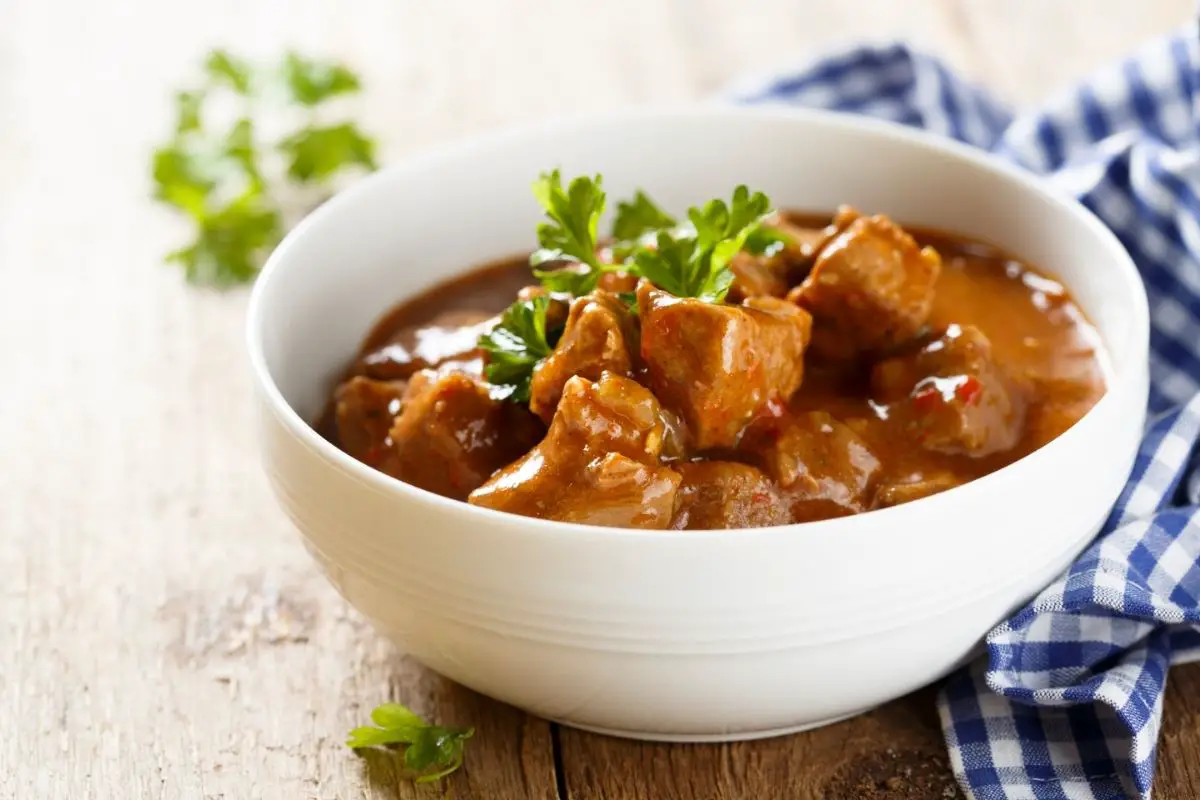 Goulash is a classic recipe from Central Europe, especially in Hungary, where this dish originally comes from. This spin on this age-old food will be a nice change of pace from the usual stews and steaks!
To make sure that you don't miss out on any of the flavors, this version can be made with two kinds of beef: either the classic beef stew meat that we've been discussing or, if you don't have any of that handy, hamburger beef meat will also work quite nicely.
Both types of meat can be slow-cooked in a tomato sauce until they're meltingly tender and thoroughly cooked, which means you can eat this dish without worrying about getting sick!
You'll want to adjust the number of spices used depending on how spicy you like your dishes. If you're not a fan of spice at all, try adding less chili powder or paprika in its place.
But if you're looking for something a bit hotter, feel free to increase those amounts.
Beef and pie go together like… Well, beef and pie! It's the go-to combination for anyone looking to make a great memorable savory pie recipe, and this recipe is plenty of proof as to why they go together so well, especially with mushrooms and a touch of Guinness!
While the filling and crust are baked separately, the actual preparation of this pie takes just minutes. Once everything has finished baking, you'll end up with an excellent pie that everyone will enjoy.
If you'd rather skip the pies altogether, however, then you can always substitute the filling for a traditional beef stew.
Just add some extra veggies and use a different type of bread topping. Either way, you'll wind up with a hearty and comforting meal that's guaranteed to please.
Another classic combination for slow-cooked meals, steak and potatoes, are a pair of foods that are pretty hard to do dirty, even without a good soup for them to go in.
Fortunately, this soup recipe does both of these reliable ingredients justice, letting them sit in a beautiful gravy soup that will quickly go once it's placed on the dinner table!
The best part of this recipe is that it uses everyday ingredients that almost anyone can get their hands on.
While there are lots of recipes online that may require you to purchase specific items, this one doesn't require any special equipment or supplies.
So if you're looking for a quick and easy meal idea that won't break the bank, look no further.
Not only does it use easy-to-source ingredients, but outside a slow cooker, you won't need any special equipment to make this soup, meaning that it's easy to whip up when you get home after a long day.
And since it's mostly vegetables, there aren't many calories associated with making it. So, whether you're trying to lose weight or simply looking to make a nutritious, low-calorie meal, this soup is sure to fit the bill!
Instant pot beef is one of those recipes that always feels like it is more difficult to make than it first seems. Well, put those fears aside with this recipe!
This page has some great tips for making some instant foods that taste great and won't break the bank! Great for those amateur chefs on a budget.
For starters, you don't have to be a chef to make this dish. All you need is a decent-sized pot, a knife, and some seasoning. You'll also need to know what kind of meat you're using, but that's all there is to it.
Once you've got all of that setup, you should be able to knock out the whole process in under 20 minutes.
And while we are talking about time, you will still save yourself hours of cooking in the kitchen, as this isn't a complicated recipe.
Whilst a stew, soup, or peppered steak is great for pretty much any food occasion; sometimes you might want to push the boat out with a new kind of food or cuisine.
If this sounds like you, then borscht might just be the recipe you're looking for. A classic dish of Eastern Europe and North Asia that originated in Ukraine, this is the perfect new beef stew meat recipe for you to try!
This recipe is relatively simple, requiring only a few steps to make. It starts by boiling down onions, carrots, cabbage, peas, and potato into a delicious broth.
Then, you combine it all and let it simmer away until the flavors come together. Finally, you cook off the excess liquid and serve it up hot with some crusty bread.
The result is a tasty and healthy stew that's perfect for any winter night.
In addition to being incredibly flavorful, this is another recipe that uses easy to source ingredients.
There are plenty of options available at your local grocery store or farmers' market, which means you shouldn't have to spend too much money on this particular meal.
Most of the ingredients in this recipe are free from artificial additives and preservatives, so they are safe to eat if you're trying to cut excess like that out of your diet.
Going from a recipe that might be new to many or an old favorite, we have another recipe for a beef stew that is both easy to make and delicious to eat!
This recipe doesn't require any fancy equipment or complicated techniques, so it can be made with ease even if you've never cooked before.
The main ingredient is ground beef, although you could easily substitute lamb or pork instead.
Once combined with other veggies, spices, and liquids, you've got a hearty and satisfying meal that's ready in less than 30 minutes.
If you're not interested in adding lots of extra flavor to this recipe, you can skip the step where you sear the meat.
However, doing so will leave the meat mushier, which may mean that it takes longer to cook through. Of course, you can also choose to add additional flavors such as herbs or garlic to give it more depth.
Who's ready for another new recipe that is sure to become one of your favorite go-to beef dishes?
Barbacoa is a recipe that was originally from the Dominican Republic, and this gluten-free recipe is a great example of the tons of flavors that this meal can have packed into it!
Barbacoa is a type of stew, but it's usually served in small chunks rather than large pieces. This makes it easier to eat, especially when you're dining with friends who aren't used to eating a smaller portion size.
As mentioned above, the name comes from the Spanish word meaning "barbecue" because the original way of making this recipe involved roasting the pieces over a charcoal BBQ pit.
Nowadays, however, there are plenty of ways to make barbecued meats without having to use firewood.
For this recipe, you'll need to start with some inexpensive cuts of meat that don't require much work to prepare.
You can easily find these types of cuts at your local butcher shop, and they often come in bulk packages for very affordable prices.
If you want to get creative, you can always look online for recipes that call for different parts of the animal to create a full-on feast.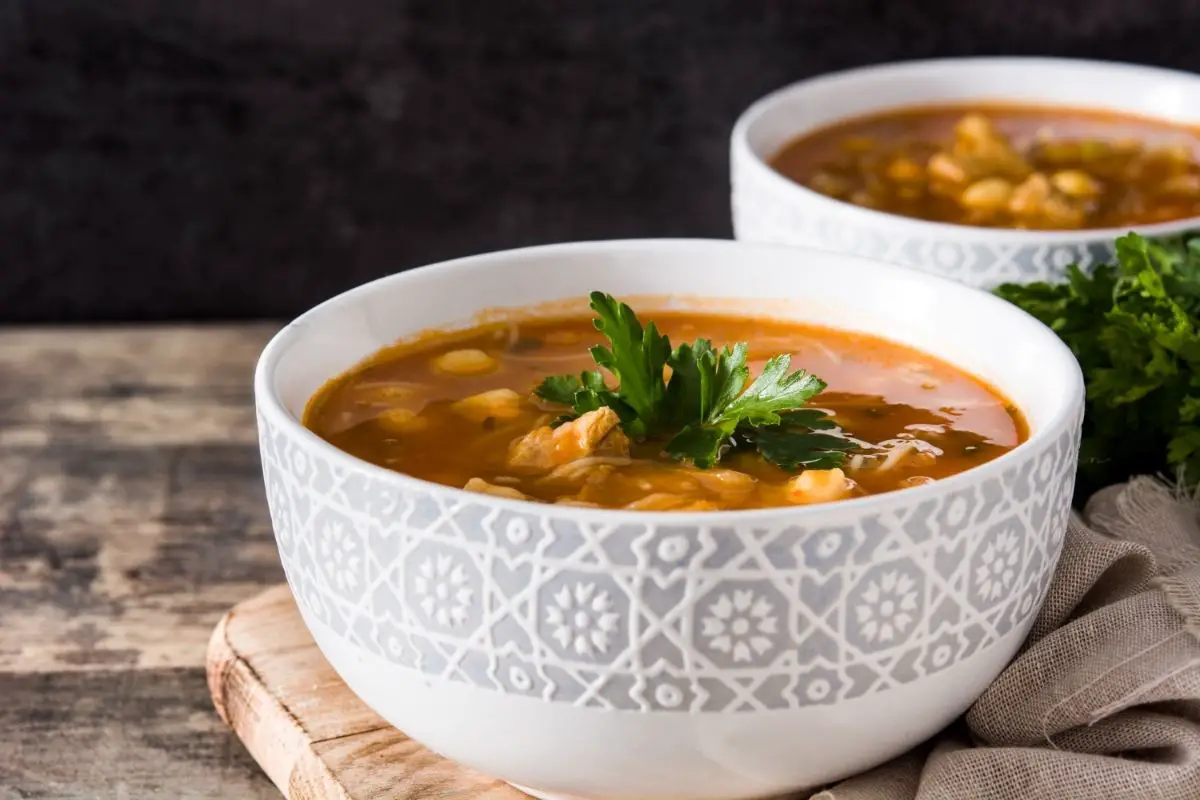 Time for another beef stew meat recipe, this time with a classic Texas twist! If you find that soups are a little too unremarkable or just don't pack enough punch, then this is the dish for you! You'll find more than enough heat and flavor in your bowl here!
For starters, you won't have to worry about overcooking the meat since this isn't a slow cooker recipe. It's quite fast to make, taking only around 45 minutes to complete.
As long as you keep the lid slightly cracked while cooking, you should be able to enjoy this delicious meal with minimal effort.
You can easily swap out red wine for white wine (or vice versa) depending on what kind of alcohol you prefer. If you'd prefer something else to drink while enjoying this meal, feel free to adjust accordingly!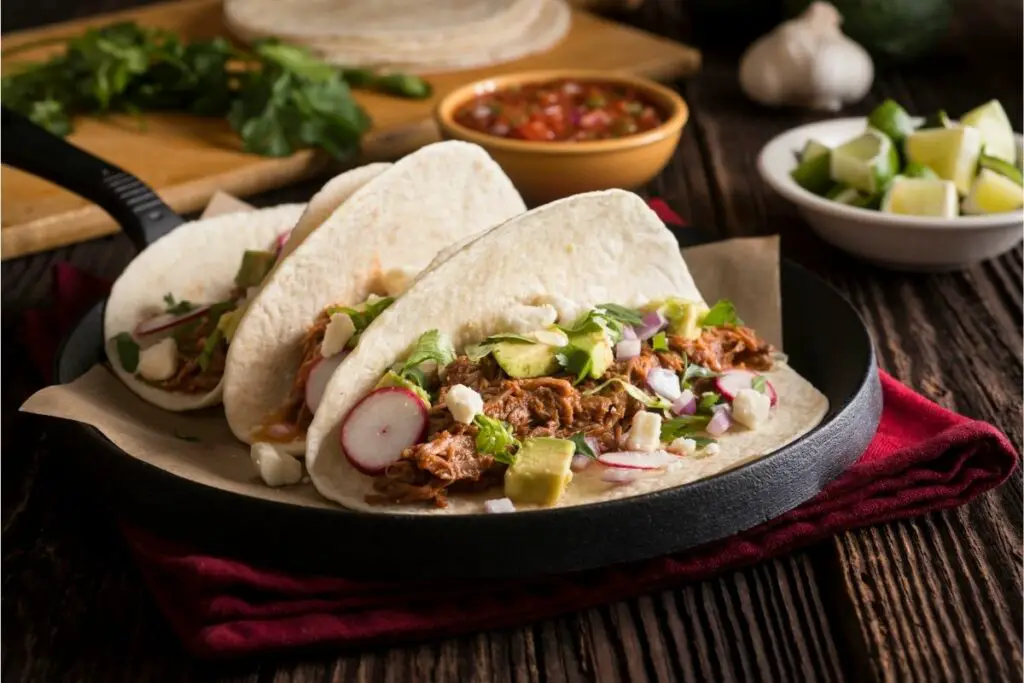 For another recipe that is a favorite in Texas, as well as south of the border, tacos and beef are another amazing combo of foods, and this recipe is all the proof you need of that.
No need to fork out cash for an expensive cut of meat either, thanks to the beef stew meat that this recipe will be using!
This recipe uses ground beef instead of stew meat, which makes it a lot easier to incorporate into other meals.
You can even substitute chicken if you prefer! Just remember to adjust the salt and seasoning levels according to your tastes.
The beauty of this recipe is that it doesn't take much effort to put together. The only thing you'll need to do is brown the meat before simmering it away in its juices.
Once cooked, you can add any toppings that you like, including shredded cheese and sour cream.
We've mentioned quite a few soups and stews in this list so far, but we haven't touched on what beef stew meat can do for a good curry.
This Japanese slow cooker recipe for a beef curry should certainly help us there!
If you're looking for a hearty, filling meal, this one is hard to beat. Not only does it taste great, but it also packs a whole bunch of protein along with healthy fats.
That means you can rest assured knowing that you're getting a nutritional boost every single day.
To give this recipe the authentic flavor that it deserves, you'll need to opt for beef stew meat. This is where you'll be able to bring out the best flavors that this particular cut has to offer.
Tacos are one of those dishes that everyone seems to love. They're easy to prepare, cheap and simple to make.
All of these qualities combined mean that they're perfect for a family dinner with friends, especially when you're hosting.
Here, you'll be making a batch of beef stew meat that's going to be used to fill lots of tacos later on. You can use whatever type of meat you'd like, but beef stew meat is probably the most common choice.
To give the tacos their signature Texan flavor, you'll want to use some cilantro leaves, lime juice, and hot sauce. These three ingredients will give each bite a fresh kick that will leave you wanting more!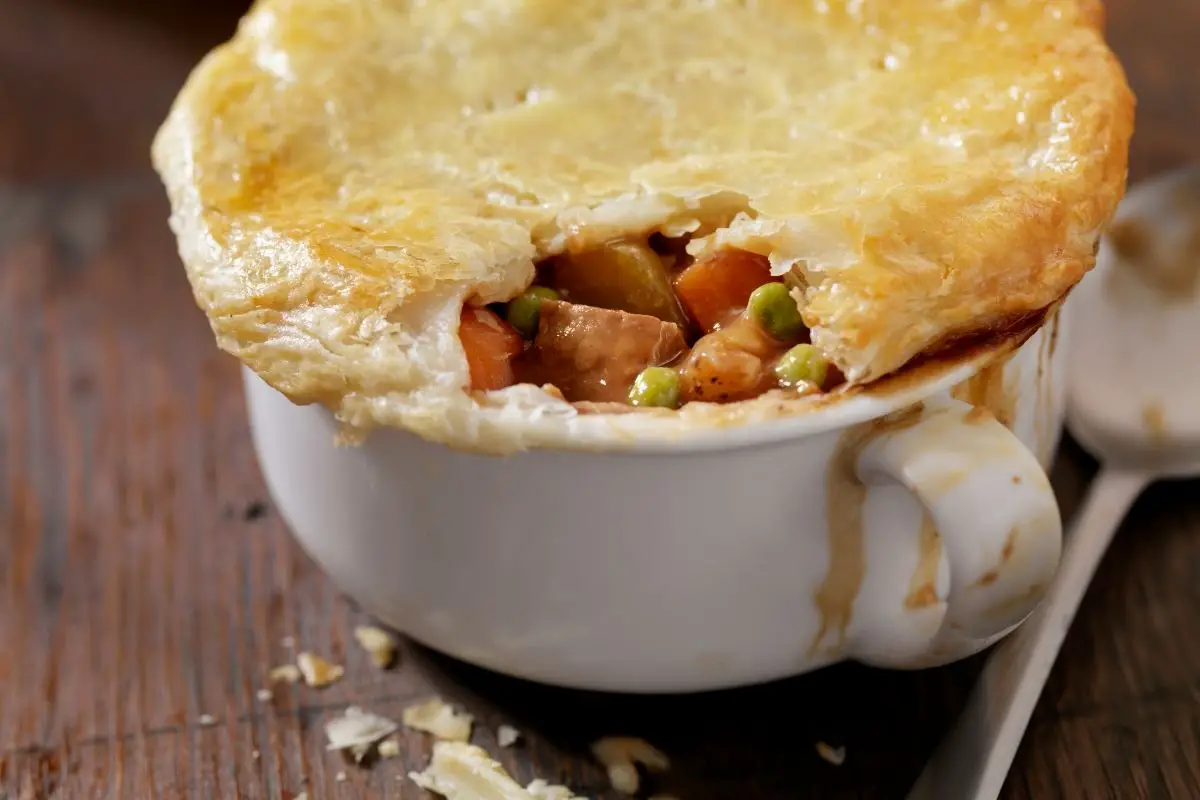 It's time for another pie recipe! This beef pot pie is another savory dish that won't be forgotten by those who eat it anytime soon!
Like many pies, you'll be starting with a crust base. While a regular pizza dough would work just fine here, this recipe calls for a homemade version made from scratch.
It will ensure that you get a flaky, tender crust without having to worry about any preservatives or additives.
Once the crust is ready, you can begin layering up the filling. Be sure to start with layers of potatoes, followed by slices of onions, then a layer of beef stew meat. Top it all off with a generous amount of cheese, and bake until golden brown.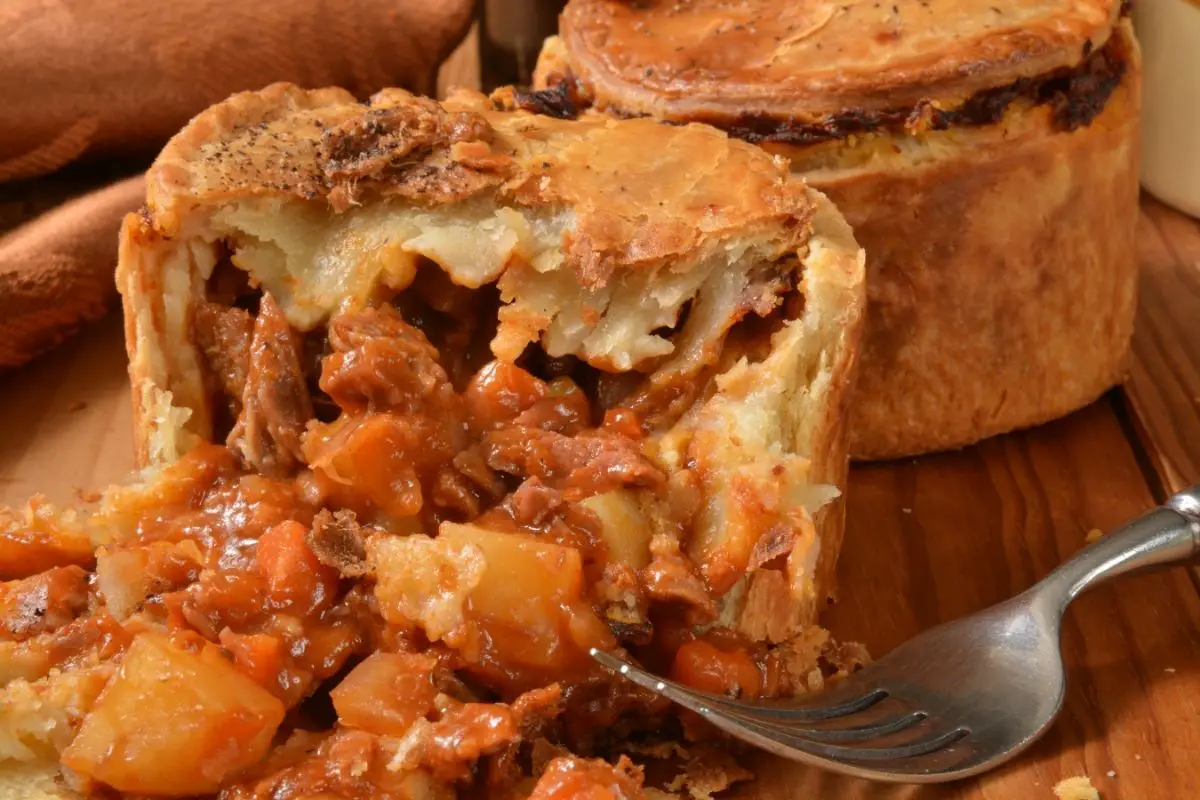 If you're looking for a recipe that is loved across the British Isles or is a Brit that hankers for the taste of home, then you're going to want to take a look at this amazing steak and ale pie recipe that does this British classic justice!
This dish was created as an old-fashioned British pub favorite. It was a popular choice because it's not only delicious, but it's also inexpensive enough to serve to groups of people at once.
If you're interested in trying something similar to this, be sure to check out our other recipes right now!
This pie features a delicious beef stew meat filling topped with crispy bacon and baked until it reaches an irresistible golden color. If you're not too keen on baking your pie, you can always grill it instead!
You can't have too many beef curry recipes, especially when there are so many kids from all sorts of different cuisines.
This beef curry, for example, is almost a completely different kind of flavor and spicy from the last one that we covered. The only thing they have in common is how delicious they are!
But what makes this particular beef curry special is its rich, creamy texture. The combination of tomatoes and coconut milk gives it a wonderful smoothness that pairs well with the bold flavors of the spices.
While this may seem like quite a long list of beef curry recipes, don't forget that there are also plenty of options for chicken curry.
As you can see, there are tons of ways to enjoy beef curry around the world. Whether you prefer mild, spicy, or somewhere in between, these recipes should help you find exactly what you need!
We haven't covered grilling your beef stew meat much so far on this list. Well, that's about to change, with the sweet grilled steak bite that gives you the sizzle that every good piece of steak should have.
Grilling is a great way to cook your meat quickly and easily. You can even make use of a small portable barbecue if you'd rather do it outside than inside.
But regardless of where you choose to cook it, grilling is a great method for cooking your beef stew meat. It is fast and easy, and the results tend to be more succulent and flavorful than most cooking methods!
Here, you'll first need to marinate the meat overnight before grilling. Afterward, serve it with some fresh vegetables and a side salad, and you've got yourself one heck of a tasty meal.
The secret ingredient in this recipe is honey, which helps create a sticky glaze over each bite. And since this recipe uses no onions or garlic, it's really easy to make and perfect for kids!
Conclusion
Despite all the different recipes we've covered, there's still so much to discover.
There are dozens of different types of beef stew meat recipes out there, and we're pretty confident that you're going to find what you're looking for here!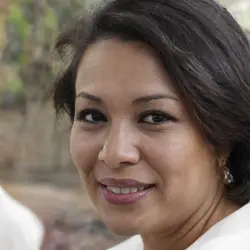 Latest posts by Kunal Sharma
(see all)