Fried shrimp is a decadent and wonderful dinner. Not only is the shrimp itself wonderfully rich and flavorsome, but when it's paired with a beautifully smooth and flavorsome sauce, it becomes all the more wonderful.
In this article, we're going to run through some side dishes that work really well with shrimp, whether you're frying it, grilling it, or doing anything else with it.
What to eat with fried shrimp?
The thing that usually makes fried shrimp a little different from other types of shrimp is that it's a little fattier. This is because it's typically fried in a volume of fat, typically fat that has been heated through to the point of being a liquid. Therefore, a side dish should either complement that richness or cut through it.
If you're looking to complement the richness of fried shrimp, then you might want to opt for pasta, or something similar. This would be great for serving with fried shrimp since the smooth simplicity of pasta works well in tandem with that same flavor in shrimp.
You could go for pesto pasta for a dish that's both simple and delicious – we would recommend making your own pesto – it's so much better that way!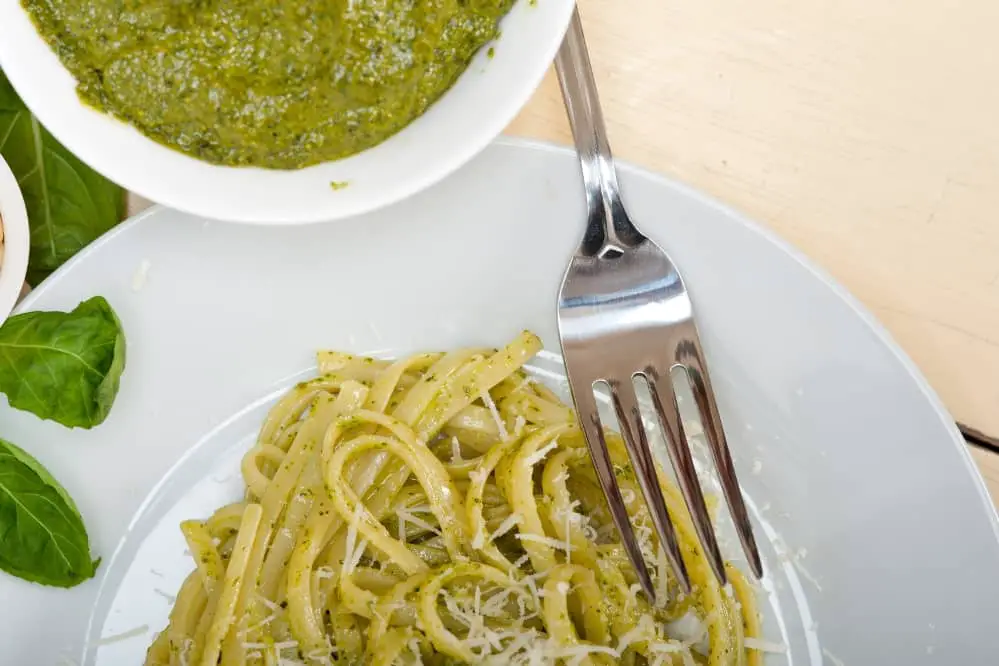 To make something that would counterpose the fried shrimp and their intensely rich flavor, you could opt for some greens. Asparagus would be a good choice, as it would be something that would bring sharp and bright flavors to your tongue, especially if roasted.
We would suggest roasting it with the bare minimum of olive oil, before tossing it with parmesan cheese and lemon juice for the final five minutes of roasting. While this sounds unorthodox, it's truly delicious!
On top of being tasty, the sharpness of the lemon juice will lead to a dish that's utterly wonderful in flavor, and deeply sharp, too. This sharpness will sit on the plate well, next to your fried shrimp.
What to eat with grilled shrimp?
The thing that makes grilled shrimp different from shrimp cooked in other ways is that they'll typically be cooked at a higher heat and for a shorter amount of time. This will result in the outside of the shrimp being a little chargrilled, with the insides being tender and succulent – ideal for a great shrimp dish.
To consider what might make a complementary side, we would suggest considering different things that brown as they cook. The process of charring something is essentially just browning something very quickly, and that process has a specific chemical name (the Maillard reaction). The Maillard reaction will directly affect the flavor of something, so we would recommend bearing it in mind when you come to consider a side dish.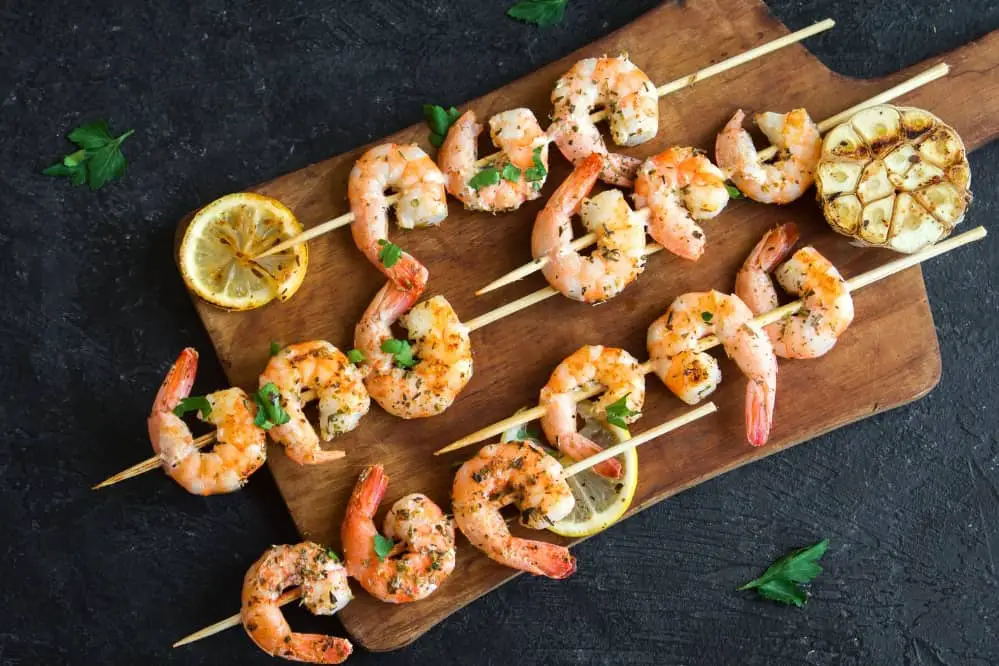 For something that browns well and is directly related to the flavor that the food has, we would suggest opting for potato in some format or another. This could be some level of fried or roasted potato, but a browned, soft, and well-cooked potato side dish can really elevate grilled shrimp.
If in doubt, try hunting down some chunky fries – these will be crispy on the outside and fluffy on the inside, which is precisely what you want. The crispness and tenderness will match up with the shrimp, while also being different in terms of flavor.
To consider a contrasting side dish for grilled shrimp, we would suggest something soft and light, with a delicate flavor. This might be hard to thing of, but the thing that we always come back to is a light salad.
A simple salad is often the perfect side dish for any number of different meals. For a shrimp dish, try using a recipe for a salad from a country famous for its seafood – Southern Italian salads might be a good idea, as would a classic Greek salad. The contrast of cold, crisp veggies, salty feta, and a hearty splash of olive oil when compared to grilled shrimp will surely be something interesting and delicious.
What vegetables go with shrimp?
Picking out a veggie for a side dish can be a tricky one at the best of times. However, there is something that we would bear in mind when considering side dishes for shrimp – shrimp has a light, buttery, and sweet flavor. Pair veggies contrastingly or complementarily – either option will work.
For a contrasting combination, we might suggest mushrooms. There are a hundred and one different ways to cook mushrooms, but if you're looking to create a dish side that's rich, hearty, and earthy, then consider stuffing them a little.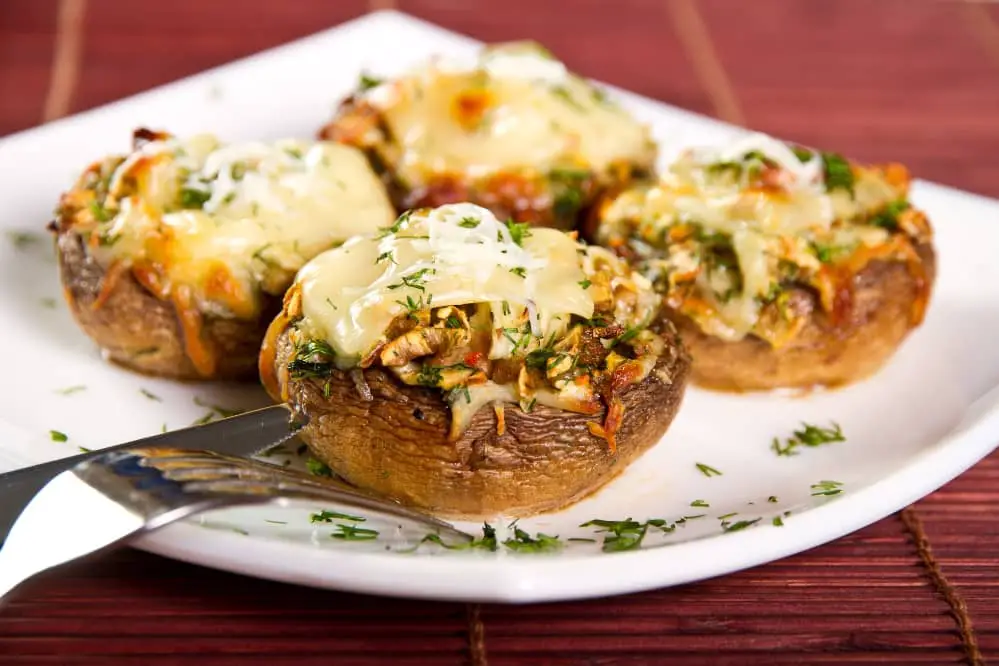 There are many recipes for stuffing portobello mushrooms, and we would suggest opting for a strong blue cheese to maintain a rich flavor profile. Blue cheese and mushrooms will combine into an earthy, savory side dish that pleasantly avoids the intense saltiness that you might be concerned about. For best results, grill them to instill a smoky, potent flavor.
For a complementary pairing, you could opt for a light, summery vegetable, the kind of thing that you might find in a primavera pasta. To make that happen, consider going for runner beans or asparagus. Their addition sounds a little odd, but it can bring a lot of brightness and tasty flavor to the forefront.
To make them as healthy as possible, we would recommend steaming them until succulent, before tossing them in some butter, parsley, and basil. These green herbs will lead to a tasty and simple side dish that enhances a shrimp dinner wonderfully well.
Picking out the perfect side dish to sit alongside fried shrimp for dinner can be tricky, but we hope that this article has given you some great ways to get started in the world of selecting a side dish for your table. While some roasted veggies might be our first choice, we're sure that you'll be able to select something that works really well for your dinner table.
Enjoy the shrimp that you're eating, whether they're for dinner tonight or another night soon!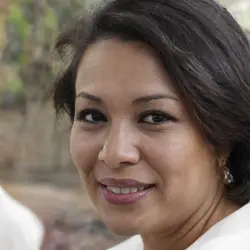 Latest posts by Kunal Sharma
(see all)