Mortar and pestles are an extremely versatile addition to your kitchen. From grinding up spices to making a flavored salt, to even mashing up some guacamole, this piece of equipment can be used for numerous reasons. You can buy a mortar and pestle in a myriad of different base materials, and depending on which one you chose, you may need to season it.
Now, this isn't as scary as it may sound. Seasoning, also known as curing or conditioning, just ensures that your mortar and pestle is safe to use. We will discuss the different types of mortar and pestles you can buy and which ones will need seasoning before use. 
Sale
ChefSofi Mortar and Pestle Set - 6 Inch - 2 Cup Capacity - Unpolished Heavy Granite for Enhanced Performance and Organic Appearance - Included: Anti-Scratch Protector
A kitchen must-have: Mortar and pestle set (mortero de cocina - morter and pessel - molcajete or guacamole bowl and pestel) has been used for THOUSANDS of years as THE way to crush, grind and powder herbs and dry spices. Contrary to an electric grinder or crusher, the age-old, durable, traditional manual grinding method ensures that all cooking ingredients bring out their full flavor and aroma profiles, allowing you to further control their texture and make delicious, chunk-free dishes.
Versatile tool: Take advantage of your brand new stone motar and pedestal set's various applications in the kitchen and simplify your everyday life! Use your mortor to pulverize nuts, seeds, ginger root and garlic and make homemade salad dressing, sauces and condiments, such as fresh mustard, quacamole, pesto, salsa, chutneys and more. Widely used in pharmacies and apothecaries, your molcajete set will help you powder pills, for optimal ingestion, or hide them in your stubborn pet's kibble!
Effortless use: This ChefSofi stone mocajetes motor & pedestal set was designed with your convenience in mind. Made from unpolished granite, you will waste no time fumbling or stabilizing your pestal masher, as our motar's cup interior provides the best, metate-like natural friction for swift ingredient crushing, grinding or powdering. With a 500 ml (approx. 2 Cup) capacity, this stone mortor also reduces the need for ingredient refills, affording quick food prep, in one go!
Quick cleaning & zero kitchen messes: As granite is inherently durable and heavy, this mortar will not slip on your kitchen counters, remaining still throughout the grinding process. Our pestle offers foolproof grip, gliding across the mortar's interior, without the need of excess hand motions, which would result in ingredient waste and kitchen counter messes! By investing in this stoneware set, you are gaining a timeless, multifunctional kitchen tool, which will make cooking a breeze!
Satisfaction guarantee: We want you to be absolutely elated with your moter and pestle set, which is why we are offering you a Risk-Free purchase. In the unlikely event our set fails to meet or exceed your expectations, you are welcome to return it for a hassle-free, FULL refund. Purchase Now The Best, Unpolished Marble - Granite Mortar & Pestle Set On The Market!
Types of Mortar and Pestles Available
If you are unsure what a mortar and pestle looks like, the mortar is a type of bowl, and the pestle looks like a miniature club. They are usually made from the same material as each other, but there are dozens upon dozens of designs utilizing two or more different materials to create some lovely finished products.
There are many different types of mortar and pestles that you can buy. It can seem quite daunting as to which one is the right one for your needs. Well, the good news here is that there is no wrong or right mortar and pestle to buy. They all do the same job, it all depends on which one you would prefer. Here are the most popular options for this handy piece of equipment –
Metal
Marble and Granite
Wood
Ceramic
Stoneware
Molcahete – ancient Mexican version, traditionally made from basalt
Mortar and pestles have been used for centuries. Many historical reports show some ancient forms of this equipment, with the mortar being a hollowed-out piece of rock or wood; and the pestle being a rock or a similar type of material. Over the thousands of years that the mortar and pestle have been in use, we now have so many options for you to choose from.
Out of all the options we have mentioned, not every single one needs to be seasoned after being purchased. The main mortar and pestles that require a seasoning are any made from porous stone, such as basalt or granite. If you have chosen to buy one of these styles of mortar and pestle, we will show you how to best season it, ready for your first use.
How to Season a Mortar and Pestle?
Now, why do I have to season a mortar and pestle, I hear you ask. Naturally occurring porous surfaces of granite, basalt, and other porous stone can release tiny particles of stone and grit if left unseasoned. Seasoning will help to make sure that these grit or stone particles are removed from your mortar and pestle, making them safe to use.
Follow these points below to ensure you remove the grit entirely before your first use –
Clean both the mortar and pestle with just water and a clean kitchen scrub. At no point must you use soap when cleaning your mortar and pestle. Leave them both to air dry before moving on to the next step. 
Using white rice, create a small level layer of rice at the bottom of the mortar. Any more than a small layer, you will have a lot of rice flying around. Add a tablespoon or two of water to the rice and start grinding away. Note this step will take some time, try to not rush it or your equipment will not be seasoned properly. The color of the rice will change from white to gray, where it is pulling out the grit and stone particles. Rinse the rice paste away with water and the scrubby brush again. This step can be repeated until the rice remains white. Although arduous and quite tough on your muscles, it will benefit your mortar and pestle in the long run. 
How to grind – grinding is almost an art form and can take some time to perfect. With your pestle in one hand, use your other hand to secure and support the mortar. With a circular motion, start to grind the rice around the inside of the bowl. Take as many breaks as you need, and take turns with someone if you can.
Give your mortar and pestle a final rinse with clean water and your trusty scrubby brush, and leave it to air dry. And now you can rest!
Well done, you have officially seasoned a mortar and pestle. I can guess it may be a while before you go through that whole process again, and no one will blame you. Time to use your mortar and pestle and grind away. With so many options available to you to use your mortar and pestle for, what will you grind first?
Cleaning and Storage
Your mortar and pestle have been seasoned, and you have made your first grind. Now we want to keep it clean and in fantastic condition. So what is the best way of cleaning and storing your equipment?
When it comes down to cleaning, as previously mentioned, never use soap with your mortar and pestle, as this will ultimately flavor any food or spices you grind. And we don't want any of those chemicals ruining our food or our taste buds. Rinse both the mortar and pestle thoroughly with fresh water. To help get rid of any leftover spices and unwanted flavors, grind a small amount of rice and water into the mortar and pestle. This is the same rice and water grind you have used when initially seasoning. But don't worry about it being as long a process as before, this is just a clean-up grind. Rinse again with fresh water and leave to air dry.
Store away in a safe location to avoid any knocks or hits; a bottom shelf is an excellent location for this if you want to keep it off your kitchen counter. 
It is essential to season a mortar and pestle before your first grind. Seasoning will help to ensure that you remove all remaining grit and stone particles left, and cleaning and storing it correctly will make sure it lasts as long as possible. This excellent piece of equipment is a handy addition to any kitchen, and now you know how to season one, you'll be grinding as often as you can.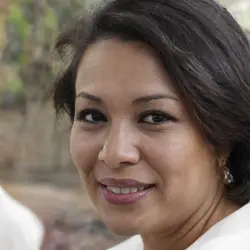 Latest posts by Kunal Sharma
(see all)