Mortar and pestles can come in a variety of materials, but is there one that is superior to the rest? In all honesty, all mortar and pestles are created pretty much equal, and they will perform the job of grinding up spices and mixing sauces the same. From wood to metal to marble, you can rest assured they will all be valuable additions to your kitchen. But today, we will talk about one material in particular. Just how good is a wooden mortar and pestle?
Large Wooden Mortar and Pestle Set | Crush Bowl | Pepper Grinder| Pill Crusher Mortar| Guacamole Bowl Shell Garlic Pepper Press Grinder Crusher Mix, Herb Spice Masher Grinder Chopper Kitchen Tool.
Wooden Mortar and Pestle Set: Comes with a wooden pestle and a mortar bowl, which features durability, non-toxic and hygienic.
Natural Material: Pestle Mortar Bowl & Spoon Set is made of natural wood, stylish and lightweight but sturdy. Premium wooden material offers that they can bring out the flavor of fresh garlic.
Widely Applicable: An essential kitchen tool to grind garlic, ginger, or coffee beans and more. Substantial & perfect weight of the pestle and mortar set, doesn't slide around when you use the Mortar and Pestle Set.
Easy to Wash: Wooden pestle and mortar , easy to clean and store. To maintain long-term use of the pestle and mortar set, wipe it dry after cleaning.
Useful Kitchen Tool: Ideal for Cooking, Practical, and Easy to Maintain. With a stylish, polished exterior for easy cleaning and a ridged base for an optimised grip, this Pestle and Mortar can also be used to create and serve many dishes.
**BecauseFoodisLife is supported by readers. If you click one of my links, I may earn commissions. I am also participant in the Amazon affiliate program and I will also make a commission from qualifying purchases.Thank you***
Why a Wooden Mortar and Pestle?
Wooden versions of the trusty mortar and pestle have been around for thousands of years. In this modern day and age, where spice mixes, sauces and more can now be ground up in an electronic machine, it may seem the ancient piece of kit is becoming obsolete. Yet even with electric devices being readily available, the trusty mortar and pestle is still a very popular addition to a lot of kitchens around the world. Whilst electric machines are convenient, there are some things that they cannot grind, where our trusty wooden mortar and pestle comes in. The texture you gain from hand grinding spices can help transform food that electronic devices cannot achieve.
Wooden Mortar and Pestle Uses
This piece of equipment is excellent at crushing and grinding up dry spices. Because of the nature of the wood, it is best to use only dry spices. When you go to grind your spices, try to avoid adding a dash of water to aid in the grind, as the oil that naturally occurs in spices may be taken in by the wood. This step could leave a lingering flavor in the bowl, although this isn't an all-round bad thing. If you're happy with the slight added extra flavor from previous grinds, just try not to add too much water, as this may eventually negatively affect the life of the equipment. 
You can grind and combine many ingredients in with your mortar and pestle, with just a few examples below:
Create a salad dressing
Making guacamole
Mixing a flavored salt
Creating a new spice blend
Making curry paste
Grind garlic
Creating a new tea blend
The possibilities of what you can create with a wooden mortar and pestle are almost endless. If you are a keen cook and love creating and mixing ingredients from scratch, this piece of equipment can be a great addition to your kitchen.
When it comes to grinding harder spices, a wooden mortar and pestle may not be able to handle the extreme grinding that will need to be executed to grind them. So, in this case, a stone mortar and pestle may be your best option if you plan on grinding harder spices more often. But don't completely get rid of your wooden mortar and pestle just yet, they are still handy for grinding up other spices and ingredients.
How Long Does A Wooden Mortar and Pestle Last?
Ultimately, this piece of equipment is wood, so it will need the proper care and attention to make it last for as long as possible. As you would look after and care for any other wooden utensils in your kitchen, here are some handy tips to get the best out of your wooden mortar and pestle:
Seasoning a Wooden Mortar and Pestle
After your initial purchase, you will need to season your mortar and pestle. Give both pieces of equipment a rinse and a quick scrub to eliminate any excess dust and dirt. Leave it to dry thoroughly before moving on to the next step.
With a small amount of white rice, grind the rice well to help get rid of excess dirt and dust you could not remove with the water and scrub. Ensure you reach every part of the inside area of the bowl. Once the rice has been ground up, get rid of this first grind and start again with a fresh layer of rice. Grind again, getting all around the inside of the bowl. When the rice has been ground, you can wipe all the rice out and rinse the bowl and the pestle with some water. Leave to dry again before finishing off with the last step.
Oil both the mortar and the pestle with food-grade oil, ensuring you get an even layer over the entire surface of the wood on both the mortar and pestle. Once the oil has soaked in, a touch test here will let you know if the wood has absorbed it all, and you will be able to do your first grind.
Cleaning and After Care
Depending on what you have used your mortar and pestle for, if it is a more simple dry grind of spices or herbs, a wipe with a dry cloth is recommended. If you have used more wet ingredients, rinse with hot water and follow with a rice grind, as you would have done when seasoning. If you have used more aromatic ingredients, such as garlic or made a curry paste, you may need to apply a second rice grind to help get rid of any remaining flavors. A final rinse and dry, and your mortar and pestle is ready to be stored away.
Under no circumstances should you wash this equipment in the dishwasher. The wood may absorb any water if exposed for a more extended period, and we will want to avoid this at any cost, so follow the previous step to clean your mortar and pestle. 
Wood, over time, naturally dries out. So make sure you are regularly oiling your wooden mortar and pestle, either with a food-grade oil or wood wax. This will help to extend its life even further.
Wooden mortar and pestles are a great addition to any kitchen as an aid for budding or experienced cooks alike. With being able to grind, mash and combine so many ingredients, you can let your imagination run wild with how to use it to its full potential. With the right level of care, your wooden mortar and pestle will be a staple of your kitchen for years to come.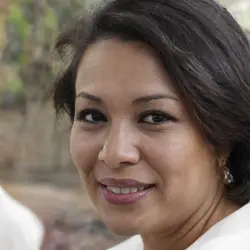 Latest posts by Kunal Sharma
(see all)