This piece of equipment has been used for centuries, even thousands of years. Versions of this tool were discovered by archaeologists, dated over 35,000 years old. It's safe to say that the mortar and pestle is a stable of the old and modern kitchen. The mortar and pestles have gone through relatively few changes in the past 35,000 years, apart from the materials they are made from. In this day and age, there are plenty of materials that this equipment can come available with. But are granite mortar and pestles safe to use? Yes, they are, and here we will discuss what you have to do to make them so and more.
Sale
Gorilla Grip 100% Granite Slip Resistant Mortar and Pestle Set, Stone Guacamole Spice Grinder Bowls, Large Molcajete for Mexican Salsa Avocado Taco Mix Bowl, Kitchen Cooking Accessories, 1.5 Cup, Gray
BUILT GORILLA GRIP TOUGH: the last mortar and pestle you will ever buy, the Gorilla Grip Mortar and Pestle is ultra durable and built tough; featuring a heavy duty grinding pestle that crushes and mashes ingredients effortlessly, the mortar and pestle is ultra durable, and scratch resistant; its heavy base helps keep it in place and resist slipping and sliding, even while crushing the heaviest of ingredients
100 PERCENT NATURAL GRANITE: Gorilla Grip granite is sourced from natural granite mines, then handcrafted with care; granite is cut, shaped and polished into the mortar and pestle; natural granite has been used for generations due to its natural durability and long lasting use; no more heavy mixers or food processors, this granite mortar and pestle takes the effort out of food prep while also helps release the natural flavors of the ingredients
GUACAMOLE, SPICES, NUTS, AND MORE: not just for guacamole, the mortar and pestle is a great option for nearly any ingredient; crush up spices and herbs; create homemade pesto by grinding up nuts and seeds; serve up fresh dips; even a great choice for homemade dressings and salsas; impress your entire guest list with the tastiest dishes ever
NON SCRATCH BOTTOM: even though the mortar and pestle is heavy duty, it resists scratching countertops and surfaces; it features an optional foam bottom underside that helps protect surfaces, while also helping to prevent slipping and sliding while you prep
LARGE CAPACITY MORTAR AND PESTLE IS A PERFECT GIFT: mortar and pestle comes in 3 sizes; large size measures 5.2" x 3.2", weighs 3.9lbs, and holds up to 1.5 cups of ingredients; a perfect year round gift for anyone who enjoys cooking; beautifully designed so that it can be displayed on any countertop and add to the décor of the kitchen
**BecauseFoodisLife is supported by readers. If you click one of my links, I may earn commissions. I am also participant in the Amazon affiliate program and I will also make a commission from qualifying purchases.Thank you***
History
Time for a brief yet handy history lesson before we dive in. As mentioned before, mortar and pestles and similar versions were used well over 35,000 years ago. Though the ones we are more accustomed to were more commonly used since the time of the Pharaohs and Ancient Egypt, as discovered in papyrus dating to 1550BC. As time inevitably wore on, these pieces of equipment, as well as being extremely handy in the kitchen, became more well known for their use in the pharmaceutical world. With the convenience of modern supermarkets, mortar and pestles are perhaps less common in a contemporary kitchen. With ground spices and other sauces so readily available, this trusty ancient piece of equipment may not seem as needed as before. Regardless, there are still many uses for the mortar and pestle. From grinding up guacamole, pesto, mixing up spice blends, creating pastes, mixing flavoured salts, and so much more.
Style and Material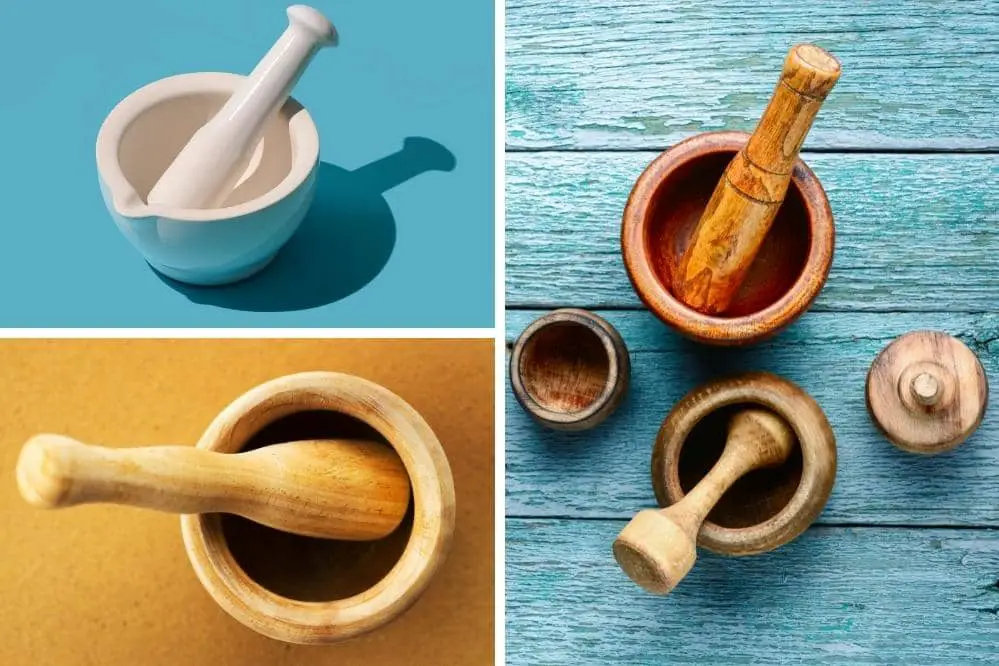 So if you are unaware of what a mortar and pestle looks like, it's a sturdy bowl and a mini, usually heavy club. They can come in many different sizes and various materials, sometimes with a mixture of two or three components. The lining of the mortar – the bowl – can also come with different textures inside to help create different thicknesses' when you grind, mix and smash ingredients inside. The pestle – the club – is usually made from the same material as the mortar. You may, on occasion, be able to buy a set where the pestle's handle is made from porcelain or another material. But this is purely decorative. The main part of the pestle will be the same as the material as the mortar. 
When it comes down to it, any material will do the same thing. Some different materials are better for wet and/or oily ingredients, such as porcelain. The various base materials mortar and pestles can be from are –
Metal
Wood
Cast Iron
Ceramic
Porcelain
Stoneware
Marble
And of course, Granite
Is Granite Safe?
It is a big fat yes to this question; granite is very safe to use as a material for your mortar and pestle. If you have bought one brand new, the only recommendation is to prepare it properly before you start grinding and mixing away. And this technique is called 'seasoning' or 'curing'. This helps to stop any grit and particles of stone from entering your food. Because granite is porous, you want to prepare its surface and remove any particles. To ensure that your granite mortar and pestle is safe to use, it is best to follow this procedure –
Wash with clean water, NOT WITH SOAP. It will be a good idea to wash both pieces of equipment several times, leaving in water overnight as well if you desire. Washing numerous times will help eliminate a lot of grit and any settled dust. Always leave to air dry. This does not get rid of the entirety of the grit, so make sure you follow on with the next step before your first use. 
Now, this may sound odd, but the next step is that you need to grab some white rice. It is essential that it is white and not brown so you can easily see any dirt or grit.  Use a small handful to create a level layer at the bottom of the mortar. Using too much will most likely mean a lot of rice flying everywhere, and we don't want that. Add a tablespoon or so of water and start grinding to make a paste. You'll notice that the paste will become gray. This is all the grit being pulled out of the porous granite. Rinse both pieces of equipment with water and start over again with a fresh rice grinding. Keep repeating this step until your rice paste remains white. 
Use a clean kitchen brush to remove the last remaining rice paste, leave it to air dry, and you are ready to use your granite mortar and pestle.
Your muscles probably feel pretty sore after all that grinding, but well done, your granite mortar and pestle are ready and safe to use. Following the above steps is very important to ensure any irregularities are closed up in the granite.
Cleaning and Care
Make sure after every use that you clean your mortar and pestle with water every time, with no soap whatsoever. Grab some white rice, like when you first seasoned it, and grind away again for a quick clean. This will leave it sparkling clean and remove any residues. Rinse again before leaving to air dry. Follow this procedure every time and store your granite mortar and pestle away from where it can get knocked and potentially chipped. 
Manual grinders are a fantastic addition to any kitchen, regardless of which base material you end up using. And as we have clarified, granite mortar and pestles are safe to use if seasoned well before your first use and cared for correctly. Enjoy your granite mortar and pestle and making some fantastic recipes.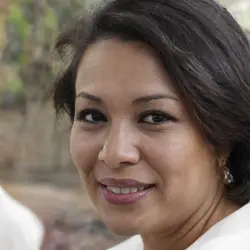 Latest posts by Kunal Sharma
(see all)