We've all been there: you're cooking, and all of a sudden you come to realize that you've run out of a certain ingredient that would make all the difference between a masterpiece and a misery.
Thankfully, there are plenty of guides online that will help you to track down some really helpful ways to swap cumin seeds for something else that you might have in your home. In this article, we're going to talk about the differences between fennel seeds and cumin, as well as whether or not they can be substituted for one another. We're going to finish on some great substitutions for cumin.
**BecauseFoodisLife is supported by readers. If you click one of my links, I may earn commissions. I am also participant in the Amazon affiliate program and I will also make a commission from qualifying purchases.Thank you***
Differences between fennel and cumin seed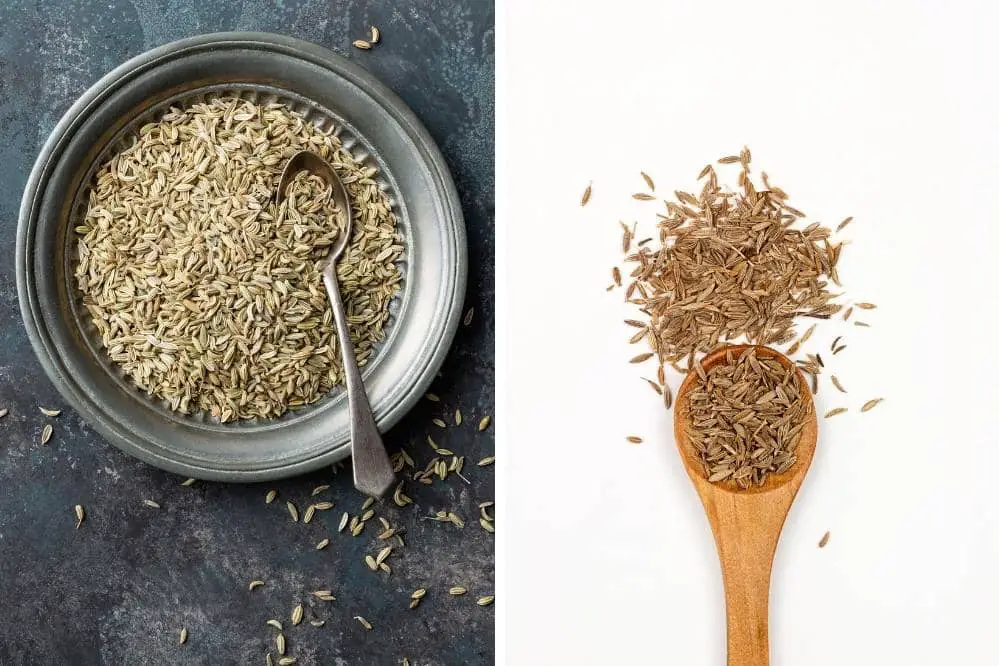 There are plenty of differences between fennel seeds and cumin. At the end of the day, they come from different plants and can taste quite different from one another. We're going to run through some of the most noticeable differences here.
First of all – the flavor is quite noticeably different. Fennel can be quite a sweet spice, in an earthy way. The best way to consider that flavor note is to try to think of a spiced cake, or a PSL – it's spiced, rather than spicy. Fennel is a spice that has that type of flavor – earthy and rich, while being a little sweet, too.
Cumin, on the other hand, is quite a bitter spice. It's used a lot when making curry, since it works wonderfully well as a bittering agent, bringing depth and complexity to great curries.
Fennel seeds and cumin actually look quite different from one another, at least in their powdered form. Fennel seeds are a bit larger than cumin seeds, as well as have a little bit of green to their outer layer. Cumin seeds, though, are typically a brown color, and are quite small, to boot – they're quite skinny, almost like grains of rice.
The final difference that really hammers home how truly different the two seeds are is that only fennel can be used in its entirety. As they're utterly different plants, the fennel plant has a number of different medicinal and herbal uses. By comparison, only the seeds of the cumin plant can be used. The rest of the plant simply isn't edible.
Can I substitute cumin seeds for fennel seeds?
Well, yes and no.
If you're aiming to create a dish that usually would have used fennel seeds, then the answer, we're afraid, is no. The reason for this is that cumin seeds are completely different from fennel seeds, such that they have a completely different makeup and flavor.
If you were to remove the fennel seeds from a recipe and add cumin seeds in their place, the end result would likely be an unpleasantly bitter dish.
Fennel seeds have an earthy, rich, spiced flavor that allows them to bring richness and simple power to a number of different recipes. This power is something that cumin simply doesn't have. Cumin is a completely different spice – being bitter and a little musky. This means that if you were to substitute fennel for cumin, or vice versa, the dish would taste completely different.
The reason that we say you can, in some situations, substitute one spice for the other, is mostly coincidental.
A great example of this is the process of making tea from either fennel seeds or cumin seeds. Making a tea from crushed and steeped fennel seeds creates a pleasant herbal brew that can help with some aspects of IBS, from bloating to other, more vague symptoms.
If you were to do the same thing with cumin seeds, you'd make a different herbal tea. It would taste and look completely different, of course, with a likely much more strong aroma, too. However, cumin has a high level of antioxidants which means a herbal tea would likely make some difference to a number of minor ailments.
This coincidental connection is just that – a coincidence. There would likely be very few true similarities between the teas.
7 substitutes for cumin seeds
There are plenty of different substitutes for cumin, and we've got some great options here for you.
Caraway seeds
The Spice Way Caraway Seed - Whole (4 oz) key ingredient in harissa, great for rye bread, pickles, sauces and spice blends.
CARAWAY SEED - an ancient spice, with a bitter fruity anise flavor.
MANY USES - used for baking rye bread, sauces, pickles, sausages, Moroccan Harissa.
FRESH - made from premium caraway seeds, ground fresh.
PURE - no additives, no fillers, no agents, Non-GMO, no preservatives.
FARM TO TABLE - 30 years of experience in growing spices, herbs and peppers, using traditional methods like hand-picking, sun-drying and grounding at our facility.
Caraway seeds are a wonderfully simple spice that makes the perfect substitute for cumin if you can track them down. They have a really similar shape, size, and color since they're both seeds from plants in the parsley family.
In terms of taste, they're very similar. The only notable difference is that caraway seeds are slightly more bitter.
Taco seasoning
McCormick Premium Taco Seasoning Mix, 24 oz
Signature taco seasoning blend of onion, garlic, chili pepper and oregano
Delicious, easy way to make family-favorite tacos in 15 minutes
McCormick Premium Taco Seasoning Mix has no artificial flavors or MSG added
Larger size convenient for weekly taco nights and seasoning chicken & burgers
So easy: brown ground beef, add taco mix and water and simmer 5 minutes
Taco seasoning is a staple of Mexican cooking, unsurprisingly, but it's useful to have in the kitchen for virtually anything that you cook – it works brilliantly with so much!
The reason we'd recommend taco seasoning here is that it usually has a small amount of cumin in the blend, along with a number of other herbs and spices that, when combined, create a wonderful substitute for cumin alone.
Anise seeds
The Spice Way Premium Anise Seeds - Whole seeds (4 oz) also called Aniseed. Used for baking bread, cooking and even tea.
ANISE SEEDS - adds a sweet licorice flavor to bread, soups, stews and even tea.
PURE - No preservatives, no additives, no MSG, non GMO, no fillers.
PREMIUM - made from selected premium seed.
FLAVORS OF THE WORLD - Very common in many authentic recipes from the Middle East, Asia and America.
FARM TO TABLE - 30 years of experience in growing spices, herbs and peppers, using traditional methods like hand-picking, sun-drying and grounding at our facility.
Anise seeds can be a great substitute for cumin if you're looking to replicate the health benefits, but don't care too much about the flavor. They're similar in makeup, but their flavor is very different!
Anise's flavor can be best compared to licorice, though more herbal. Cumin tastes nothing like that, of course.
Coriander seeds
Sale
Coriander and cumin seeds are quite different from one another in size, shape, and flavor. The reason we're recommending them as a substitute, though, is that they have a similar aroma. This works well for Indian food, where the aroma of these spices is more important in most dishes than their flavor.
Chipotle powder
Sale
Chipotle powder comes from dried jalapeños and has no added seasoning. This powder has a great earthiness and smokiness from the drying process – this makes it a great substitute for cumin, which has those qualities in abundance.
Paprika
Sale
McCormick Paprika, 6.62 oz
Fruity, slightly sweet and toasty flavor
Vivid red color makes it the perfect garnish for deviled eggs and pasta salads
Always starts with whole, ripe peppers
Add to Hungarian favorites like chicken paprikash and goulash
Use paprika as base for your own spice rubs for barbecued meats
Paprika doesn't naturally taste much like cumin, but as it is cooked, it takes on an earthy and bitter flavor. This is because it's made from dried, ground bell peppers.
Since cumin is earthy and bitter, this makes paprika a great substitute. We would suggest only swapping these spices for one another when they're used in hot food. If you're using them cold, the swap won't work.
Garam masala
Rani Garam Masala Indian 11-Spice Blend 3oz (85g) PET Jar ~ All Natural, Salt-Free | Vegan | No Colors | Gluten Friendly | NON-GMO| Kosher | Indian Origin
You'll LOVE our Garam Masala Spice Blend by Rani Brand--Here's Why:
❤️Now KOSHER! Authentic 11 Spice Blend Garam Masala (unlike many others who use only 6-7 spices to keep costs down). Rani is a family owned USA based company selling spices for over 40 years, buy with confidence!
❤️100% Natural, Non-GMO, No Preservatives, Vegan, Gluten Friendly PREMIUM Gourmet Food Grade Spice.
❤️Packed in a no barrier Plastic Jar, let us tell you how important that is when using Indian Spices!
❤️Pure! NO FILLERS in any Rani Brand Spices (fillers are commonly used in spices to make them free flowing or lessen the costs of production) usually sodium or like product. Net Wt. 3oz (85g), Product of India
Garam masala is a wonderful spice blend that we simply can't get enough of. Not only is it a rich and complex blend, but the earthy, toasty nature of the blend also makes it a great substitute for cumin.
On top of this, garam masala has the benefit that taco seasoning has – it has cumin in it already, and adding to that cumin with other spices only serves to enhance the overall blend.
We hope that this article has given you some ideas of great substitutes for cumin in your kitchen, as well as taught you a thing or two about fennel. Happy cooking!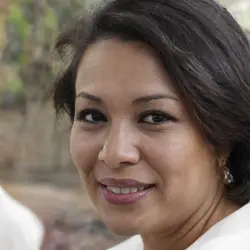 Latest posts by Kunal Sharma
(see all)