Kitchen twine can be an incredibly useful thing to have in your home. From tying bouquet garni to holding the lid on a roasting tin, kitchen twine comes in extremely useful. The only problem with kitchen twine, though, is that you can often run out. Since it has so many uses, you may find yourself at the end of a ball far too often!
If this is the case, don't panic – we've got a few options here for some great alternatives that you can use if you run out of kitchen twine. Your meal will go ahead, even if you've got no twine at all!
Sale
SteadMax Butchers Twine, Total 720 Feet, 2mm, 100% Natural Cotton Food Grade Cooking Bakers Twine, Durable Meat and Vegetable Tie, Easy Dispensing, 2 Pack
Great Value! 720 ft - 2mm 100% Natural Cotton Twine Food Grade Twine Rope, Natural and Biodegradable vegetable Tie Rope, Christmas and Craft Strings for decorations, Affordable Price
Easy Dispensing – Pull on Roll and Cut at Whatever Length You Wish, Tape or Fuse End to prevent any Unravelling
Food Tie – Tie Up Vegetables and Meat, Restrict Flowers and Plants Without Harm. Natural And Ecofriendly Rope to Help Fix Damaged or Out-Branching Plants
Decorations and Gifts – Mason Jars, Party Invitations, Wine Bottle Crafts, Jewelry Making, Christmas Gifts and Ornaments, Arts and Crafts
720 feet Long Environmentally Friendly String Made 100% Cotton Ideal for Light-Duty Applications
**BecauseFoodisLife is supported by readers. If you click one of my links, I may earn commissions. I am also participant in the Amazon affiliate program and I will also make a commission from qualifying purchases.Thank you***
Substitute for Kitchen Twine
Foil
Foil is the first idea that came to mind for us since it's an item that you can feel completely free to put in the oven with virtually no downsides at all. The only disadvantage of foil is that it's easy to rip, which could mean that it doesn't make great binding material.
To use foil in the place of kitchen twine, we'd recommend tearing strips from your roll of foil, and then twisting them lengthways. This will, essentially, wrap them around themselves, leading to a length of foil that's perfect for wrapping around something.
Bear in mind, though, that this foil still won't have a perfect strength that twine has – it will work to prevent something from unraveling, but it won't work to truss something up.
Cheesecloth
Sale
Cotton Farm Cheese Cloths, Grade 100 – 20x20 inch Hemmed, Unbleached, 100% Cotton, Ultra Fine Reusable Muslin Cheesecloth for Straining, Cooking, Baking,
Food Grade: Chef's Choice Grade 100 Cheesecloth / Colador de Tela is woven with 100% natural cotton threads. It is Unbleached and does not impart any color or odor to your food or kitchen. 20x20 inch/each
Premium Quality: All Cotton Farm Cheese Cloths are made with high quality new (not recycled) cotton yarns in well controlled manufacturing facilities and subject to intensive quality check. The Cheesecloth you are looking comes in sealed vacuum package to ensure clean delivery.
Advance Straining: Your Ultra Fine Mesh Grade 100 strainer Cheese Cloth is woven with 46×54 threads per inch to keep all unwanted particles. It is the densest cheesecloth for straining and filtering purpose.
One for Many: Cotton Farm Premium Quality Cheese Clothes can be used for any kind of food including cheese, yogurt, bone broth, honey, oil, tea, kombucha, cold brew coffee, juice, wine, beer, butter, milk, tofu, rice, vegetable, queso, turkey, kitchen, nut milk, wrap, jelly, water
Durable and Reusable: Cotton Farm Cheesecloth for straining is reusable. In contrary to the cheap quality products, 4 Edges of the muslin cloth / fabric are hemmed which makes it more durable, washable and reusable than ordinary gauze.
Cheesecloth is ideal for just one application that you might use kitchen twine for – a small, teabag-style system by which you allow herbs to soak into the broth of a meal. A bouquet garni is typically secured by having a leek leaf or a similar type of veggie wrapped around some herbs and spices. This is then tied shut with kitchen twine.
Instead of doing that, you could use a piece of cheesecloth, tied in a knot at the top as you might with a picnic blanket and the food you're carrying in it. This will work just as well as kitchen twine and some type of bag, though you may have to throw out the cheesecloth afterward – the knots can be tricky to unpick.
Skewers
Good Cook 12-inch Bamboo Skewers, 100 Count
Skewers, 12" 100 count single point bamboo skewers for many kitchen uses.
Skewers, 12" 100 count single point bamboo skewers for many kitchen uses.
Skewers, 12" 100 count single point bamboo skewers for many kitchen uses.
Good Cook tools and gadgets
Skewers, 12" 100 count single point bamboo skewers for many kitchen uses.
Skewers can be a great way to bind things together when they're in your oven. Poking skewers or toothpicks into rolled meat, for example, will prevent the rolled sheet from unfolding, which would ruin your presentation.
Something to bear in mind with wooden skewers, though, is that they must not be put in the oven directly. Instead, soak them in water, as this will prevent them from catching fire as they sit in the hot oven.
To be as safe as possible with the food that you're making, be sure to count how many toothpicks or skewers you insert into the food when you're cooking. Therefore, if you know that you've got six skewers in a cut of meat, you can remove six and know that you've removed them all. This will prevent anyone from getting splinters in their meal or, in a nightmare scenario, accidentally putting a whole toothpick in their mouth.
Finally – make sure not to buy minty toothpicks! They'll absorb the flavor into the meat, which will ruin your meal in no time at all.
Forget it
By far the easiest solution to this problem is, quite simply, to forget it. When cooking with large pieces of meat, for example, the weight of the bird or cut can often be used to manipulate gravity to your advantage – trapping the wings of the bird underneath itself will prevent charring, for example.
If you're making a stew and are aiming to create a bouquet garni, you could simply mince, dice, and crush the herbs and spices until they're in powder form. From that point, they'll be absorbed unnoticeably into the meal, and you're unlikely to crunch into a clove.
If the specific location of the twine doesn't matter that much, then you could consider wrapping the whole item in foil. A tube of foil around the meal will allow for good ventilation and, also, prevent charring or burning from pieces of food that are close to the heating element.
We hope that this article has given you a couple of great ideas of options that you can use in your home instead of kitchen twine – it can be a tricky thing to keep hold of, so having some extra options in your back pocket can be ideal.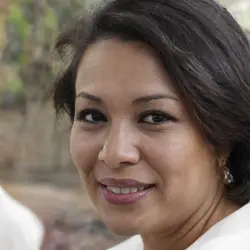 Latest posts by Kunal Sharma
(see all)