Almost every household has mayonnaise in their kitchen. This beautifully creamy condiment is super versatile, being used as an ingredient in an enormous variety of recipes.
It can be used as a simple burger sauce, used to elevate the flavor of a casserole, included in a cake recipe, and so much more.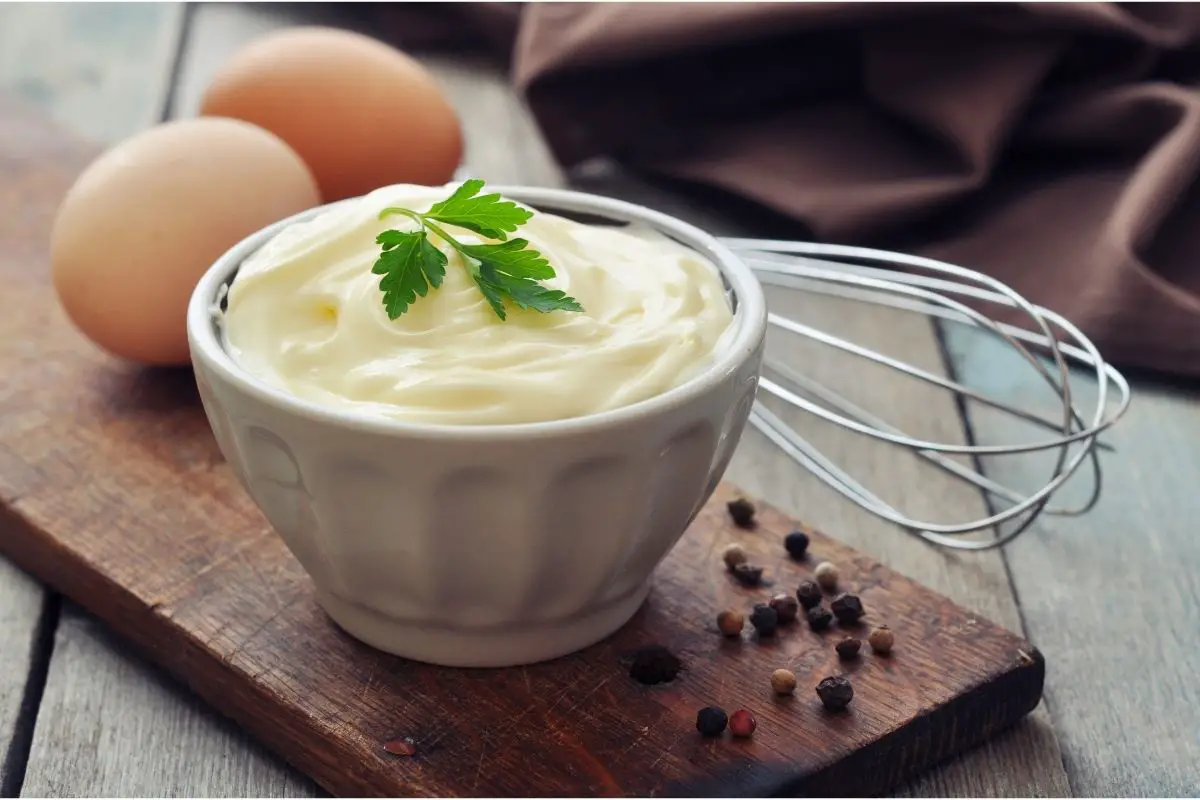 However, mayonnaise might not always be able to be used. You may have unexpectedly run out while preparing dinner, wish to cut back on your calories, follow a vegan diet, or simply not like the taste. 
To help you out in these instances, we've put together a comprehensive list of the best 26 substitutes, looking at how you can easily replace mayonnaise with other ingredients found in your kitchen.
Without further ado, let's get started, shall we!
1. Egg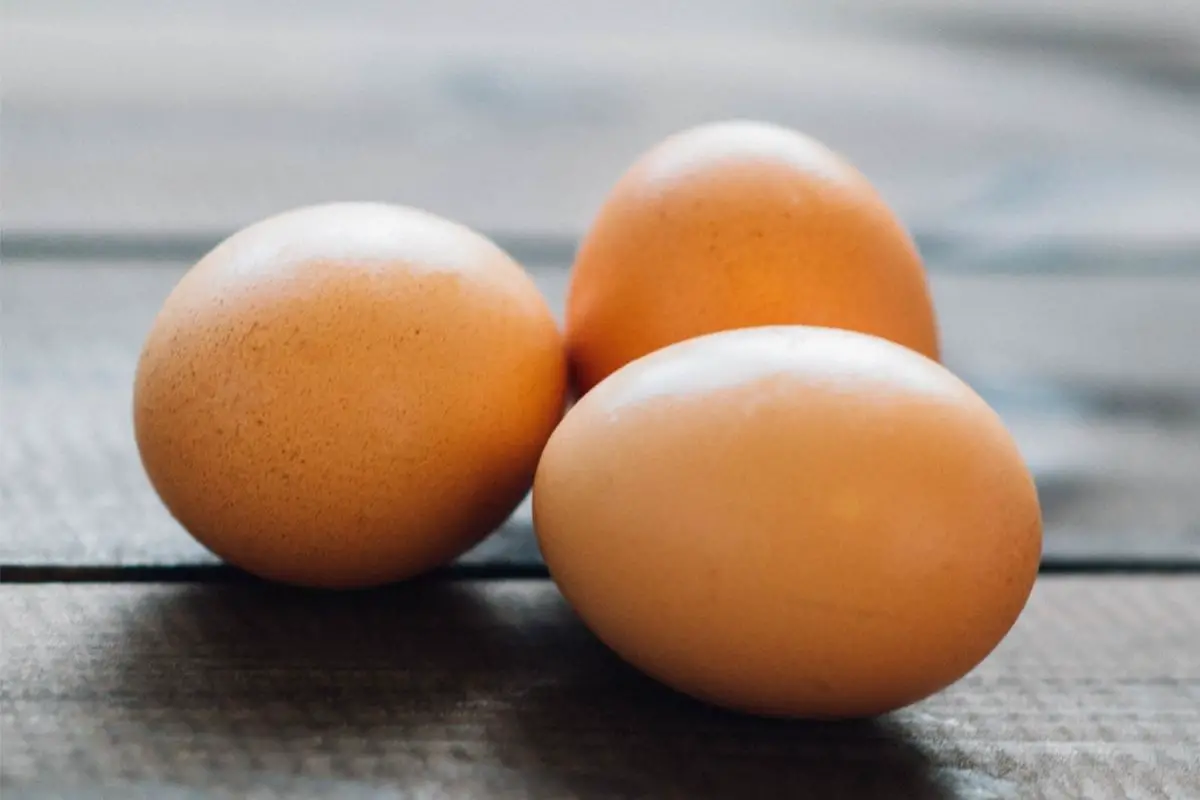 You're probably already well aware that egg is one of the main ingredients in mayonnaise, therefore it also makes a great substitute.
If you're out of mayo but need to add some creaminess to a recipe, quickly cooking an egg will do the trick. A small egg also has fewer calories than mayonnaise which is a nice bonus.
While you don't want to use an egg to substitute for mayonnaise in every recipe, we find it works well on burgers and sandwiches.
2. Low Fat Cottage Cheese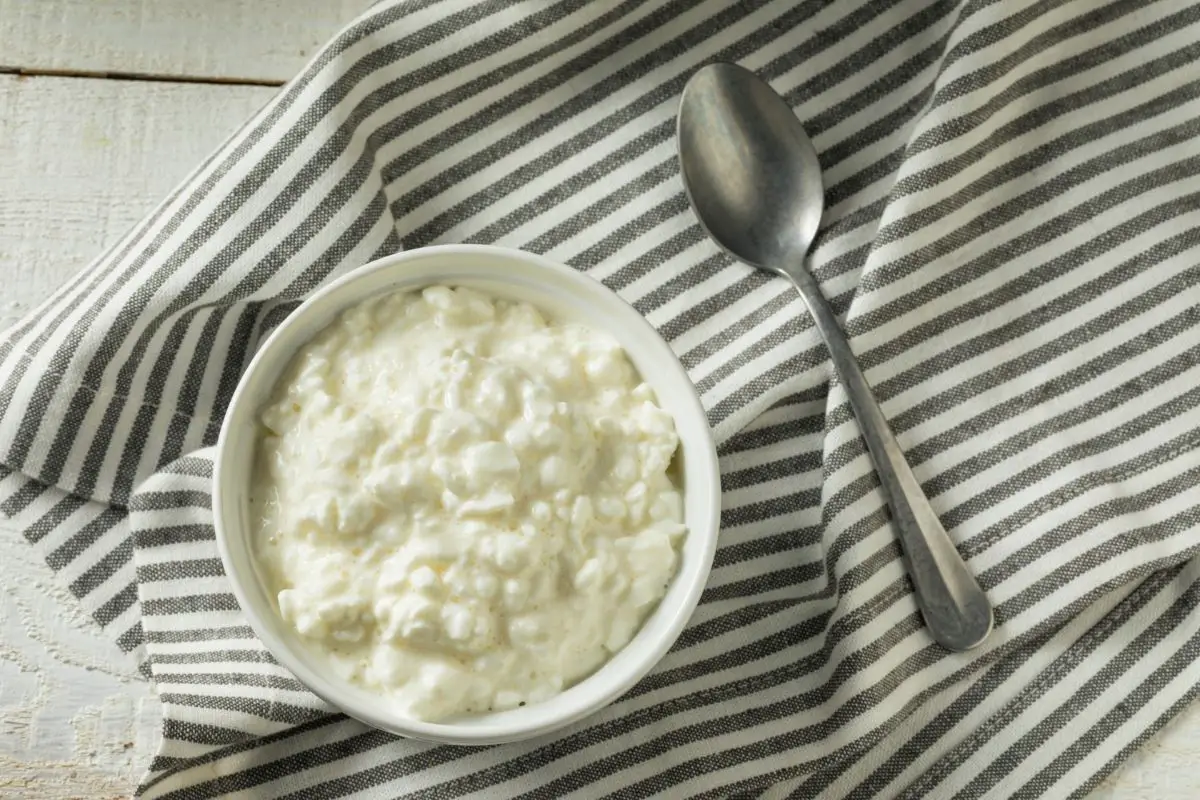 Another fantastic healthy mayonnaise substitute is low-fat cottage cheese. Low fat cottage cheese has a much milder flavor than other aged cheeses making it a good replacement.
Like mayonnaise, low-fat cottage cheese also has a soft, white, and creamy texture. 
This cheese might be slightly saltier than mayo but can give you most of the flavors you seek. If you drain the cottage cheese using a cheesecloth before blending it, you'll be left with a lovely smooth mayonnaise alternative.
3. Greek Yogurt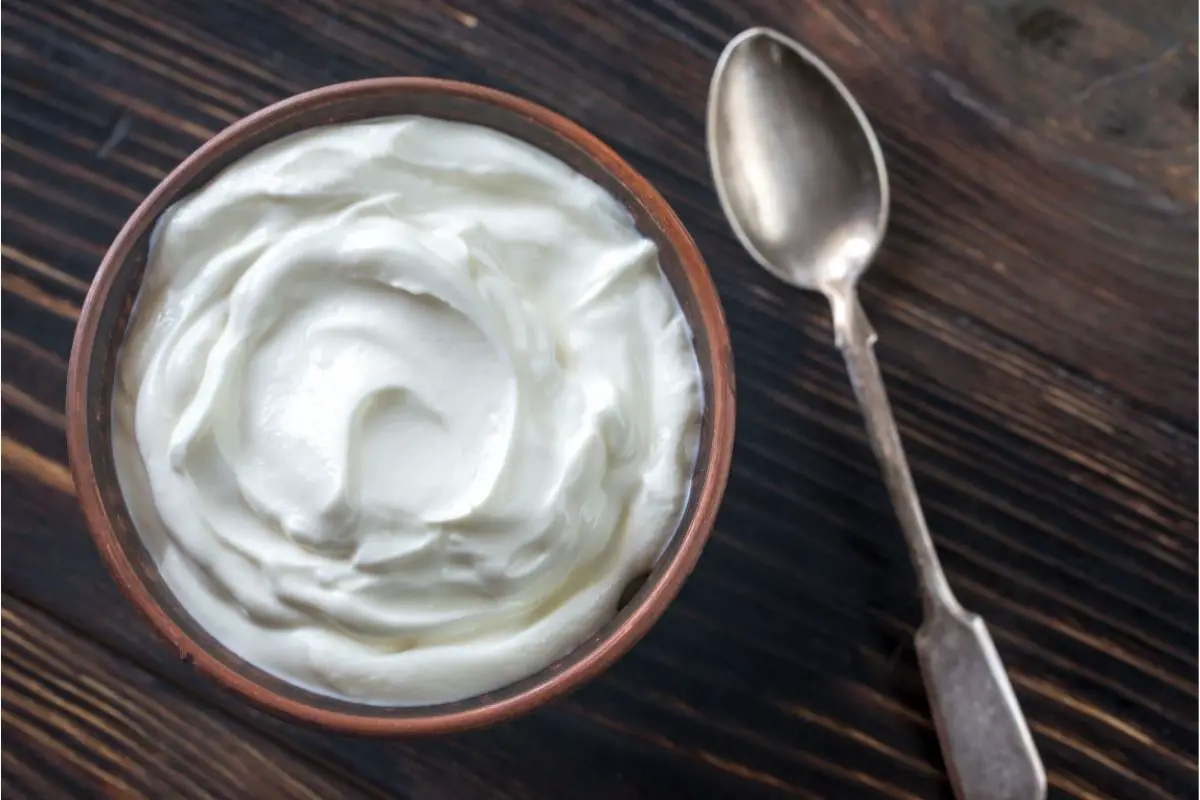 Like the other two substitutes we've discussed so far, Greek yogurt also contains fewer calories than mayo. This makes it a great healthy replacement.
Packed with calcium, Greek yogurt has a tasty tangy flavor that acts well as a mayonnaise substitute when included in an egg or tuna salad. We find that it also makes a gorgeous homemade salad dressing.
4. Aioli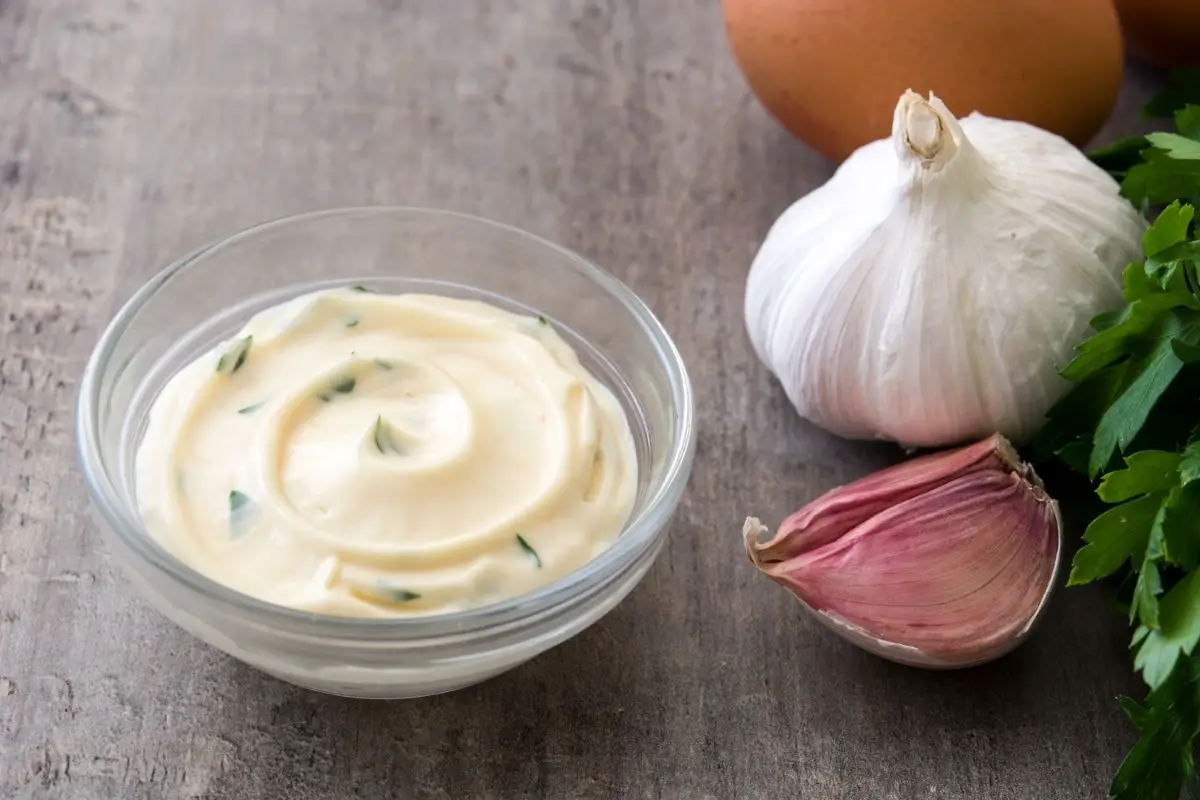 Aioli is actually very similar to mayonnaise. They both share very similar ingredients with the main difference being the type of oil they are mixed with.
Both condiments are made using raw eggs that have been emulsified in acid and oil. However, aioli uses stronger oils like olive, while mayonnaise is made from neutral oils like canola oil.
Aioli also gets its acids from lemon juice. Mayo gets its acids from vinegar.
You can use aioli as a substitute in dressings, sauces, and sandwiches.
5. Whipping Cream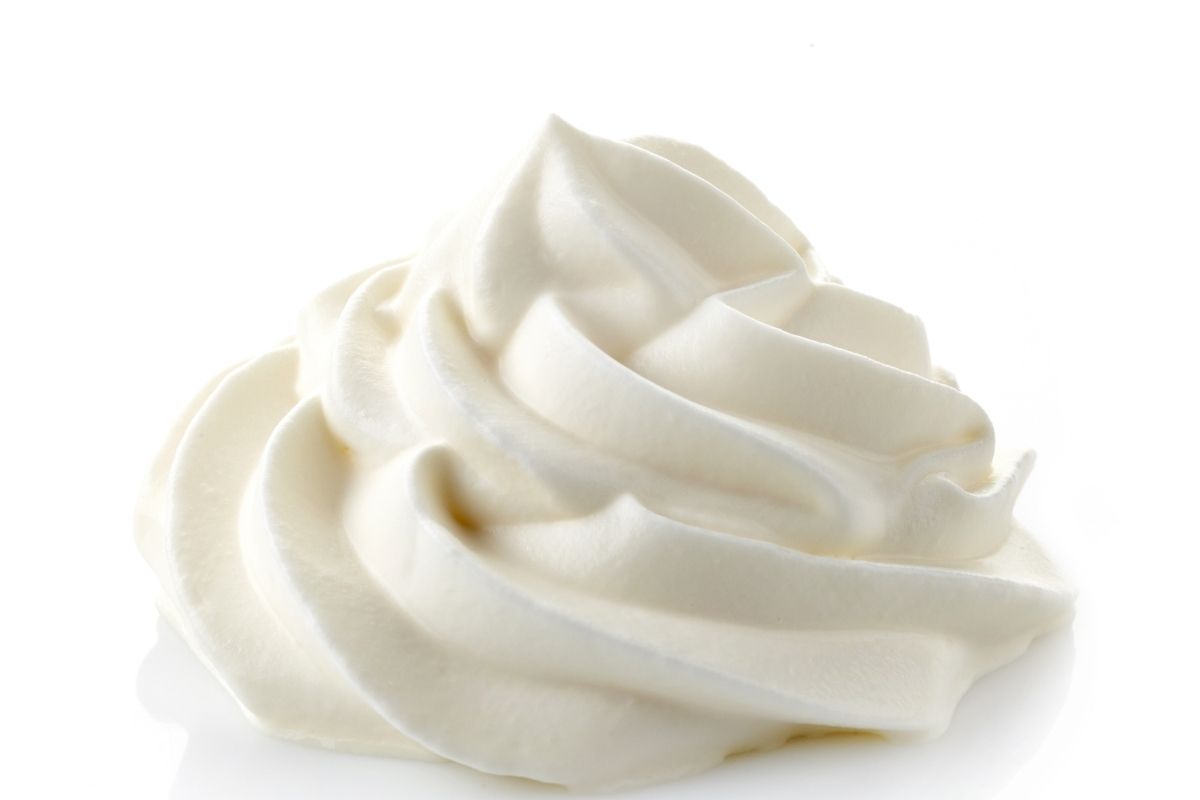 If you happen to have some whipping cream in your kitchen, you can quickly whip it up into a silky, light spread with a texture eerily similar to mayonnaise.
The beauty of this substitute is that you can spice things up a little if you want to get adventurous with other flavors. We like to add a dash of lemon to our cream and maybe some of our favorite seasonings. 
Seasoned whipping cream can be used as a mayonnaise substitute in any recipe that requires mayonnaise.
6. Cream Cheese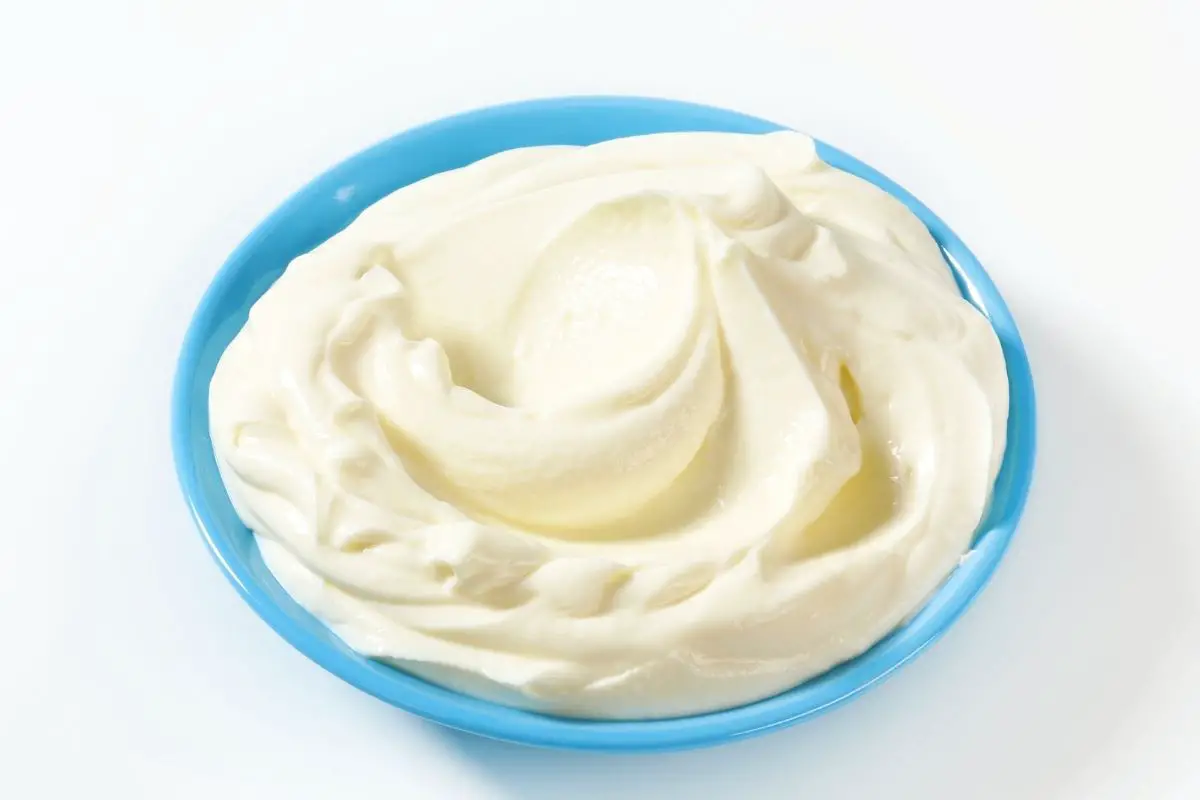 Generally, cream cheese is a lot thicker than mayo, but that doesn't mean it doesn't make a decent substitute.
If you're in a hurry, cream cheese can be an easy substitute for mayonnaise because it has a very mayonnaise-like flavor.
The creamy spread has a tangy, sweet flavor that goes perfectly in wraps, on sandwiches, or when dressed with a variety of herbs like cilantro and chives.
7. Sour Cream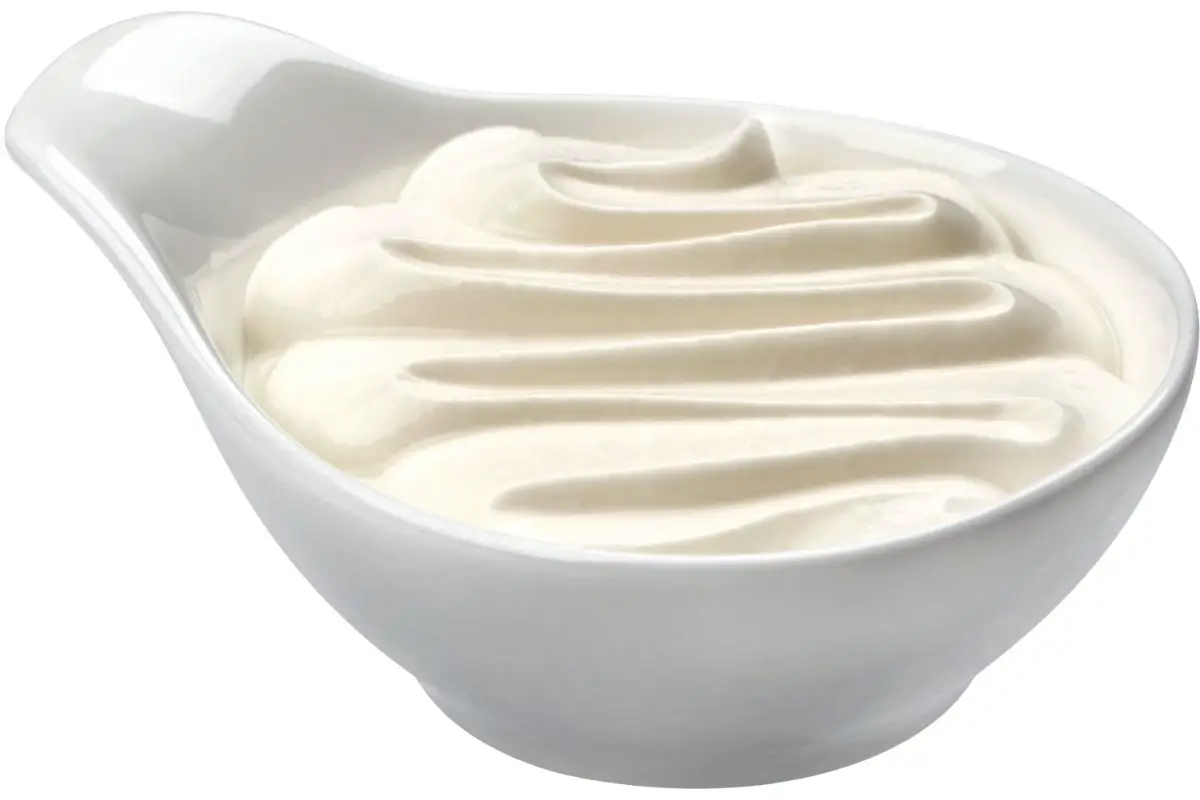 Bought in a fresh pot or even a squeezable tube, sour cream and mayonnaise share a wonderfully smooth, silky texture.
If mayonnaise doesn't suit your palate, or you're after a lighter condiment, a low-fat sour cream could be your ideal alternative.
Sour cream makes a great mayonnaise substitute when dolloped into a potato salad, chicken salad, coleslaw, or fresh tuna salads.
You can even jazz things up a bit by adding some fresh herbs and a splash of lemon juice into the mix.
8. Salad Dressings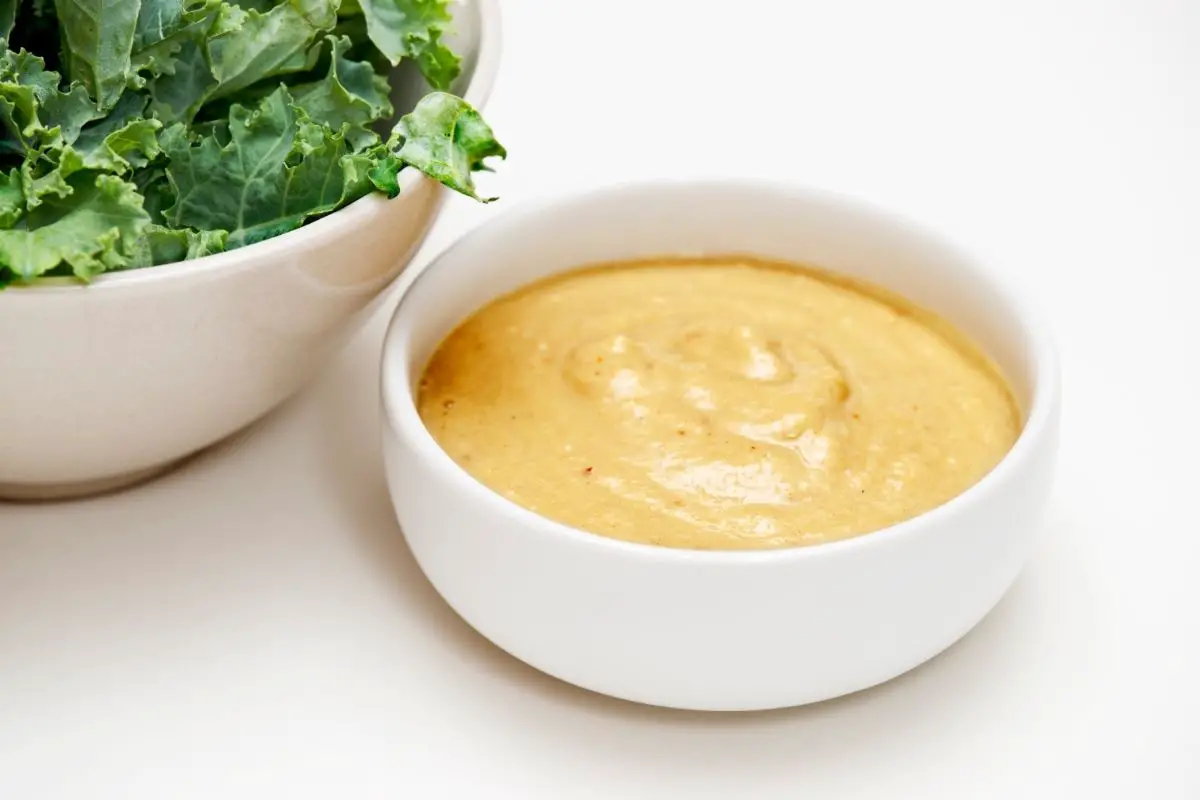 Salad dressings are amazing because of how versatile they are. The chances are whichever salad dressing you name, you can use it as a mayonnaise substitute.
Whether it be an Italian ranch or Caesar, salad dressings are a great base for every kind of salad imaginable, wraps, and sandwiches.
With dressings also going great with pasta, potatoes, chicken, and tuna, your possibilities with this substitute are endless.
9. Tzatziki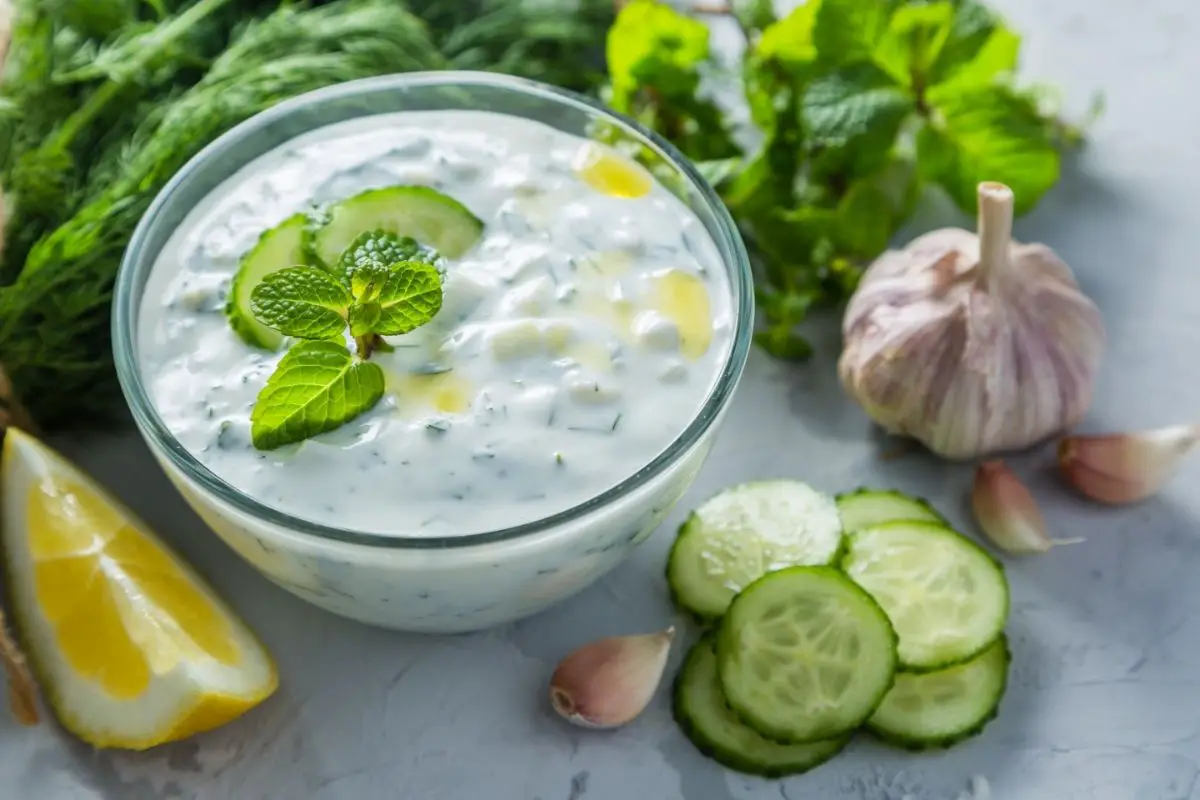 Tzatziki is a massively popular Greek sauce, made using a blend of yogurt, garlic, cucumber, lemon, and dill. This stunning spread is an easy mayonnaise substitute in salads, wraps, and sandwiches.
This refreshing sauce also goes nicely in a light potato salad. If you want a healthier, lighter, and fresher mayonnaise replacement, be sure to give tzatziki a try. 
10. Butter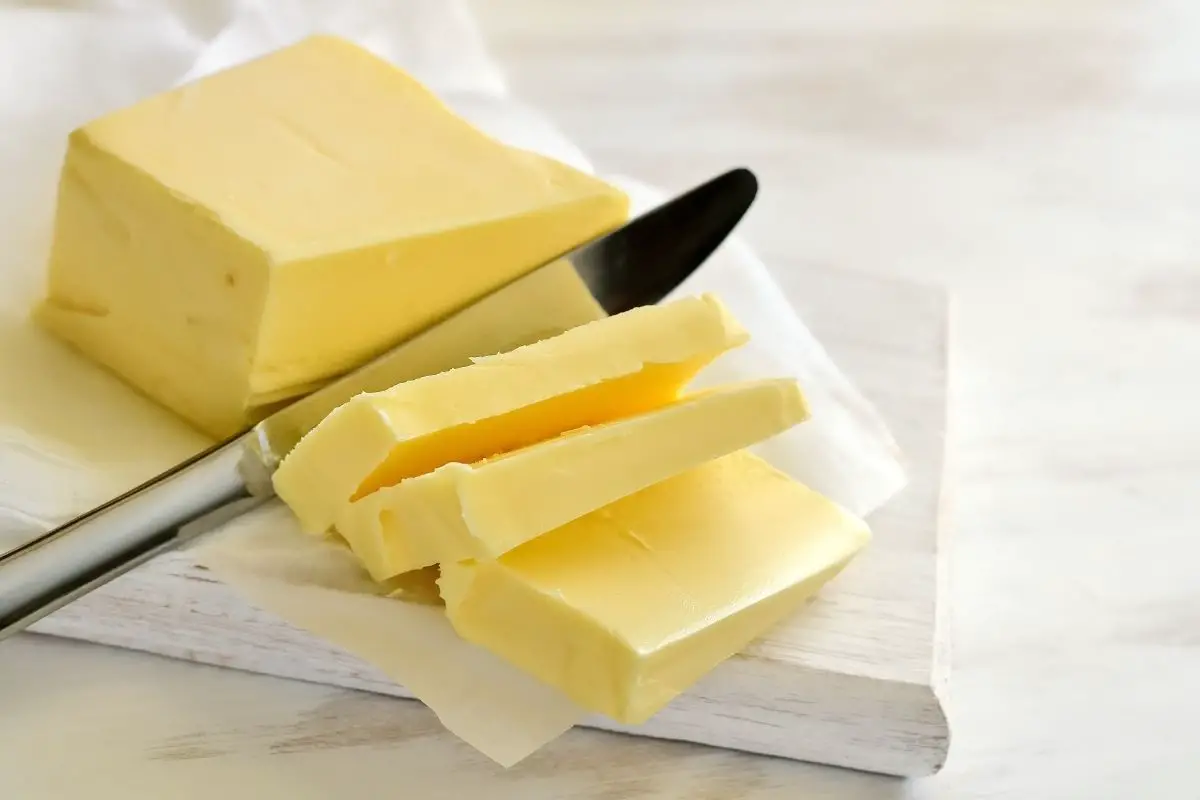 To add an extra burst of richness to a sandwich, wrap, or burger you can use butter if you don't have any mayonnaise left.
A staple in almost every kitchen, butter may well be the easiest and quickest substitute on this list. Super convenient to use, simply spread the desired amount of butter wherever you see fit.
Vegan Options
The rest of the substitutes on this list are all vegan-friendly. 
11. Hummus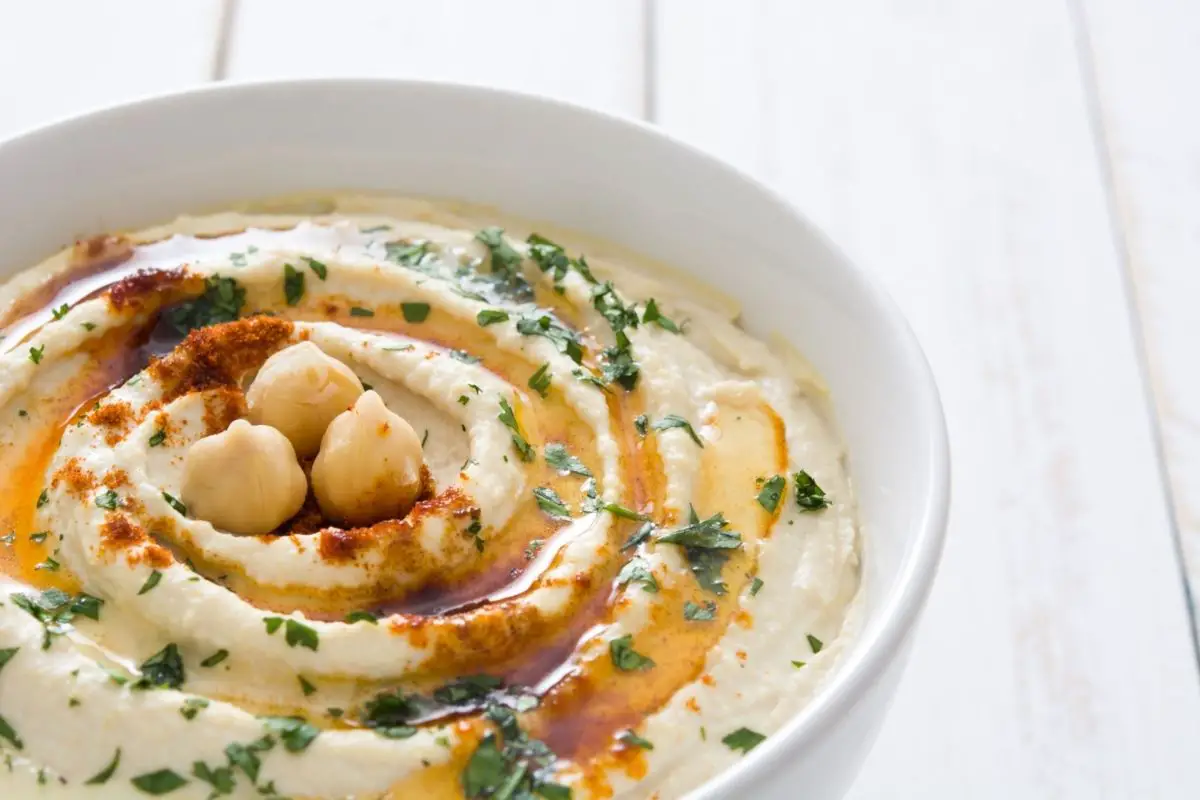 The next substitute on our list is hummus. Popular in Middle Eastern cultures, hummus is a tasty spread made from chickpeas, lemon juice, garlic, and tahini.
In your local store, you could probably find several other varieties too. Alternatively, if you have time you could make your own.
This substitute has a much thicker texture than mayonnaise, so may not work so well in most recipes. However, in wraps or on sandwiches, it goes perfectly. 
12. Baba Ghanoush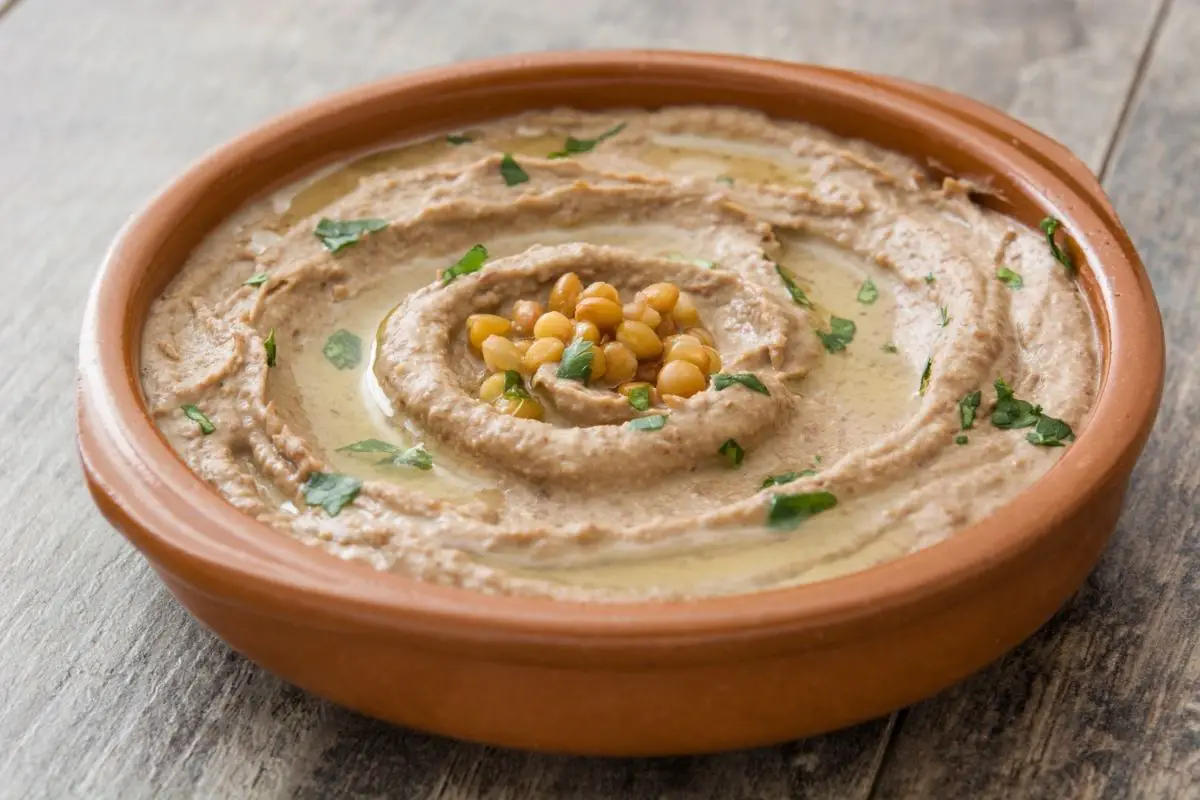 Baba Ghanoush is a Mediterranean condiment produced by roasting and blending eggplant.
Packed with nutrients like fiber, omega 3's, calcium, and iron, baba ghanoush has a beautifully rich, earthy taste that we can use to substitute for mayo.
Working best when included in a spread or dip, baba ghanoush can also be used on sandwiches if you want to add a different depth of flavor.
13. Olive Tapenade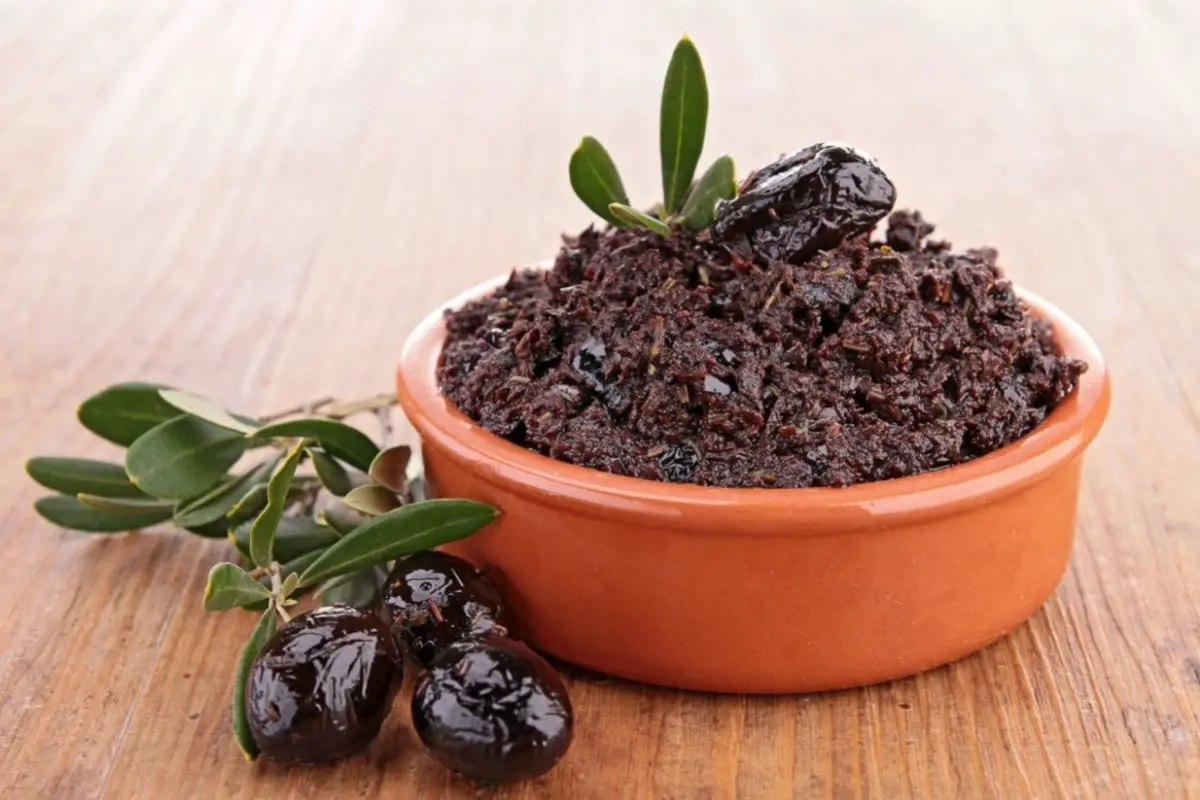 If you're fed up with mayonnaise and want to try something a little more unique, why not give olive tapenade a try.
Another excellent mayonnaise substitute, olive tapenade is easy to make and readily available in most local stores. It adds powerful flavors and smooth textures to wraps, sandwiches, and salad dressings.
To make your own olive tapenade, blend olives together. You can also include some capers and anchovies if you want a wilder flavor. This substitute is pretty salty so use it in moderation.
14. Avocado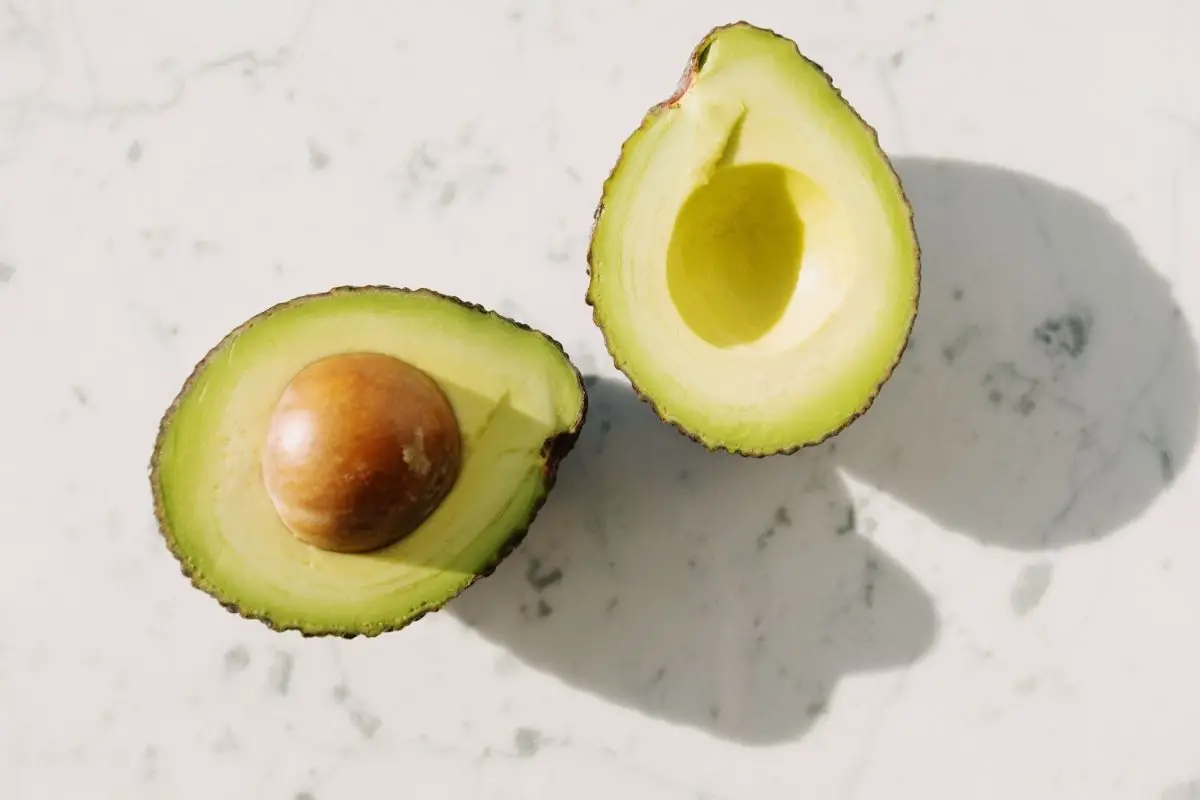 Believe it or not, avocado also makes an awesome, super healthy mayonnaise substitute. This hugely popular fruit is packed with fatty acids and nutrients that offer a wide range of health benefits.
More importantly, it tastes lovely when blended. After blending, avocado becomes smooth and soft, making it a good replacement for mayonnaise on sandwiches or in a variety of salads.
Our favorite salad using avocado as a mayo replacement would have to be a fresh chicken salad.
15. Pesto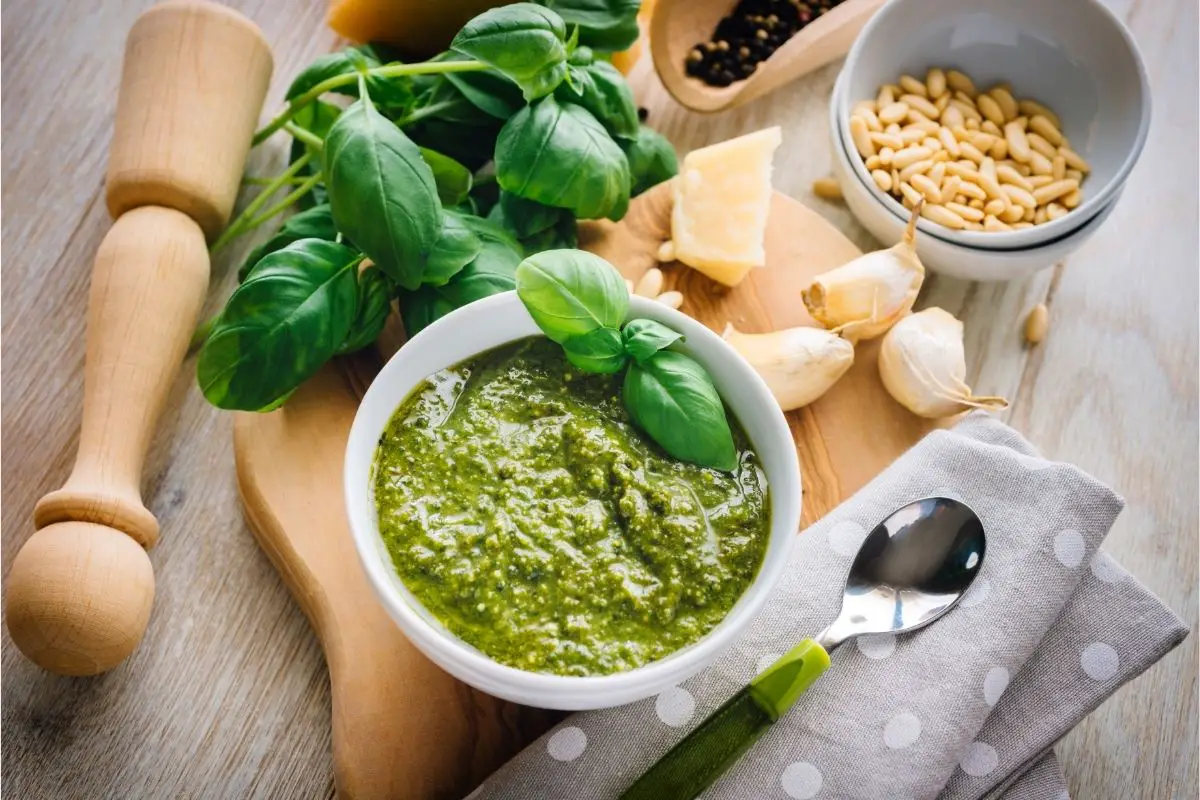 It may seem like an odd substitute, but pesto is a good mayonnaise replacement if you don't have time and have no mayonnaise left in your kitchen.
A popular Italian condiment, pesto is made by blending basil, olive oil, and pine nuts.
While it doesn't work for every recipe requiring mayonnaise, we find it goes nicely as a spread in sandwiches or as a dressing on a salad.
16. Tahini Sauce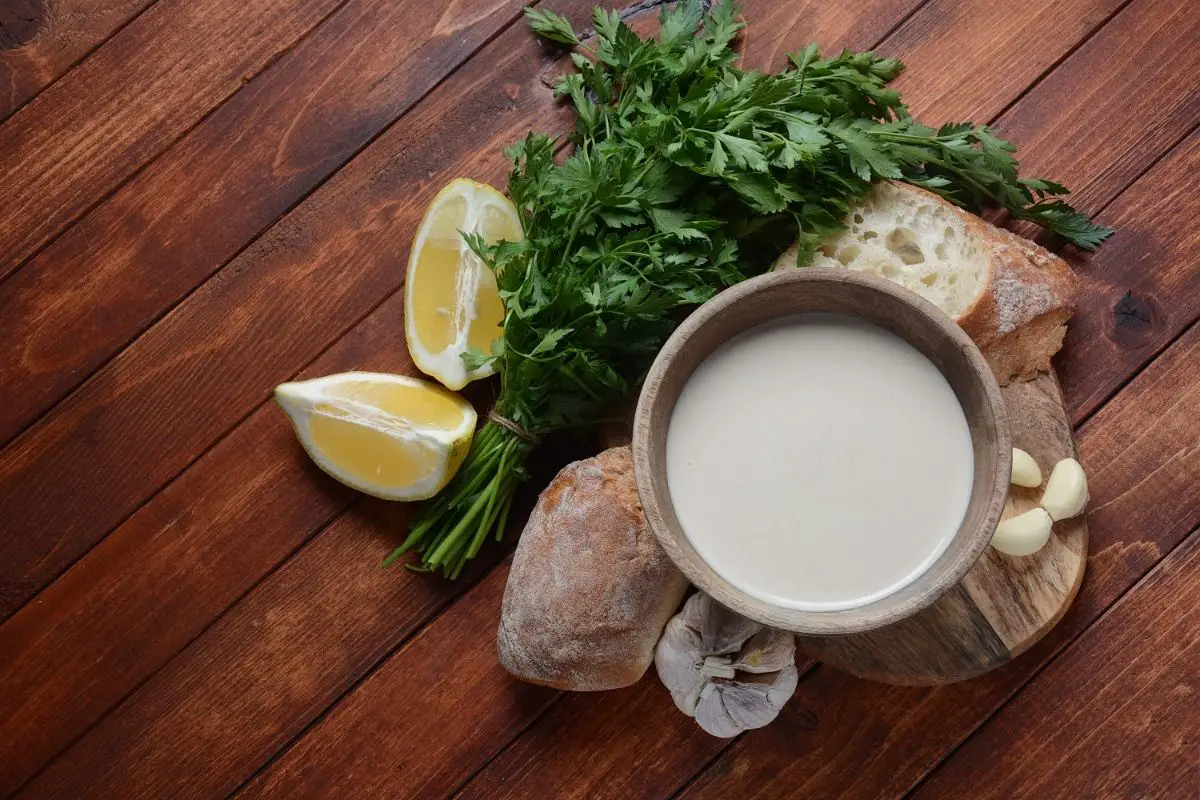 As we mentioned earlier, tahini is a key ingredient in hummus. You can quickly make tahini sauce on your own before using it as a solid mayonnaise substitute.
Best on sandwiches, in dressings, and in wraps, you can make this sauce by blending 4 to 5 tablespoons of tahini with water and lemon juice. You can also throw in some garlic if you want some stronger flavors.
17. Mustard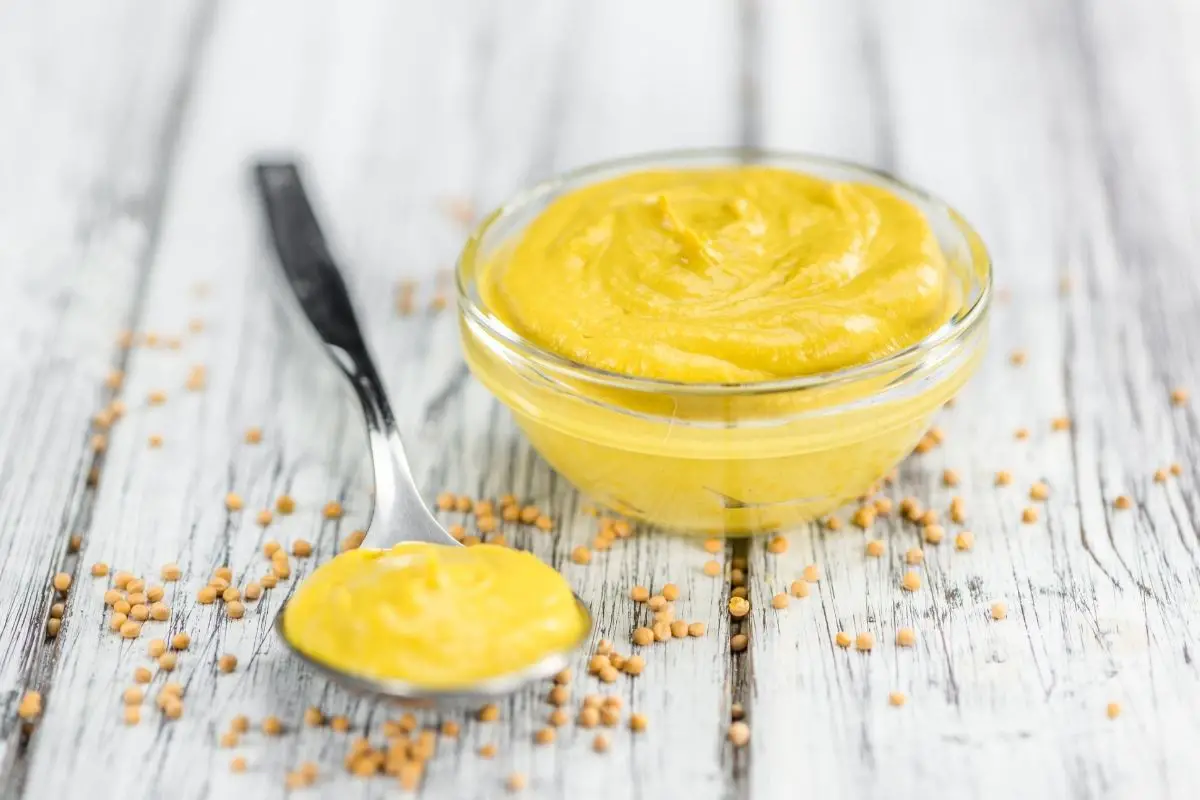 Okay, so mustard might seem like a bit of a wild substitute due to its very strong, assertive flavors, but it is actually much lower in calories and easily adds creaminess to a variety of recipes that require mayonnaise.
If you want to bring healthier, stronger flavors to a salad dressing, sandwich, or wrap, give this condiment a try.
If you want to reduce the powerful flavor of the mustard you could mix it with a tiny bit of milk or sour cream.
18. Nut Butter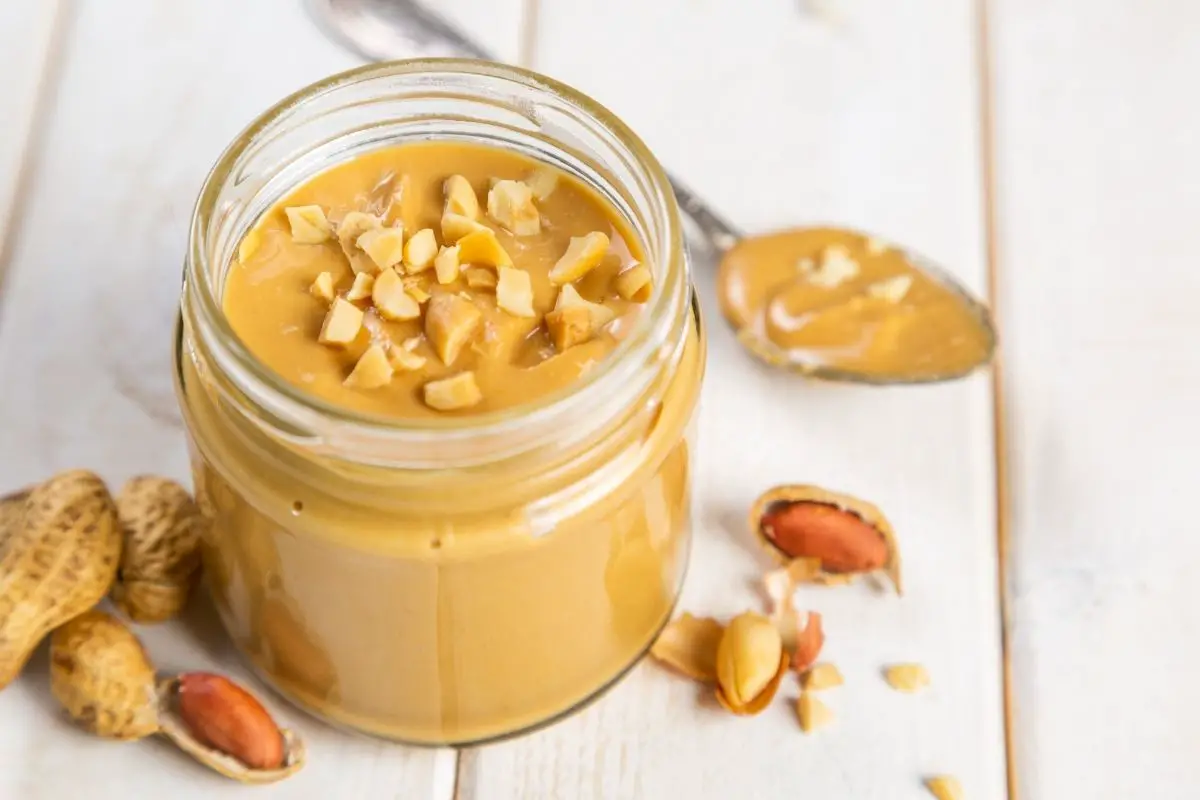 Nut butter is in no way to be considered the ultimate mayonnaise alternative but if you want something a little healthier, or seek a quick fix, it will do the trick.
By adding nut butter to your sandwiches instead of mayonnaise, you'll be saving valuable calories and reducing your fat content.
As if this wasn't enough, you'll also be increasing your intake of protein in the process. 
If you want even more health benefits, try adding banana and honey to the butter too.
19. Cashew Cream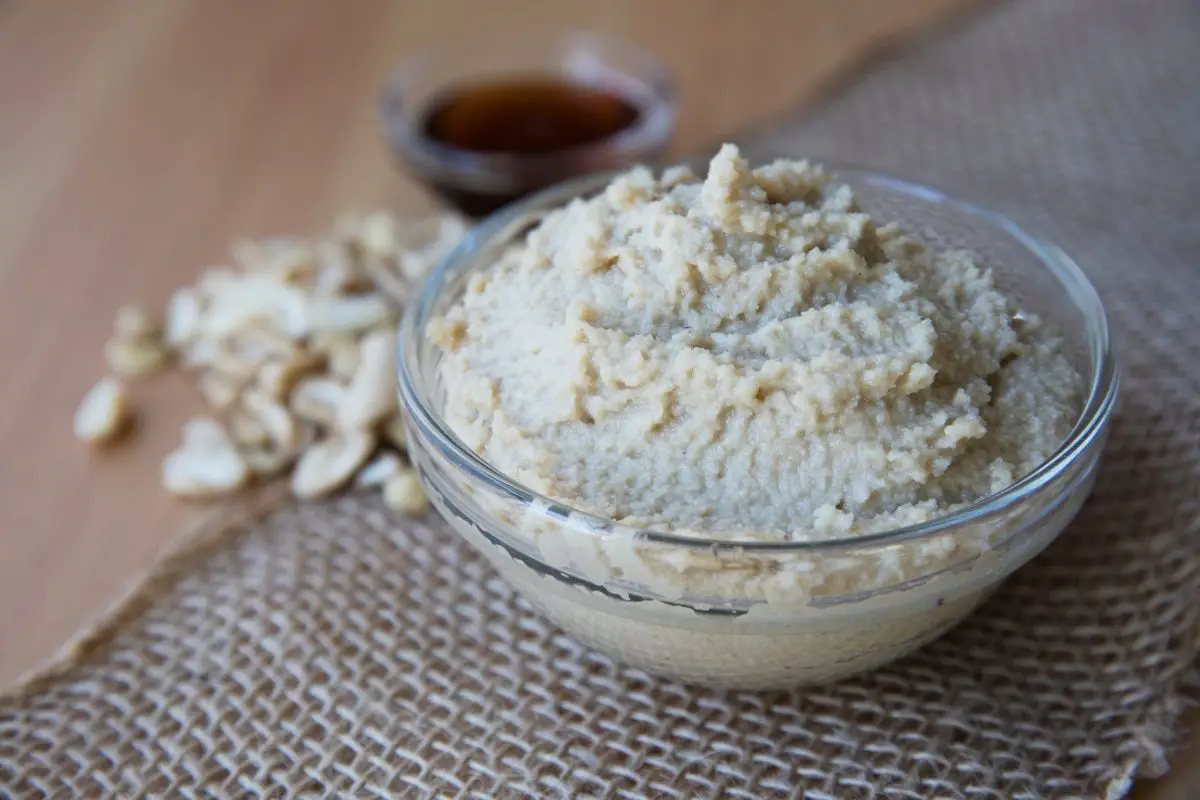 This mayonnaise alternative makes a great substitute because of its flavor. With a similar flavor and texture to mayonnaise, you can use this cream to make a sandwich or a dressing for your potato salad.
Cashew cream is produced by blending water and cashew nuts together until they reach a smooth, velvety texture.
Cashew cream can be bought in the store or made at home. To make cashew cream blend one cup of raw cashew nuts with ¾ cups of water and salt. 
20. Olive Oil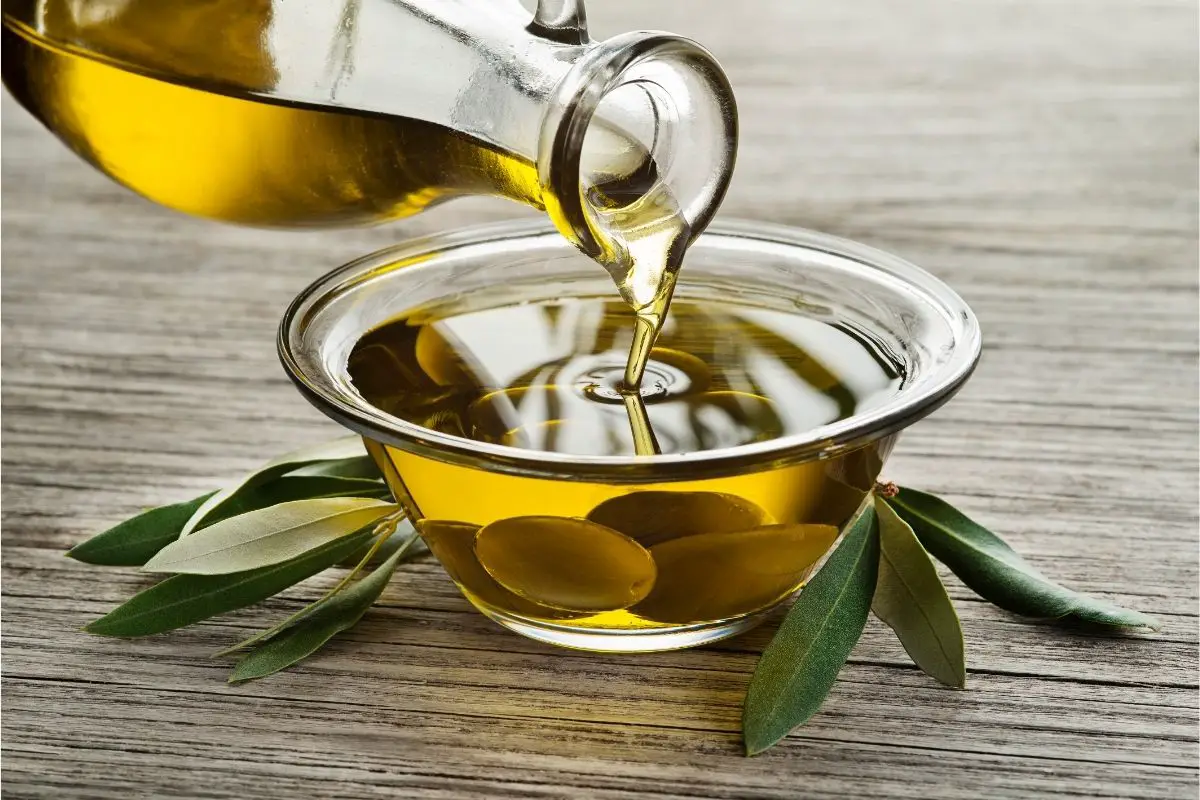 Olive oil is a versatile ingredient that can be used in a wide range of ways. Typically used to dress salads and add creaminess to pasta dishes, olive oil is a fatty acid that comes with plenty of benefits.
When it comes to acting as a mayonnaise substitute, olive oil is best used on a tuna salad. 
Olive oil is a lot thinner than mayo, so you need to make sure it works with your dish before you start serving it. 
21. Cashew Cheese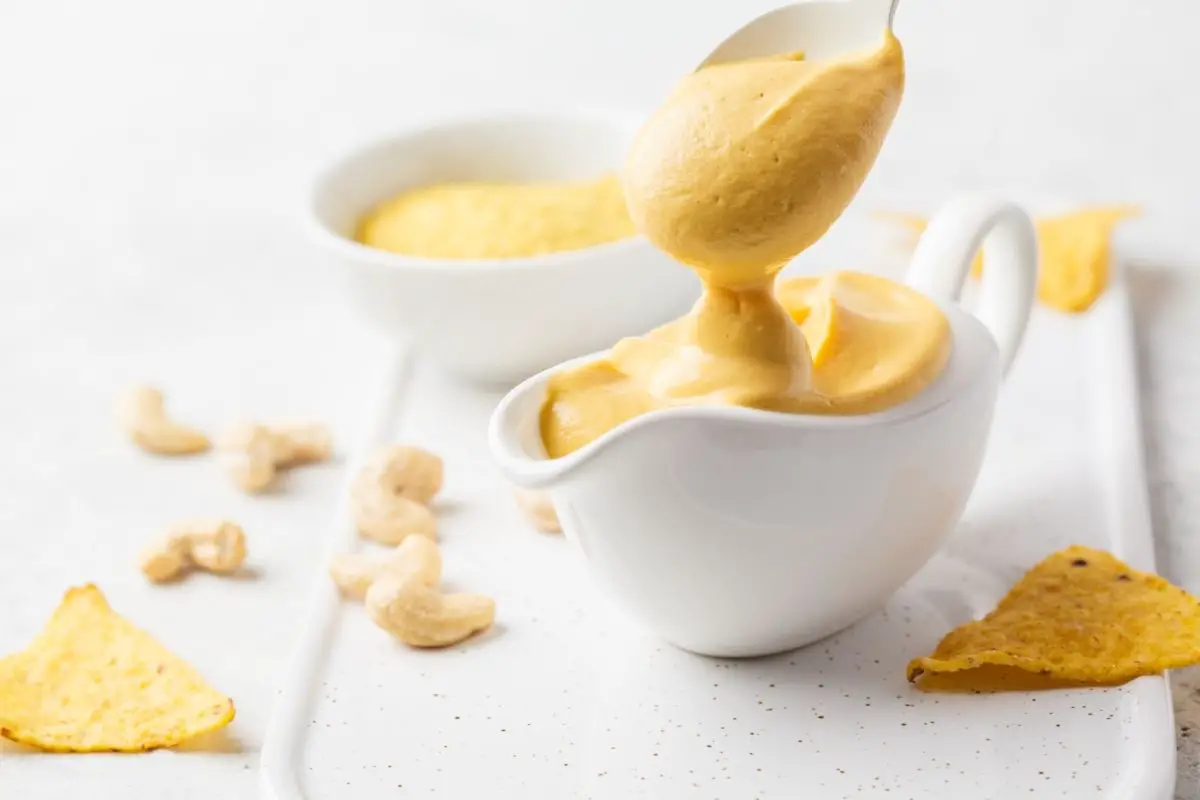 You might not have heard of cashew cheese before because it is relatively new to the scene, but it can be used as an awesome vegan mayonnaise alternative.
It does slightly differ in taste from mayonnaise with a bolder, cheesier flavor, but its creamy texture works wonders on sandwiches, salads, and wraps. 
You can make your own cashew cheese by blending well-soaked cashews, yeast, and garlic. 
22. White Bean Dip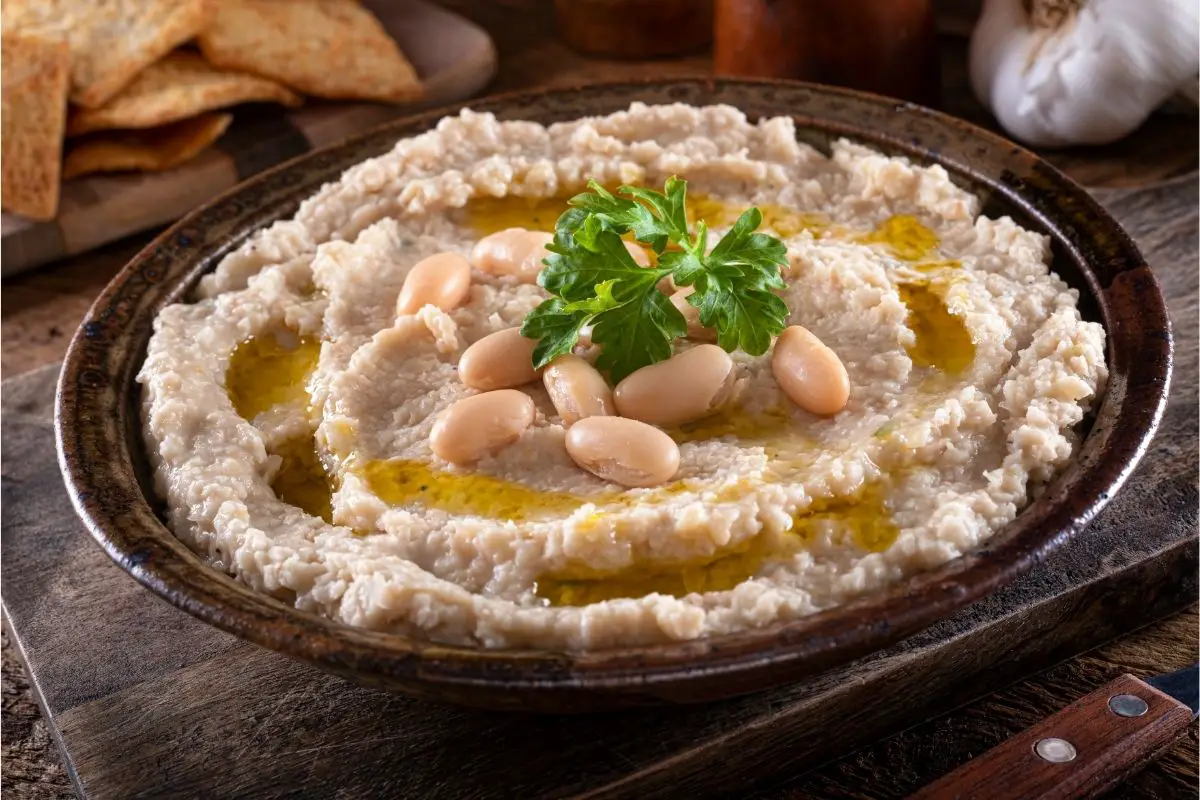 White bean dip isn't too dissimilar from hummus. If anything it has a creamier texture and taste that makes it an even better mayonnaise substitute.
Providing us with a gorgeous nutty flavor, white bean dip can be made by blending the white beans with a variety of spices and flavorings.
When we blended white beans with garlic and water, we found the creamy dip to taste amazing on a sandwich or in a wrap.
23. Tofu Vegan Mayonnaise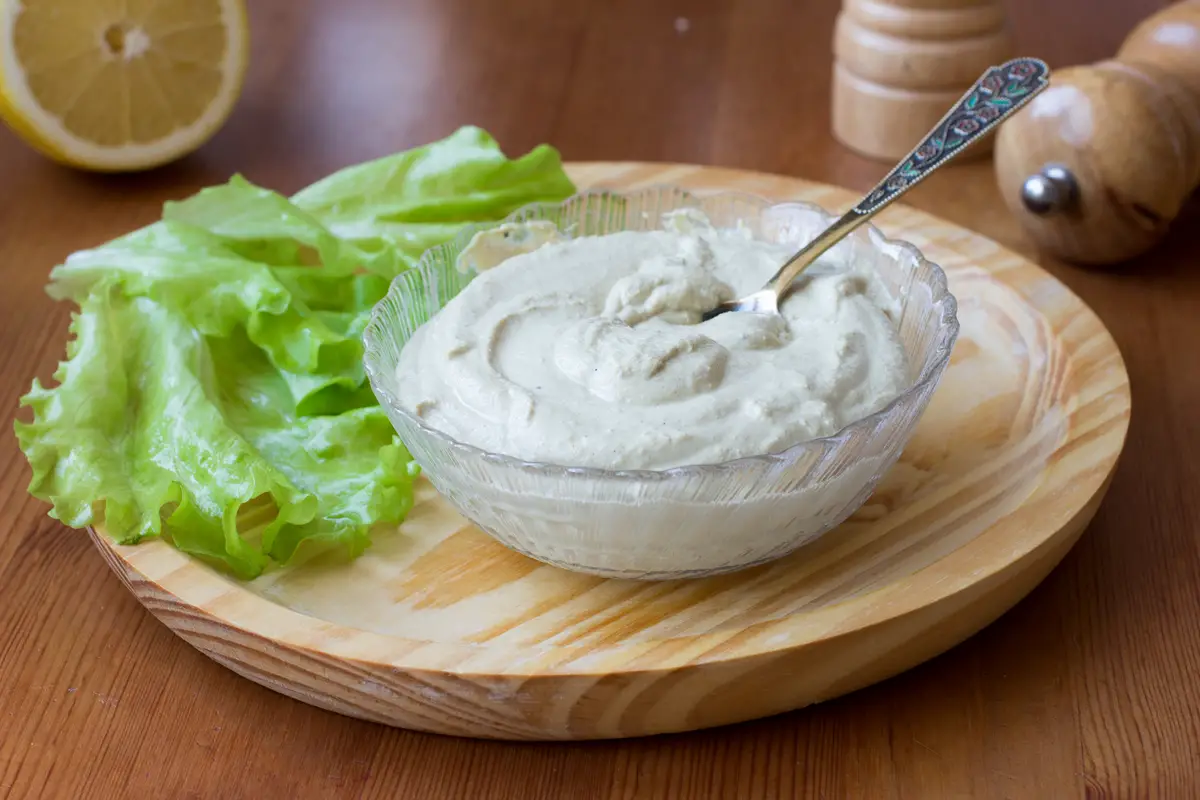 If you consider yourself a vegan, there's no doubt that you will already know a lot about tofu. For those that don't know, tofu isa  popular vegan food made from soya.
Also known as bean curd, tofu is produced by curdling fresh soya milk before pressing it into a solid block for cooling. 
You can easily use tofu to make a mayonnaise substitute in approximately 3 minutes. Not only will it give you the mayonnaise flavor you seek, but it will also give you a healthier sandwich as tofu contains very few calories. 
To make tofu, blend your tofu of choice with lemon juice, salt, mustard, and maple syrup. Once blended, let it sit for a week in your refrigerator.
24. Store-Bought Vegan Mayonnaise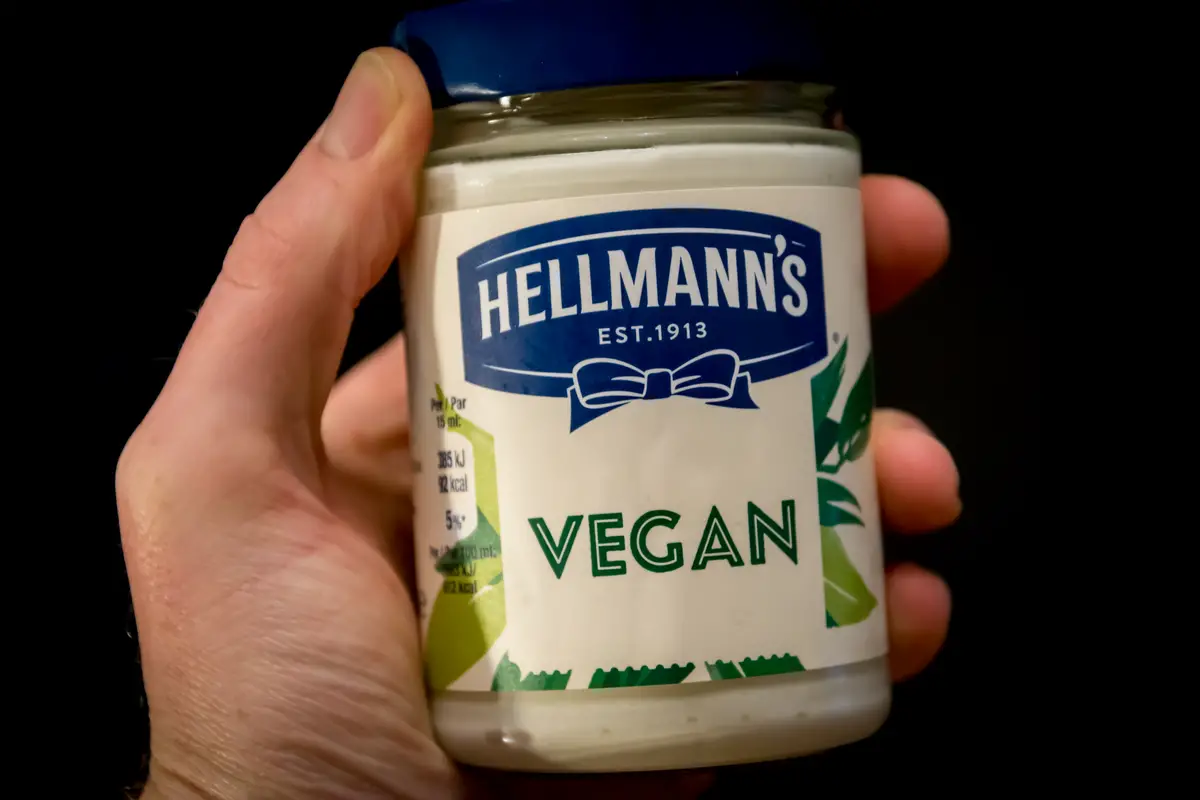 If push comes to shove, and you want a simple mayonnaise substitute suitable for vegans, you could always look to buy a vegan mayonnaise.
Vegan mayonnaise is probably the closest you will come to using the real thing.
Vegan mayonnaise brands ensure their products taste fresh, creamy, and delicious, letting us use them anywhere regular mayonnaise would be used. 
Some of the best vegan mayonnaise brands to look out for are Spectrum's Vegan Eggless Mayo, Thrive's Vegan Mayonnaise, and Just Mayo.
25. Make Your Own Vegan Mayonnaise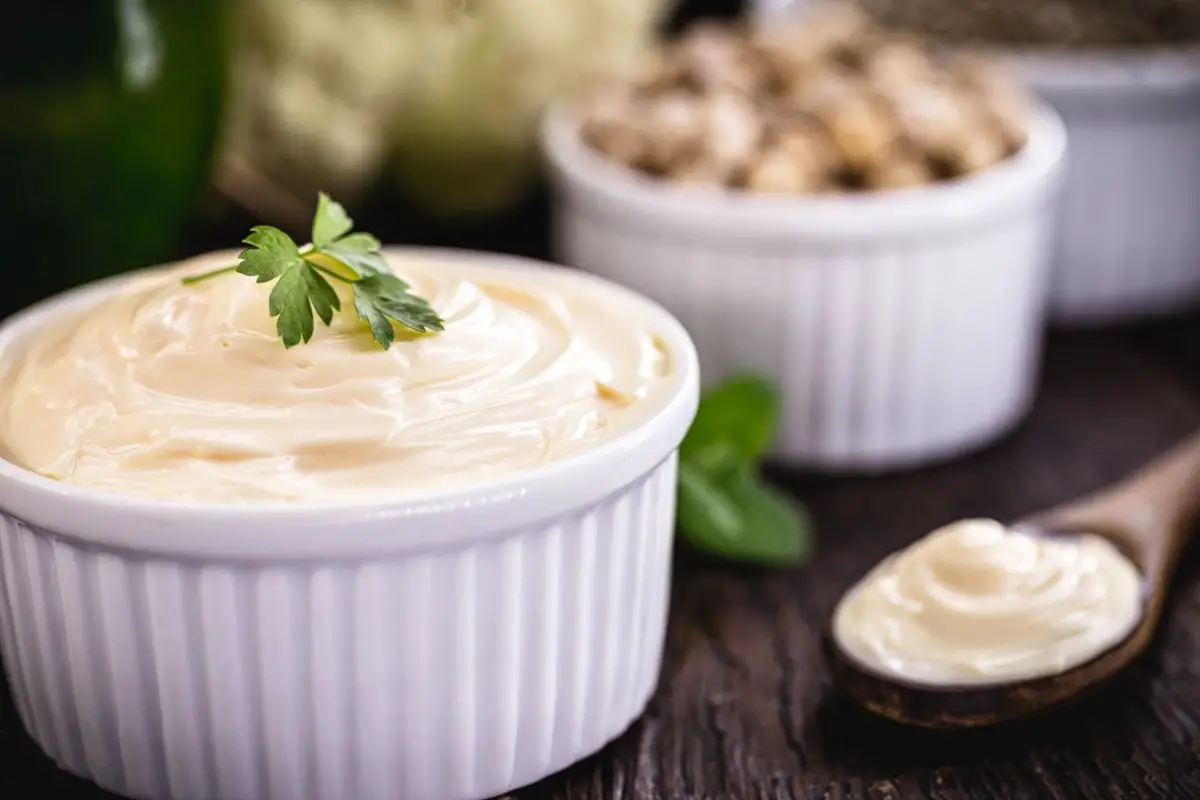 If you have time on your side and want to try something new, why not try making your own homemade vegan mayonnaise. Below you will find the vegan mayonnaise recipe we like most. 
Ingredients
½ cup of soy milk
1 tbsp red or white wine vinegar
¼ or ½ tsp of sea salt
1 ½ tsp Dijon mustard
1 tsp lemon juice
1 cup of neutral oil
A pinch of maple syrup
Directions
Making this vegan mayonnaise is super easy. Simply throw all the ingredients into a blender, except for the oil.
Blend the ingredients on a high setting for approximately 30 seconds. You can then start adding the oil gradually. This allows for proper emulsification. 
You should then continue to blend the mixture until all the oil has been added. Once all the oil is added, blend for another 10 seconds. To thicken your mayonnaise, leave it in the fridge for a couple of hours.
26. Making Your Own Regular Mayonnaise
The final substitute on our list isn't a vegan option, but we can't end this list without showing you how to make your very own regular homemade mayonnaise. If you have time, give our recipe a try.
Ingredients
1 egg
1 tbsp rice or white wine vinegar
1 tbsp Dijon mustard
¼ tsp salt
1 cup of vegetable or canola oil
Directions
Blend the egg in your processor for 20 seconds. 
Once that is done, add the mustard, salt, and vinegar. Blend for another 20 seconds. Next, you need to slowly add the oil, a few drops at a time until all the oil has been added.
As the mayo thickens, add more of the oil to make it a little thinner.
You should now taste the mayonnaise and adjust the seasoning to suit your palate. Your homemade mayonnaise will now be ready. You can store the mayonnaise in your refrigerator for up to a week.
Final Thoughts
Our homemade mayonnaise recipe concludes our list of mayonnaise substitutes.
Whether you want to try something new, lower your calorie intake, can't eat mayonnaise, or have simply run out of the much-loved condiment, we have hopefully given you an alternative that suits your needs.
As you can see from our list, there are an incredible amount of possibilities when it comes to replacing mayonnaise. All you have to do now is find the one you need.
We have provided you with 26 options that can be made quickly and easily, so when you find the best option it won't take you long to make a delicious spread. Good luck!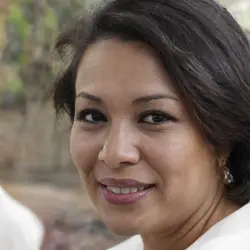 Latest posts by Kunal Sharma
(see all)