Run out of sour cream? No need to worry, we've got you covered!
Sour cream is a hugely popular cooking staple commonly used across Europe and the United States.
A key ingredient in a range of cuisines, sour cream makes an awesome topping, dip, and sauce. It even tastes great when baked. 
Sour cream is a pasteurized cream that's been soured using lactic acid bacteria. This bacteria thickens the cream to give it a tangy-sour taste.
Though you would think it's hard to replace this flavor, it actually isn't. If you run out of sour cream, there are plenty of substitutes to choose from.
In this blog post, we have listed our 20 favorite sour cream substitutes with ingredients you probably already have in your kitchen. We've even included some great dairy-free alternatives too.
If you need a sour cream substitute, quickly, make sure you keep reading! 
Sour Cream Substitutes
The first part of our list looks at the most common sour cream substitutes for when you run out. For the vegan sour cream substitutes, take a look further down this post.
1. Plain Greek Style Yogurt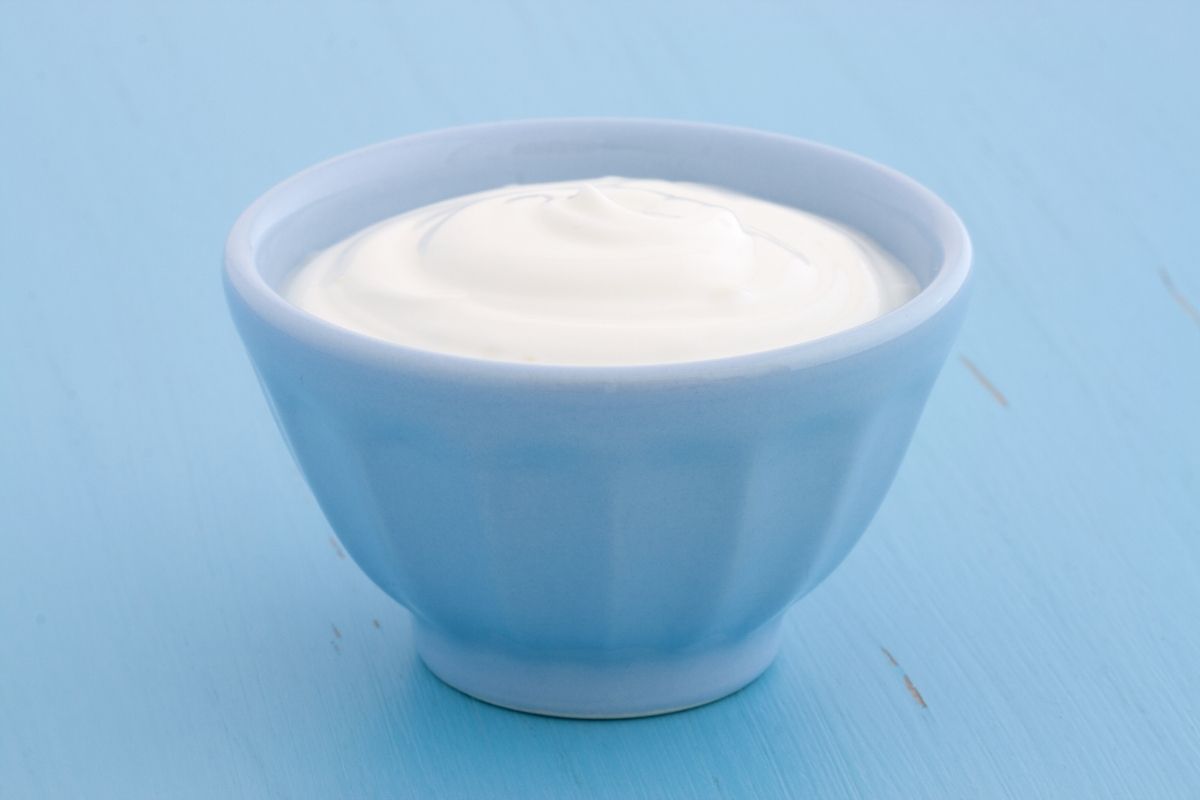 The closest sour cream substitute you will find is a simple, yet delicious plain Greek yogurt. Whether your recipe requires the sour cream to be baked, cooked, made into a sauce, or a fresh dip, plain Greek yogurt has your back.
Greek yogurt is also a healthier alternative to sour cream while still sharing a similar tangy taste and texture. This yogurt can be used as a 1-1 substitute in almost any recipe.
2. Standard Plain Yogurt
On the topic of yogurt, regular plain yogurt can be used as an effective sour cream substitute. Plain yogurt tends to be thinner than sour cream, containing fewer calories but more sugar and calcium.
While its taste may be less tangy, if you're in a rush and need a quick fix you can't go wrong with fresh plain yogurt.
If you're making a dip with plain yogurt, you should strain or drain the yogurt first to remove excess liquid.
3. Cream Cheese
If you use milk to thin cream cheese you'll be left with a great sour cream substitute.
Using the cream cheese as a 1-1 substitute, blend it with milk until it has reached your desired consistency. Adding a dash of lemon juice will help give the cheese that sour cream tanginess.
Mix ¾ cups of cream cheese and 3tbsp, before adding a dash of lemon juice to make the perfect sour cream dip substitute.
4. Créme Fraîche 
Créme Fraîche is a type of French cream that is very similar to sour cream. Like sour cream,  Créme Fraîche is also soured using bacteria.
Despite being made the same way, Créme Fraîche has a slightly less tangy taste than sour cream, but that doesn't mean it can't be a tasty, quick replacement.
To increase tanginess add a splash of lemon to your Créme Fraîche before using it as a 1-1 substitute.
5. Mascarpone Cheese
Mascarpone cheese is very similar to the cream cheese we spoke about above. In many ways, mascarpone cheese is simply the Italian variation.
Having said that, it tends to be a little looser, more velvety, and a little less exciting in flavor. 
To use mascarpone cheese as a sour cream substitute, follow the same instructions we gave you above for using cream cheese.
6. Cottage Cheese
If you want a healthier sour cream substitution, why not use some cottage cheese.
Cottage cheese is great because it's lower in fat and higher in protein. It is also an ingredient you are fairly likely to have in your refrigerator already. 
The best way to use cottage cheese is as a 1-1 substitute. To use cottage cheese, drain the excess liquid and blend it until it has a smooth consistency. You can then add a dash of lemon, milk, or buttermilk if necessary.
7. Plain Kefir
The next substitute on our list is great for our digestive and gut health. A fermented milk drink, kefir has many nutritional benefits that sour cream also has.
While it shares these nutritional benefits, kefir is much thinner than sour cream, so it should only be used in baking if a small amount is required and not vital to the recipe. 
Again use kefir as a 1-1 substitute.
8. Mexican Crema
Crema is a staple table cream used frequently in Mexican cooking. It has a beautiful flavor that cools down spicy foods.
Though it isn't as sour as sour cream or as thick, it can be used as a substitute in most recipes. If you want to give Mexican crema a sour taste simply add a dash of lemon. 
We think Mexican Crema makes a great substitute when drizzled over some tacos or put in baked foods.
9. Milk 
There's a very high chance you already have some milk in your refrigerator. If you do, you can easily use it as a sour cream substitute.
Milk is a useful sour cream substitute when a baked recipe requires sour cream to give the dish moisture not fat content.
You can use a 1-1 substitute just like with kefir.
10. Buttermilk
For a dairy product, buttermilk is extremely thin, but it can still be used as an effective, super quick sour cream substitute.
Buttermilk shares a similar flavor with sour cream, yet its fat content and consistency are very different.
To use buttermilk as a sour cream substitute, you should follow the same instructions we gave you for plain kefir.
11. Milk Powder
Believe it or not, milk powder can also be used as a decent sour cream substitute in soups and sauces.
While we would probably choose other options first if milk powder is all you have in your cupboard it can still be used.
By mixing 1 cup of milk powder with 1 tbsp of lemon juice and 1 tbsp of vinegar you can make a substitute with fantastic texture and taste. You should let this mixture sit for 5 minutes if you want it to thicken.
12. Heavy Whipped Cream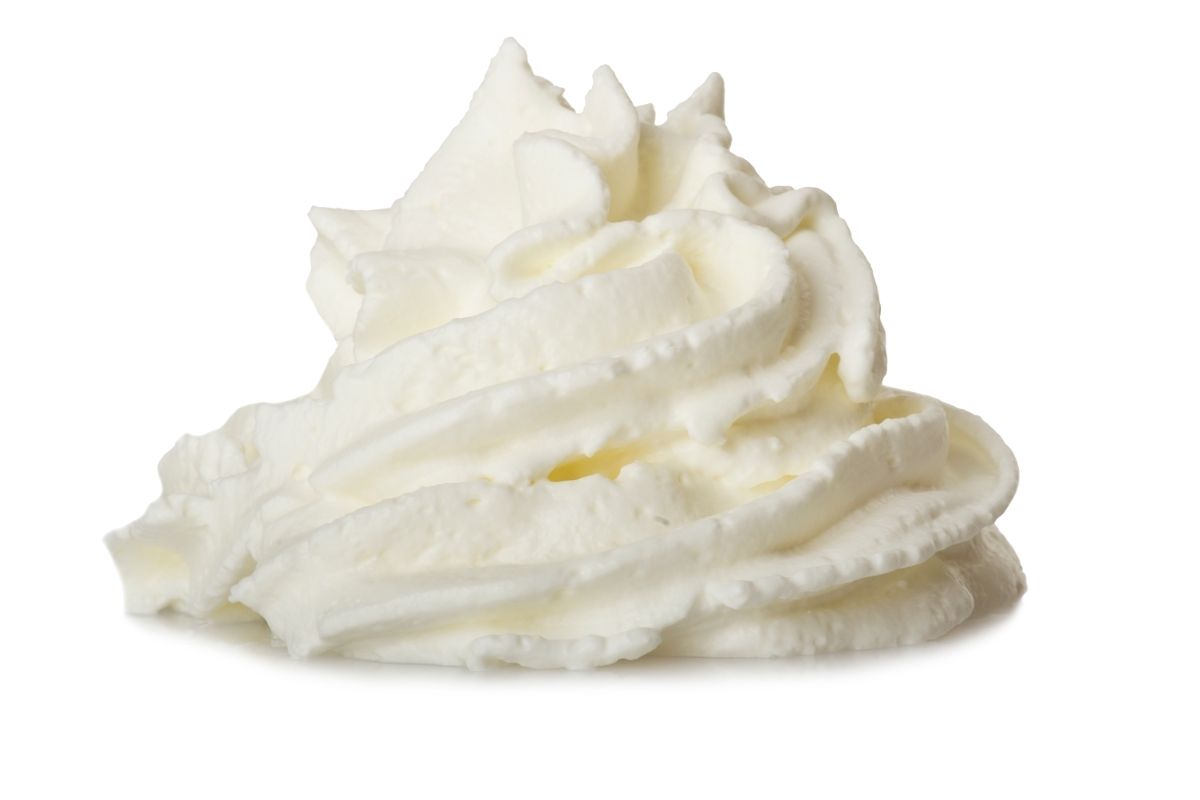 Heavy whipped cream gives you the opportunity to create one of the best sour cream substitutes with little effort. All you need to do is mix 1 tbsp of lemon juice with 1 cup of whipped cream. 
To get the desired consistency, keep mixing the cream until it reaches the thickness you're after. You can use this substitute in almost every sour cream recipe.
13. Make Your Own
If you have time and the right ingredients you could quite easily make your own sour cream. Here is the recipe we use to make our homemade sour cream:
Ingredients
½ cup of buttermilk
2 cups of heavy whipping cream
Directions
First, add the heavy whipping cream and buttermilk together in a mason jar before tightening the lid. You then need to shake the jar vigorously. Do this for approximately 30 seconds. 
Once this is done, leave the mixture to sit for 24 hours at room temperature. This gives the bacteria time to ferment, thickening the mixture in the process and giving it that tangy taste. 
After 24 hours, you can use the sour cream for the next week, storing it in the refrigerator to keep it fresh.
Vegan/Dairy Free Sour Cream Replacements
14. Coconut Cream
Coconut cream is a wonderful dairy-free substitute that forms the basis for a wide range of vegan sour cream store-bought products.
If you don't have a can of pure coconut cream, you could always use a can of coconut milk and skim the top layers of cream off.
To counteract the sweet taste of the coconut cream, add a splash of lemon. This will give it that tangy sour cream taste. In baking, use this cream as a 1-1 substitute.
15. Mayonnaise
Mayonnaise might seem like an odd sour cream substitute, but it actually works well in most recipes. It even has the potential to be used in baking recipes.
If you want to add an extra layer of thickness or flavor to a recipe, mayo is a great substitute. It has a looser texture, but when mixed with vegan yogurt or cream achieves a consistency more like sour cream.
One cup of mayonnaise can substitute one cup of sour cream.
16. Cashew Nuts
If you've heard of cashew cream before you won't be surprised to see cashew nuts on this list. Cashew nuts are a brilliant sour cream replacement when it comes to making sauces.
The cream made from these nuts is full of healthy fats and protein. More importantly, it is dairy-free.
You can make the cashew cream by blending 1 cup of raw cashew nuts with ⅔ cups of water. The cream should be ready after approximately 2 minutes.
17. Vegan Yogurt
Just like plain yogurts or natural yogurts containing dairy products, you can make a delicious sour cream using vegan yogurt.
Vegan yogurts differ in thickness and taste, but it is possible to find a solid choice that can be strained to remove any excess liquids.
Adding a dash of lemon to the yogurt will leave you with a great sour cream substitute.
18. Vegan Sour Cream
If you don't consider yourself a vegan but can't find any sour cream in the store, why not give some vegan sour cream a try.
There are a number of excellent vegan sour cream brands out there that make beautifully tasting sour creams that have the same texture, taste, and thickness as any regular sour cream. 
One of our favorites is the Good Karma Sour Cream. 
19. Vegan Cream Cheese
A very nice sour cream substitute can be made using vegan cream cheese. Vegan cream cheese isn't as tangy or thin as sour cream so you will have to make some adjustments first.
Blend your vegan cream cheese with some lemon juice if you want to achieve that tangy sour cream taste we all desire.
20. Make Your Own
If time is on your side, and you have the right ingredients you could always make your own dairy-free sour cream. Here is our homemade recipe for a tasty dairy-free sour cream:
Ingredients
½ cup of pine nuts
½ cup of sunflower seeds
1 garlic clove
⅓ cup of lemon juice
1tsp sea salt
1tsp onion powder
Directions
Add all the ingredients into your blender and blend the mixture for 2-3 minutes at a high speed.
Once the mixture has been blended simply put your sour cream in a jar and enjoy it for the next week. Keep it in your refrigerator to ensure it stays fresh.
Final Thoughts
There you have it, that concludes our list of sour cream substitutes that can be easily made when time is short and your cupboards are bare. 
As you can see from our list, there are plenty of sour cream replacements to choose from, giving you the opportunity to find the one that suits you best.
Whether you're vegan, lactose intolerant, or simply want a quick fix, there is a substitute on our list for you.
You could even try making your very own homemade sour cream.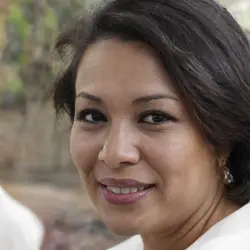 Latest posts by Kunal Sharma
(see all)